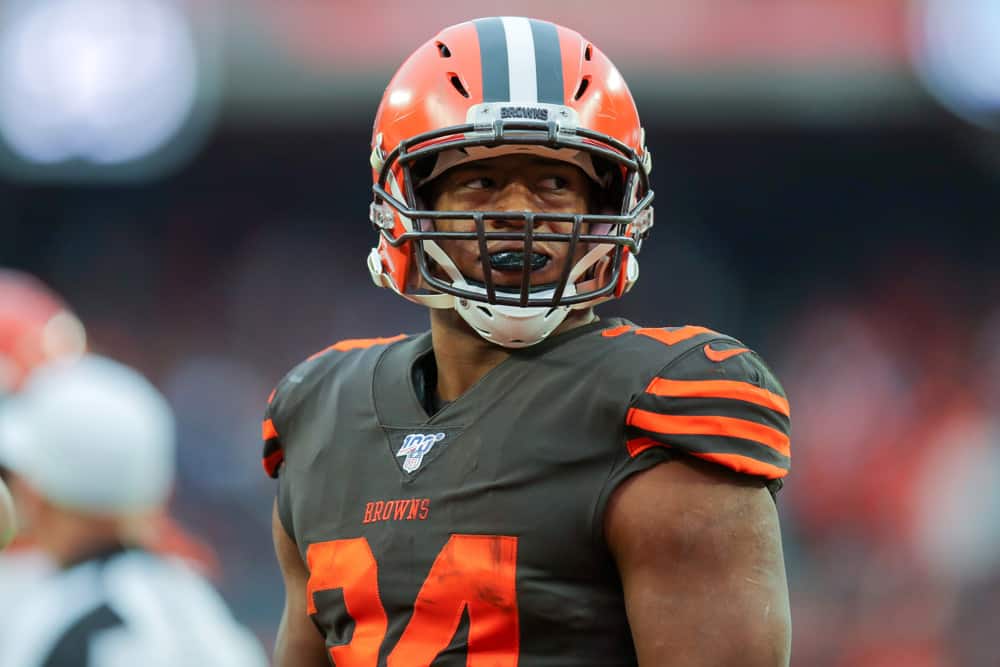 The Cleveland Browns are two weeks into the regular season and have already seen multiple key players go down with injuries.
Luckily, most of the Browns players are expected to be back within the next few weeks.
However, that is not the case for every team and the Browns should take note of what is happening around the league.
The injury rate has skyrocketed this season and multiple teams have already lost superstar caliber players for the entire season.
Today:

Nick Bosa carter off with bad knee injury.

Saquon Barkley carried off with knee injury.

Parris Campbell carted off with knee injury.

Drew Lock in locker room with shoulder injury.

Man….

— Adam Schefter (@AdamSchefter) September 20, 2020
Possibly, part of the reason this is happening is because there wasn't any preseason games.
Regardless, the Browns see how frequently players are getting injured and might want to be cautious going forward.
Time To Limit Nick Chubb?
Sadly, nobody can predict when an injury is about to happen.
However, that doesn't mean there is nothing you can do to possibly prevent them from happening.
The running back spot is one of the most vulnerable positions in the NFL.
Which is why we've seen multiple running backs have significant injuries thus far.
It's a brutal position to play, but luckily Browns running back Nick Chubb has been able to avoid injury.
Although, that doesn't mean that will last forever and the Browns should begin to limit Chubb going forward.
Last season, Chubb saw 298 rushing attempts, which is 106 more carries than he saw the year prior.
At some point an injury is likely going to happen to Chubb, assuming the Browns continue to use him at such a high rate.
The Browns have a stacked offense, so they don't need to use Chubb as a workhorse running back anymore.
Cleveland should consider putting Chubb on a snap count before it's too late.
How Much Do They Limit Chubb?
There is no doubting that Chubb is one of the best running backs in the league.
The Browns want him to be an important part of their offense, which is fine.
However, there are ways they can help prevent Chubb from getting injured.
One of those ways is not overusing him in unnecessary situations.
Last week, Chubb saw 22 carries in the victory over the Cincinnati Bengals.
Browns get their first win with a big night from Nick Chubb:

22 Carries
124 Yds
2 TDs pic.twitter.com/E2JJhg2wvf

— SportsCenter (@SportsCenter) September 18, 2020
That was a close contest where the Browns needed Chubb in order to win that game.
Although, the week prior Chubb saw 10 carries in the blowout loss to the Baltimore Ravens.
Chubb should not be frequently used in contests where the game is clearly already won or lost.
Getting Other Players Involved
This might seem overly cautious, but multiple teams have already lost their starting running back for the entire season.
The Browns can't afford to lose Chubb for a significant amount of time.
Cleveland has plenty of other playmakers on offense such as Odell Beckham, Jarvis Landry, and Austin Hooper.
They also have running back Kareem Hunt, who recently signed an extension with the team.
From NFL Now: The #Browns took a chance on RB Kareem Hunt, and today, everyone got rewarded. Hunt gets a new contract, Cleveland gets him under contract for 3 years. pic.twitter.com/yYm7U0hhpJ

— Ian Rapoport (@RapSheet) September 8, 2020
Hunt has only seen 23 rushing attempts this season, while Chubb saw 22 touches last game.
Obviously, Chubb is the better running back, but that doesn't mean Hunt doesn't have quality upside.
In 2017, Hunt finished with 1,327 rushing yards, which was the best in the entire league.
The Browns need to do a better job of splitting up the carries between the two running backs.
The injury rate is skyrocketing likely due to the fact there wasn't any preseason action.
It doesn't appear that players are in game shape and are suffering possibly career-threating injuries because of it.
The Browns should do their best to prevent this from happening to Chubb before it's too late.