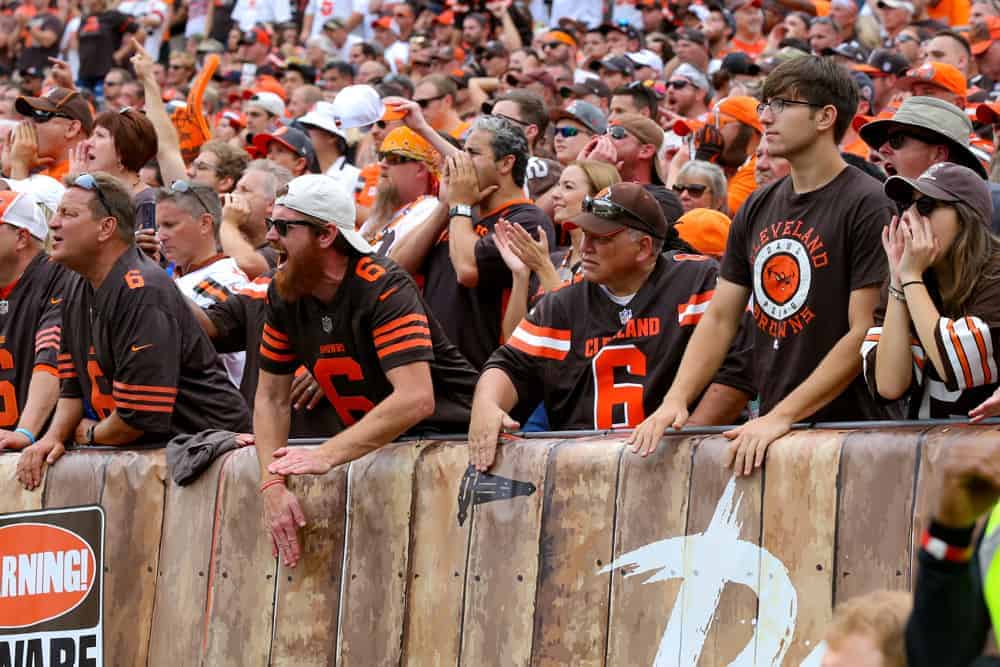 Cleveland Browns fans have been known to throw objects, but recently have turned to pouring beer on players.
In Sunday's loss to the Titans, Malcolm Butler intercepted Baker Mayfield late in the fourth quarter and returned it for a touchdown.
While they were celebrating the touchdown, defensive back Ryan Logon decided to leap into the stands.
That's when a fan decided to dump a beer on Logon.
The fan was caught on camera in the act as you can see below.
This @budlight's for you?@RealLoganRyan and the @Titans got doused by beer by a @Browns fan after the Malcolm Butler pick-6. 🍺 pic.twitter.com/mQ4QAO8ztM

— Jim Wyatt (@jwyattsports) September 9, 2019
The fan who committed the act, it appears was wearing a Mayfield jersey.
After the game, Logon took to Twitter as he was not happy about what happened.
They can pour beer on us because we're just athletes right? We're just entertainment & since they purchased a ticket they can act how they want? 👀 @NFL @NFLPA @Browns @Titans https://t.co/fpCfEOhC1V

— Logan Ryan (@RealLoganRyan) September 9, 2019
Logon continued his frustration in the matter Monday on SiriusXM NFL Radio
"In this day and age, it's ridiculous."@Titans cornerback @RealLoganRyan was not happy after having a beer poured on him during their game in Cleveland.

👇LISTEN👇 pic.twitter.com/PmOUFHlTu8

— SiriusXM NFL Radio (@SiriusXMNFL) September 9, 2019
The Brown's were able to identify the fan is less than 48 hour's and it appears he will be banned from FirstEnergy Stadium.
A Brown's spokesman released the following statement
"This individual person's action is not tolerated in our building as it is not reflective of our fan base or city. We are currently addressing the situation internally, along with NFL Security, and we believe we have identified the person involved. He will ultimately face an indefinite ban from FirstEnergy Stadium for the unacceptable behavior, which is in clear violation of our Fan Code of Conduct," a Browns spokesman said in a statement on Tuesday.
Bud Light also took to Twitter in the situation to make it known that they do not condone the fan's action with their product.
PSA: this is not how you do a #BudLightCelly. Don't be this guy.

— Bud Light (@budlight) September 9, 2019