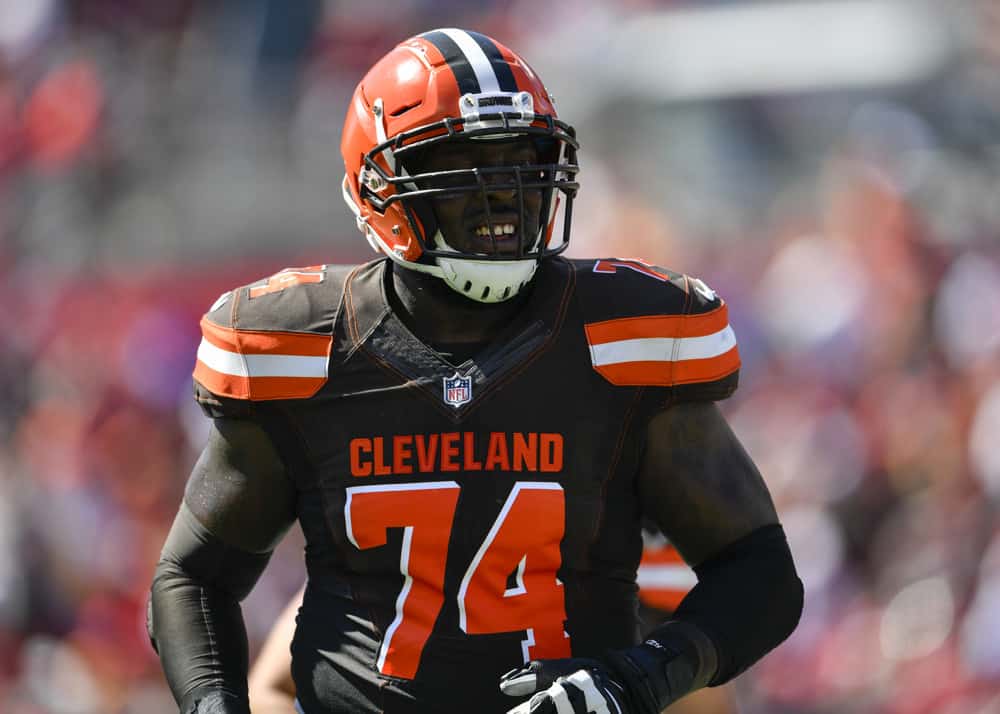 The Cleveland Browns beat the New York Giants on Sunday Night Football by the score of 20-6.
Though the victory was decidedly one-sided, the Browns did have an injury scare early in the game.
On the second offensive snap, guard Chris Hubbard went down with a knee injury and did not return.
Any injury is significant especially at this juncture in the season, but Hubbard's was even more concerning because he was filling in for the injured Wyatt Teller.
Backup center Nick Harris came into the game and did an awesome job proving his versatility as the backup to a backup on a position he doesn't normally play.
Harris played only one offensive snap the entire season before the Sunday night game.
Chris Hubbard's Injury
Hubbard sounded positive in his postgame Tweet.
Thank you guys so much for your prayers and concerns, I will be good! Love you guys! 🙏🏾🙏🏾🙏🏾

— Chris Hubbard (@C_Hubbard74) December 21, 2020
However, Coach Stefanski did not have specifics during his postgame press conference.
He indicated further testing would be required to determine the severity of the injury.
Other Injuries
Sheldon Richardson 
In the second half of the game, defensive tackle Sheldon Richardson was also injured.
Stefanski did not offer much detail on his injury either saying:
"Sheldon Richardson had a neck injury and X-rays are negative."
Wyatt Teller
Hubbard was filling in for Teller who suffered a sprained ankle in the Monday Night Football game against the Ravens.
Though he is thought to be day-to-day, it is likely he won't return until the playoffs.
Sounds like #Browns Wyatt Teller could be out for the rest of the regular season with his sprained ankle. If he recovers as expected, he should be good to go for playoffs, assuming we're in…

— Browns Dispatch (@brownsdispatch) December 20, 2020
Teller previously missed three games due to a strained calf.
The calf and ankle injuries are not related.
Myles Garrett
Garrett continues to perform at a high level, having 2 solo tackles and 2 assists against the Giants.
But he does look visibly winded at times, also noted by the SNF announcers.
Garrett admitted that his recovery from COVID-19 diagnosed on November 20 has been difficult.
He talked about his coughing fit in the locker room on Sunday.
"I am not sure. I am just getting over a coughing fit from the locker room earlier. Taking those deep big breaths are tough right now with the shortness of breath and that turning into a cough or getting choked up. You just have to find a way. . . . Hopefully, if we make it to the playoffs, I can try to get myself to as close to 100 percent as possible…It's bound to affect your lungs, and I feel like I need those to be out there and give my full effort. It is hard to make a move or do something that you know is going to expend a lot of energy, knowing that you have to do it again the next play and the next play. It kind of throws off what I am doing, but just have to go out there and make it happen."
Next Up For The Browns – The Jets
Certainly, Coach Stefanski will not let this team get caught up in its current success.
The Jets got their first victory of the season on Sunday over a good Los Angeles Rams team.
Had the Jets gone winless, they would have snatched the first overall pick of the 2021 draft.
That pick is widely speculated to be used on Clemson QB Trevor Lawrence, and it could end up being the Jaguars pick now.
So the Jets no longer have anything to lose beyond being spoilers to a playoff-bound team like the Browns.
Speaking of upsets, the Browns would not mind watching the Bengals pull off one of those tonight on Monday Night Football against the Steelers.
The Steelers clinch the AFC North division with a win on MNF.
A loss thickens the plot for the remaining 2 games of the season including the Week 17 Steelers and Browns game.