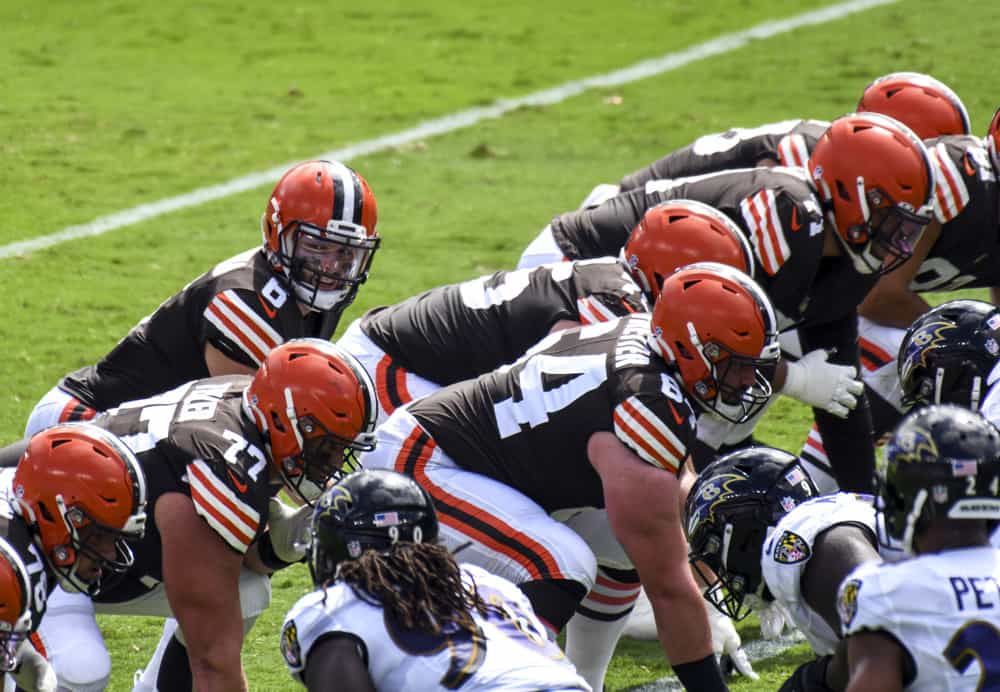 Well, Super Bowl 55 isn't until Sunday, but it's time to look ahead to next season.
Sadly, the Cleveland Browns won't be playing in the Super Bowl this year.
They were able to knock off the Pittsburgh Steelers in the first round.
That win marked the first playoff victory for the Browns in 18 years.
Unfortunately, they weren't able to defeat the Kansas City Chiefs in the following round.
It was still a successful year for the Browns and their odds to win the Super Bowl next season have already risen.
Browns In Super Bowl 56?
First-year head coach Kevin Stefanski was able to lead this team to an 11-5 record.
He helped this organization win their first playoff game in nearly 20 years.
The front office has put together a young and talented roster that is ready to win now and in the future.
Heading into 2020, the Browns had the 15th highest odds of winning Super Bowl 55.
Well, those chances have increased with the Browns landing in the 10th-best spot, according to FanDuel.
Opening odds to win Super Bowl LVI (@FanDuel):

KC +490
BUF/GB/TB +1100
LAR +1200
SF +1300
BAL +1400
NO +1900
SEA +2000
CLE +2200
TEN +2700
MIA +2800
IND +2900
LAC/PIT +3100
DAL +3300
NE +3700
ARI +4100
MIN +4400
ATL/CAR/LV/PHI +5000
CHI +6000
NYJ +6500
HOU/NYG +7000

— Betting News (@BN_Content) February 2, 2021
The Browns are currently sitting at 22-1 odds of winning the NFL championship next season.
Right now, Cleveland sits with the fourth-best odds in the AFC, trailing only the Chiefs, Buffalo Bills and Baltimore Ravens.
This team has been impressive and does have a real shot at competing for the Super Bowl next season.
Could The Browns Win It All?
This team certainly does have a chance at the Super Bowl after watching what happened this season.
A first-year head coach was able to take a fairly young roster and turn them into a competitive team immediately.
Quarterback Baker Mayfield looked fantastic during the second half of the season.
Despite the Deshaun Watson rumors, it sounds like Mayfield is the future in Cleveland.
There are reporters who still don't believe in Mayfield, but he'll continue to prove the doubters wrong.
I can completely understand Browns fans and Chargers fans being loyal to Baker and Herbert and not wanting a trade. BUT Deshaun Watson is better than both of them. It's so obvious it was painful for me to write that.

— Joy Taylor (@JoyTaylorTalks) January 29, 2021
This team does need to add some better weapons on the defensive side of the ball.
The secondary and linebacker spots are a bit shaky, but the Browns are a strong unit besides that.
The Browns could be a Super Bowl threat with another strong year of drafting and a few impactful additions on defense.