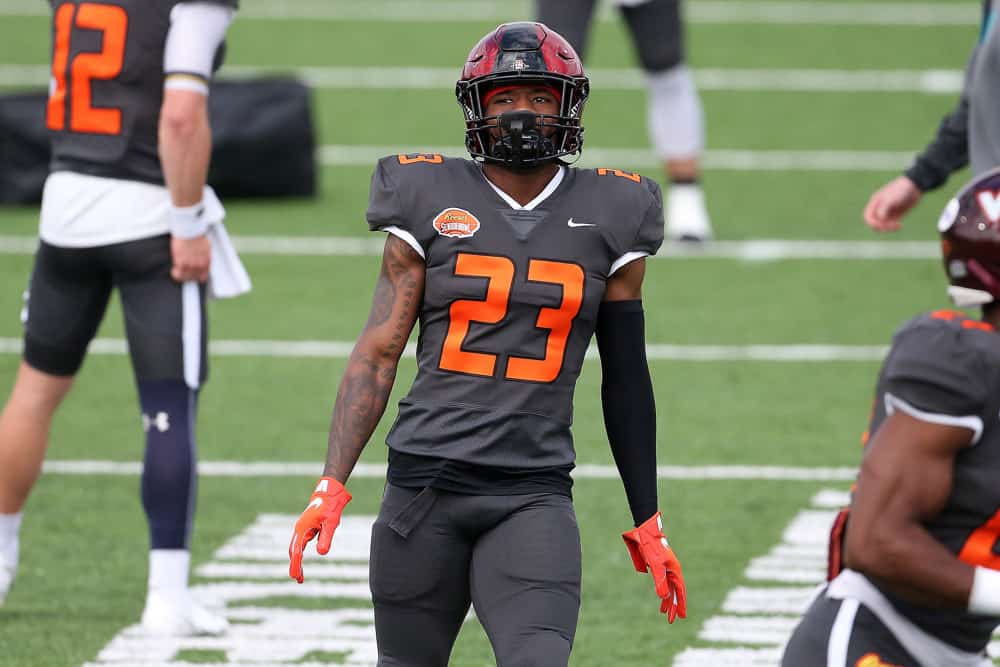 The Cleveland Browns reportedly had a great meeting with San Diego State cornerback Darren Hall at the Senior Bowl.
Hall met with all 32 teams but said those that stood out were with the Cincinnati Bengals, Cleveland Browns, Los Angeles Rams, and San Francisco 49ers.
San Diego State CB Darren Hall met with all 32 teams formally at the Senior Bowl.

Said he had great meetings in particular with the #Bengals, #Browns, #Rams and #49ers.

— Justin M (@JustinM_NFL) February 1, 2021
Who Is Darren Hall?
San Diego State CB Darren Hall with a beautiful off-hand jam rep. Scraped the hands, got in phase, looked and leaned to locate the ball, pass breakup. Dominant rep #SeniorBowl pic.twitter.com/wpLZy6D1oJ

— Brad Kelly (@BradKelly17) January 27, 2021
Hall is 20 years old; he is 6'0″ tall and weighs 190 pounds.
He is a versatile player with experience playing both at safety and cornerback.
Hall shines the most when playing outside corner in zone coverage.
Darren Hall enters the draft after his redshirt junior season.
Throughout his career at San Diego State he had 101 solo tackles, 6 interceptions, and 1 touchdown in 32 games.
Darren Hall's Background
Hall is considered a late bloomer.
He played his best football the last two years of his high school career.
Hall also ran on the track team at Rancho Cucamonga High School in Rancho Cucamonga, California.
Scouts labeled him the 17th best high school cornerback in the state of California.
He chose San Diego State over Colorado, Utah, Washington State, Oregon State, Brigham Young, Colorado State, New Mexico, Hawaii, Nevada, UNLV, San Jose State and Fresno State.
Scouting Report on Darren Hall
San Diego State RCB Darren Hall (#23) vs. Boise State (10/06/18). #NFLDraft pic.twitter.com/ZlHTTvxwHE

— PFDZ (@PFDZ44) May 20, 2019
Hall reads plays well and has a good speed burst.
He uses his hands and positions himself appropriately against receivers to make plays.
Pro Football Focus (PFF) lists Hall as the best cornerback in the Mountain West Conference.
PFF's Anthony Treash's notes on Hall are as follows:
"Hall emerged as one of the top zone coverage corners in the conference last season, and this year he went from one of the best to the best. No MWC cornerback earned a higher zone coverage grade than Hall, who also cracked the top 15 in the FBS [Football Bowl Subdivision] in that metric."
A few question marks on Darren Hall also noted by PFF are as follows:
Deep speed
Being fooled by wide receivers moves which results in blown assignments
Darren Hall In His Own Words
When asked which NFL player he compares his game to, Darren Hall said:
"I think I'm well rounded and can play each of the three positions in the backend being safety corner and nickel. However, I'm not sure who I would compare myself to. I watch a lot of Tre'Davious white Jalen Ramsey and Stephon Gilmore to keep my game up to par."
Hall also talked about what he hones in on during opposing teams' film studies.
"What routes are being run out of what splits and what wide receiver will run certain routes, and their go-to plays."
Darren Hall is projected to be drafted somewhere between the fourth and sixth rounds of the 2021 NFL Draft.