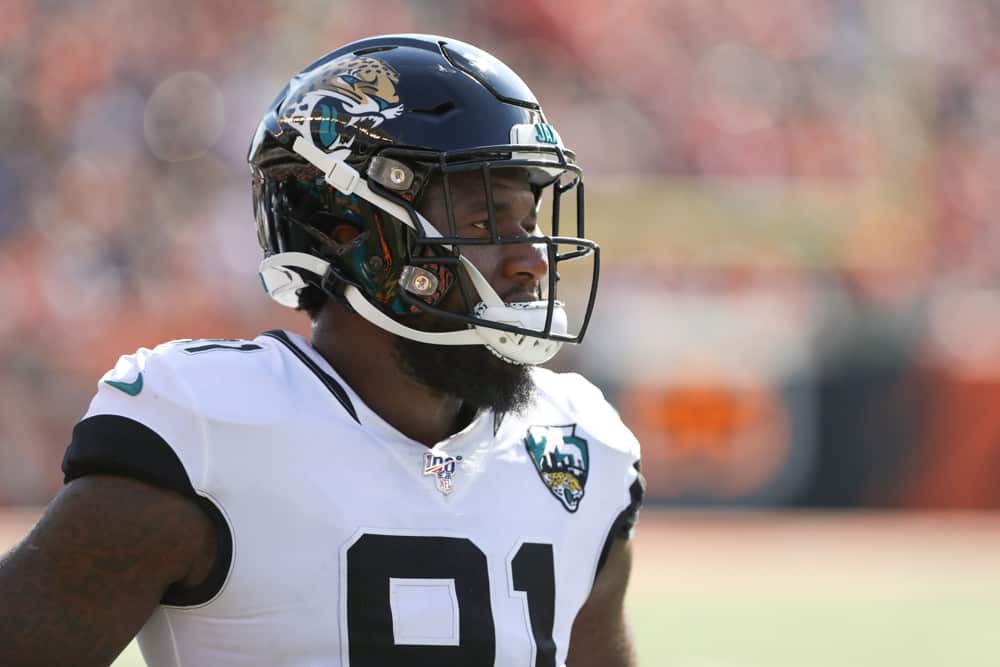 Andrew Berry signed the Cleveland Browns´ stud pass rusher Myles Garrett to a big new deal.
He also added free agent Adrian Clayborn, another quarterback pressure machine.
Then, he renegotiated Olivier Vernon´s contract to keep another former Pro-Bowl end on the roster.
All of that probably put the kibosh on signing Jadeveon Clowney.
But that doesn´t mean Berry is done dealing for pass-rush help just yet.
And according to Mary Kay Cabot of Cleveland.com, his next deal should be a big one.
ICYMI: Why the #Browns should trade for #Jaguars DE Yannick Ngakoue, and other takes as the rest of the veterans report tomorrow: https://t.co/uabsVFZ8EK

— Mary Kay Cabot (@MaryKayCabot) July 27, 2020
"The Seahawks surrendered two first-round picks and more for Adams, which was undoubtedly too rich for the Browns' blood. But they can probably get the unhappy Ngakoue for significantly less. Granted, the Jaguars would likely want multiple picks, but they might not even require a first-rounder at this point."

"The Browns could offer a combination of picks and players, but the Jaguars are not believed to be interested in Browns tight end David Njoku, who's also asked to be traded."

"Still, to be able to land one of the better young pass-rushers and big playmakers in the league for probably significantly less than what they Seahawks gave up for Adams is something worth exploring, or going back at again."
It´s not hard to believe Berry did his homework on Jacksonville´s Yannick Ngakoue.
After all, the Browns´ general manager is always looking to add talent.
Free-agent Everson Griffen is often rumored to be Cleveland bound.
But Ngakoue is a bigger prize at 25 years old and with statistics comparable to Garrett.
Wherein lies the rub.
Is there enough room in Cleveland for Yannick Ngakoue and Myles Garrett?
Why it Makes Sense
The idea of a big deal from Cleveland is based on a couple of factors.
For one, they are one of the few teams who could comfortably absorb Ngakoue´s $17.8 million franchise tender.
Second is a rumor out of Jacksonville that they received a big offer that included a Pro Bowl player.
Jacksonville reportedly declined the offer because the player was not a fit for their system.
Conjecture in Florida is that Baltimore offered linebacker Matthew Judon straight up.
Yannick Ngakoue's Career Stats

• 4 Seasons (63 Games)
• 122 Tackles
• 85 QB Hits, 42 TFL
• 37.5 Sacks
• 14 FF, 3 FR
• 9 PD, 2 INTs, 2 TDs
• 2017 Pro Bowler pic.twitter.com/SuKt3bE8E3

— NFL Stats (@NFL_Stats) April 8, 2020
But nobody knows.
It could have been a really good punter.
Or it could have been Olivier Vernon and his $8 million dollar contract (assuming Cleveland pays his signing bonus).
Ngakoue and Garrett on opposite ends would scare even the best offensive line.
With Clayborn spelling either one for a stretch, there´d be little rest for the weary offensive tackles.
Generating a pass rush is a top priority for Cleveland, as a way to help their talented, but young corners.
Ngakoue´s 37.5 sacks, 14 forced fumbles, and 5 attributed touchdowns in 4 season fills the ticket.
Why It Doesn´t Make Sense 
Is the best pass rush duo in the league worth $50 million per season?
Because Ngakoue should be even better with Garrett complementing his game.
It will probably take a matching deal to Garrett´s $25 million per year to keep Ngakoue in Cleveland.
But Berry has to extend Nick Chubb soon and (probably) Baker Mayfield, too.
Of course, it´s possible Berry devalues running backs as many GMs do.
Chubb could be forced to play out his contract and hit free agency while his drafted replacement steps in.
Baker Mayfield could flop, giving Cleveland five more years of a rookie quarterback deal to play with.
But it is more likely the Browns will pay one or both before 2021.
Signing the venerable pass rusher from Florida on top of that could hamstring Berry for four more years.
Not to mention Jacksonville´s asking price of a first-round pick.
For a team with seemingly little leverage, the Jets get quite the return here for Jamal Adams. Makes you wonder what the market for Ngakoue could still be like. But it's quite a lot to invest the draft capital and have to pay the big contract with one of these trades.

— PeterJaguars (@PeterJaguars) July 25, 2020
They might not get that price for a pending free agent.
But they want draft picks over players, with no interest in David Njoku.
Paying Ngakoue´s franchise tag in 2020 just to lose him at the season´s end would be bad enough.
But with 14 Florida Marlins baseball players sidelined after three MLB games, the NFL season is again in peril.
Berry could face a nightmare having dealt his 2021 first-round pick for a free agent who never plays for Cleveland.
Then if Mayfield falls short of expectations, the Browns will be a quarterback-needy team without a first-round draft pick.
Maybe Garrett, Clayborn, and Vernon is a better bet for now.