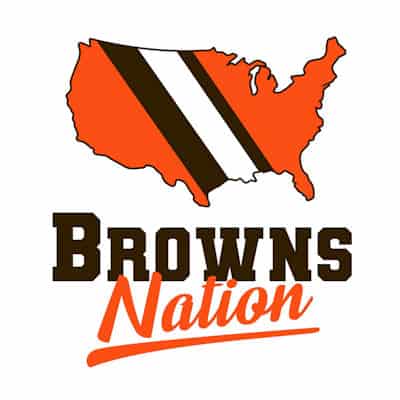 Host Mark Bergin is joined by fellow BrownsNation.com writer Pat Opperman and Wendi Oliveros.
— Winning the turnover battle (5-0) helped the Browns' beat the Steelers 48-37.
— The Browns got their first playoff win since Jan. 1, 1995. It marked the Browns' first road playoff win since Dec. 4, 1969.
— Oct. 5, 2003, marked the last time the Browns beat the Steelers at Heinz Field.
— Sunday night's game marked a changing of the guard in the AFC North, especially considering the young quarterback talent in division: Baker Mayfield (25), Lamar Jackson (24), Joe Burrow (24) and Ben Roethlisberger (38).
— The Browns played perhaps the best first quarter of football in team history. They led 28-0 after the first quarter.
— Baker Mayfield's decision making and avoiding turnovers were key in the Browns' victory. — — Credit the Browns offensive line: Down Pro Bowl left guard Joel Bitonio (COVID-19) for the entire game and All-Pro right tackle Jack Conklin (hamstring) for much of it, Mayfield was not sacked on Sunday night. The Steelers led the NFL in sacks (56) during the 2020 regular season.
— Also, credit the Browns coaching staff — acting head coach Mike Priefer, offensive coordinator Alex Van Pelt and defensive coordinator Joe Woods — for filling in for Kevin Stefanski and the Browns coaches out on Sunday night due to COVID-19. The Browns couldn't practice for most of the week either.
— T.J. Watt, a leading candidate to win NFL Defensive Player of the Year, was a non-factor in Sunday night's game. Jack Conklin and Kendall Lamm did a good job matching up against Watt.
— The turning point came on Mike Tomlin's decision to punt on the Steelers' 39-yard line down 35-23 at the start of the fourth quarter. Tomlin probably should have gone for it on 4th and 1.
— Should Van Pelt call plays for the Browns moving forward?
— The Browns open as an 8-point underdog on the road during next weekend's game against the Kansas City Chiefs in the AFC Divisional Round.
— NFL Wild Card weekend was fantastic. Give us back-to-back tripleheaders in subsequent NFL Wild Card Weekends!
Show off your Browns Nation Pride with all the latest Browns gear at https://www.brownsnationswag.com/
Be on the lookout for the next episode after the Browns and Chiefs playoff game to get all the instant reactions, insights, and analysis.
Also, be sure to like and subscribe to never miss any future episodes!
Thanks for listening and Go Browns!