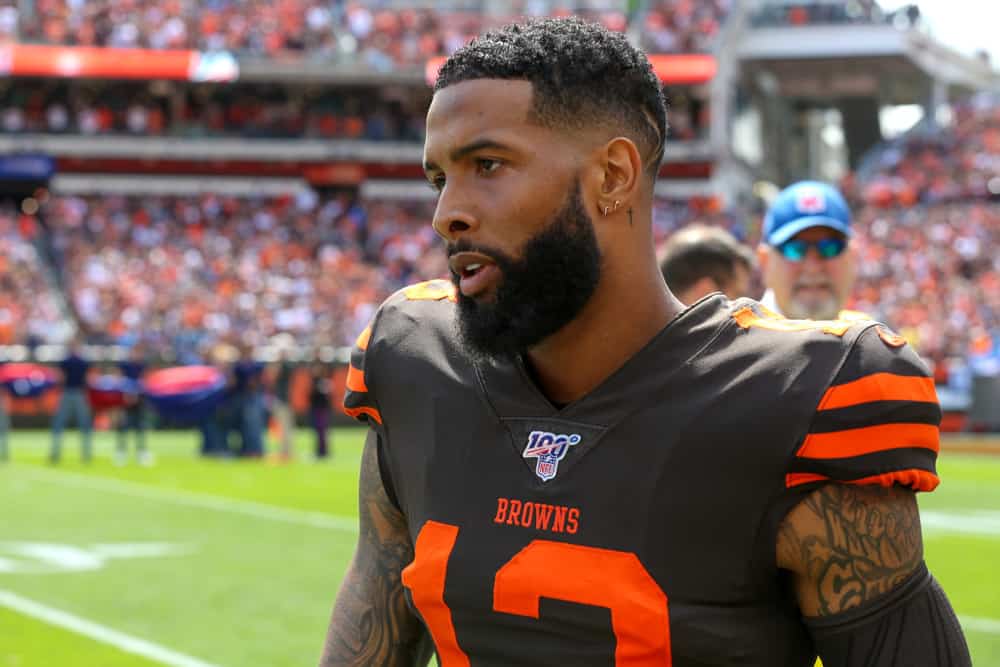 Cleveland Browns wide receiver Odell Beckham Jr. has been banned from LSU facilities for two years as part of self-imposed penalties by the school.
The ban is because Beckham handed out money to Tigers players after they won the National Championship in January.
LSU is banning Odell Beckham Jr. for two years from their facility for handing out cash after its national title win, per @SInow

It's also removing eight scholarships as a penalty for booster payment violations

(via @MorganLagreeTBP)pic.twitter.com/UlH0lNJNmv

— Bleacher Report (@BleacherReport) October 21, 2020
LSU is also docking eight scholarships over a two-year period and reducing recruiting visits after an investigation uncovered booster payments to a football player's father, according to Sports Illustrated.
Beckham's Ban
LSU officials told reporters that the money Beckham was handing out was fake.
They later retracted that after quarterback Joe Burrow acknowledged that is was real money.
"I'm not a student-athlete anymore," Burrow said. "So I can say yeah."
The amount that Beckham handed out totaled to $2,000 dollars.
It's unclear why Beckham thought that was a smart idea, but who knows what was going through his mind.
It was obvious from the moment it happened that there was going to be a punishment for handing out real money to players.
The ex-Tiger won't be making any upcoming appearances at LSU anytime soon.
Maybe it is a good idea for Beckham to stay out of the spotlight for awhile.
Beckham has said and made some unfavorable decisions lately, so it might be smart to just lay low for awhile.
Beckham's Comments
Beckham was recently absent from a few practices because of an illness.
As a precaution Beckham was tested for COVID-19, which came back negative.
Sadly, when asked about it Beckham had some unusual things to say on it.
Full Odell Beckham Jr. quote on COVID-19: "Not in an arrogant way, I just don't think COVID can get to me. I don't think it's going to get into this body. I don't want no parts of it, it don't want no parts of me. It's a mutual respect."

— Ben Axelrod (@BenAxelrod) October 21, 2020
It's unclear why in the world he'd say that, but it didn't come out as clever as he thought.
Possibly, Beckham was joking, but it's not a topic he should be making jokes about right now.
The full video is posted below.

The star receiver has played a key role on the Browns offense this season.
Hopefully, he can stay out of trouble and keep contributing in Cleveland.