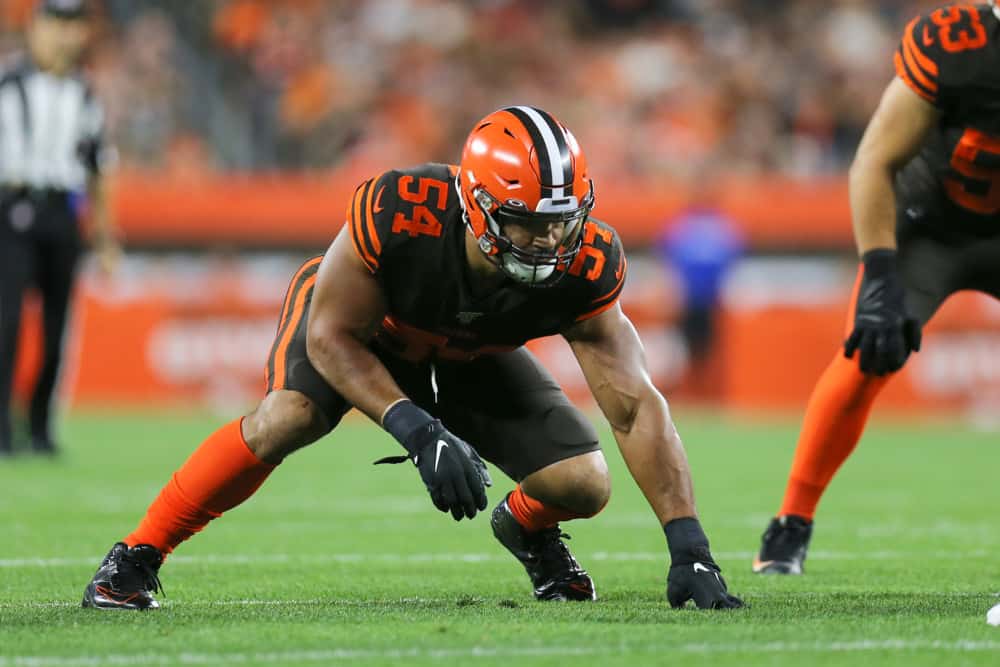 In 2018, defensive end Olivier Vernon made the Pro Bowl with the New York Giants.
That offseason he was traded to the Cleveland Browns in exchange for right guard Kevin Zeitler.
The Browns were hopeful that they'd get reliable production from Vernon after his stellar season the year prior.
Sadly, that was not the case as Vernon finished with a career-low in tackles and tied his career-low for sacks in a single season.
The 29-year-old has plenty of reason to come out of the gate strong in 2020.
He could very well be headed to another Pro Bowl if things go right for him this season.
Vernon's 2019 Season
Obviously, last season was disappointing for Vernon, but sometimes things are out of your control.
Vernon was banged up and missed six games last season due to a knee issue.
However, Vernon was actually playing well before he was forced to the sideline.
Vernon was productive for the #Browns in 2019 prior to injury. His ranks among 118 edge defenders with qualifying snaps:
▪️80.4 defensive grade (21st)
▪️7.8 pass rush productivity (T-35th) https://t.co/aNYQNBR6yZ

— PFF CLE Browns (@PFF_Browns) July 7, 2020
He is a quality run-defender, but injuries have held him back lately.
Vernon has been productive in his career with 353 tackles, 141 quarterback hits, and 54.5 sacks through his first eight seasons in the league.
He wants to prove that he can be healthy and a destructive force on defense once again.
Jadeveon Clowney Rumors
The Browns have been linked to defensive end Jadeveon Clowney all offseason long.
There was speculation that the Browns would cut Vernon to save money once they reached an agreement with Clowney.
However, Clowney doesn't seem too interested in Cleveland despite a one-year $15 million offer by the team.
The #Browns have made a new offer to Jadeveon Clowney. pic.twitter.com/O6FmlGvvwl

— Everything Cleveland (@EverythingCLE_) June 15, 2020
The Browns gave Clowney a chance, but it didn't seem like the two sides were going to come to an agreement.
Despite not signing Clowney, the Browns still had the issue of Vernon's large salary.
Recently, Vernon and the Browns came together and renegotiated his deal for the 2020 season.
The Browns and DE Olivier Vernon have agreed to a renegotiated contract, per source. Vernon, previously due $15.25M non-guaranteed, gets $11M guaranteed through a $7M signing bonus, $3.75M base salary and a $250K workout bonus, plus $2M more available via incentives.

— Field Yates (@FieldYates) July 7, 2020
The restructuring of Vernon's contract should put an end to the Clowney rumors.
However, Vernon still needs to live up to the high expectations of his massive salary.
He needs to prove that he deserves that spot on the front-four more than Clowney.
Will Vernon Bounce Back?
Vernon has plenty of motivation between the injuries, poor 2019 performance, high salary, and Clowney rumors.
He is also a free agent after the 2020 season, so he needs to play well if he wants to land another significant payday in the NFL.
Vernon needs to come back healthy and show everyone that he can still play at a high level.
He has been unable to play a full season since the 2016 campaign with the Giants.
The Browns lost both Vernon and Garrett for a significant amount of time last season.
The organization was hurt by their absence, so they both need to get on the field and show they can play a full 16-game season.
What Vernon does on the field in 2020 is going to play a big part in dictating his next contract.
He has plenty of reason to go out there and have a huge season and show everyone he's a Pro Bowl caliber player.