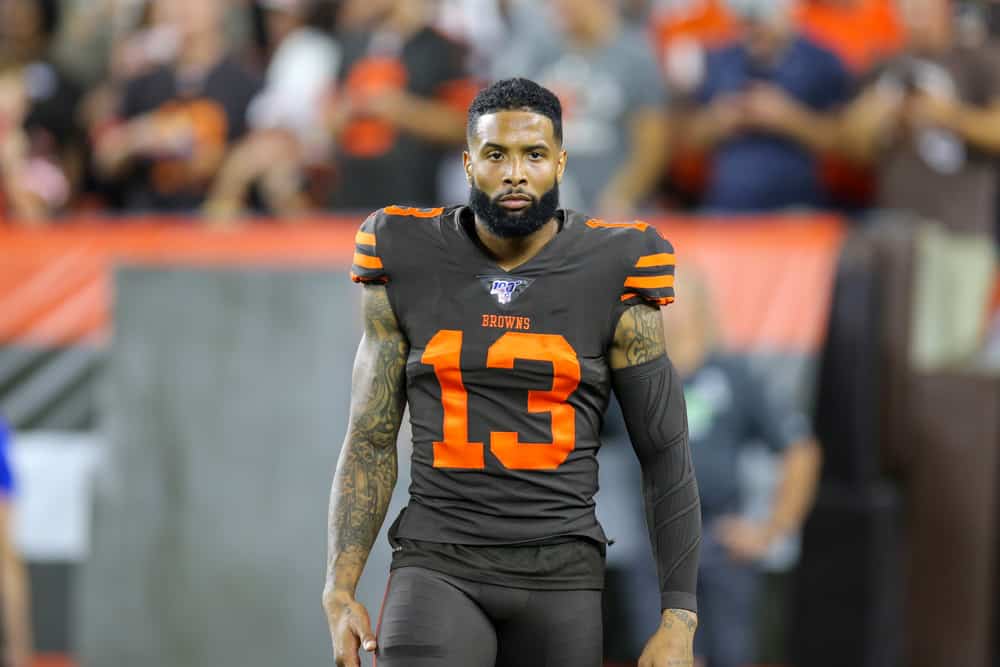 It's a new day so apparently it's time for a new batch of criticism to be hurled in Odell Beckham Jr.'s direction.
This time, an anonymous coach tells ESPN's Jeremy Fowler that he's been watching Beckham "quit on plays for years".
If you are like me, you are wondering who the coach is, and why he wasn't willing to share his name with his commentary.
After all, he is not the first to make such an assertion.
Boomer Esiason
Back in 2018, Boomer Esiason told NJ Advance Media that OBJ "took himself off the field last year for four games after making $19 million."
The Giants said he had a bruised quad, and OBJ said he had a hematoma.
OBJ's ominous last play in a Giants uniform was in Week 13 against the Bears during an onside kick.
Needless to say, his effort was questioned on the kick.
Bears recover the onside kick!

📺: FOX #DaBears pic.twitter.com/FpeHTDhwiw

— NFL (@NFL) December 2, 2018
OBJ
OBJ himself has admitted to being frustrated at times.
In October 4, 2016 after a dismal performance against the Minnesota Vikings, he said, "I'm not having fun anymore." 
He likes the ball in his hands and to play a key role in games.
I'm not sure that makes him unique compared to his peers in the NFL.
But what makes him different is that he does not hide or veil his emotions; he has struggled to control them.
Odell Beckham Jr. leaves the field with two seconds left in the first half, while the rest of the #Giants offense stays on the field for one last snap. Beckham had two catches for 12 yards in the first half pic.twitter.com/KdQ7kTNWLf

— Kevin Boilard (@KevinBoilard) October 12, 2018
Boomer Esiason and the anonymous coach are mainly correct.
However, at least Boomer Esiason expressed his opinion openly and not under the context of remaining anonymous.
Let's remember that OBJ is only 27 years old so these incidents and issues were during his younger and less mature years.
He is working hard to change the narrative.
Alex Van Pelt has sung OBJ's praises during this odd offseason.
"He's bought in. He's been there and it's awesome."
Stefanski and Van Pelt know that he is superbly talented so it is managing the personality that becomes the challenge.
It is realistic that OBJ's best football is ahead and could look something like this on a regular basis.
JUST SOMETHING ABOUT THIS STADIUM @obj pic.twitter.com/e24DuCvKAs

— The Checkdown (@thecheckdown) September 17, 2019
Summary
Perhaps this anonymous coach is just trying to fire up OBJ and inspire bigger and better performances from him.
I hope so; otherwise, it appears this person is taking a cheap shot while saying what has been somewhat obvious during OBJ's younger days.
In the meantime, OBJ is working really hard this off season.
Let's hope we see the fruits of this work on the field this season.