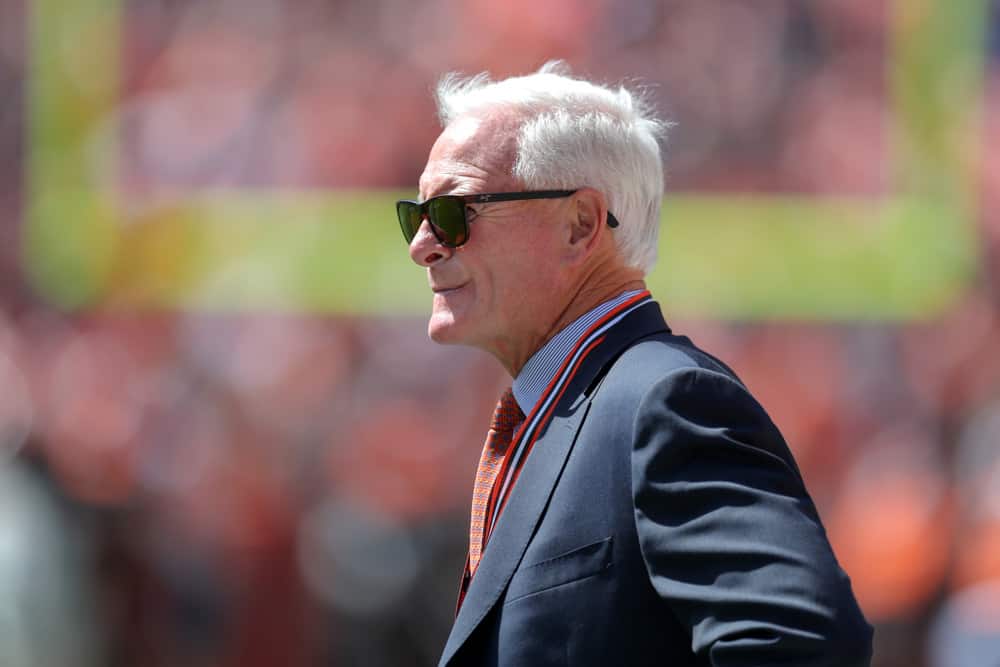 Cleveland Browns owner Jimmy Haslam is joining his fellow NFL owners by taking part in virtual meetings this offseason.
Imagining that entire group trying to figure out how to work a Zoom call is quite the funny scene.
Dallas Cowboys owner Jerry Jones reportedly had some trouble unmuting himself during a call.
Haslam decided to throw in the perfect jab.
The news was shared by ESPN's Adam Schefter.
From this week's podcast…

🎧 https://t.co/tLg8Jqfm58 pic.twitter.com/NIpxRMdWKx

— Adam Schefter (@AdamSchefter) May 27, 2020
The quote is: "They should keep Jerry on permanent mute."
Other owners likely agreed with Haslam, but this went down as a fun joke and Jones likely did not care.
Yet there is some history of interesting comments between the two.
Jones' Comments About Haslam
Haslam making a joke about the Cowboys owner brings up memories from 2016.
Back then the Browns were even more of a disaster then they are now and finished the season 1-15 before the 0-16 debacle in 2017.
Before the season began,Steve Doerschuk of the Canton Repository spoke with Jones and recorded quite the quote.
"Jimmy Haslam came into the league as one of the very best owners that we have," Jones said before flying back to Texas on his private jet. "I'd put him in the top five. Right now. I recognize that he hasn't had the success. Not everybody does early on. We didn't have early success.

"But he's firing at it. He's committed. He works just as hard at this as with anything he's ever done."
That quote has resurfaced with the recent comments and some online are quick to point at Jones' words as a joke.
However, there doesn't appear to be any ill will in what he said.
It is just confusing as to why Haslam would be in the top five when he had accomplished nothing at that point.
The same remains true today.
Haslam's subtle jab toward Jones may be something that is being blown out of proportion just because of the lack of news with every major sport being shutdown.
Haslam's Tenure as Browns Owner
Jimmy Haslam is certainly not a top-five NFL owner.
One would be hard-pressed to find someone, other than Jones, who actually believes that.
And we don't even know if Jones actually believes that, if he is joking, or if he was just being nice.
Jimmy Haslam had a hot mic moment during last week's virtual ownership meeting, when he made a comment about Jerry Jones that everyone heard https://t.co/MQt4PaivFZ

— ProFootballTalk (@ProFootballTalk) May 27, 2020
The only positive is that he does seem to at least be trying to make the Browns a successful team.
The negative is everything else, including firing coaches and general managers seemingly every year.
It would be interesting to ask Jones in 2020 if Haslam is still in his top five.
There have at least been steps in the positive direction and the hiring of both Andrew Berry and Kevin Stefanski seem to be one of the best moves Haslam has ever made.
The hope now is that the tandem works together for a decade and Haslam actually does become a top-five owner.
For now, we will have to settle for his jokes.