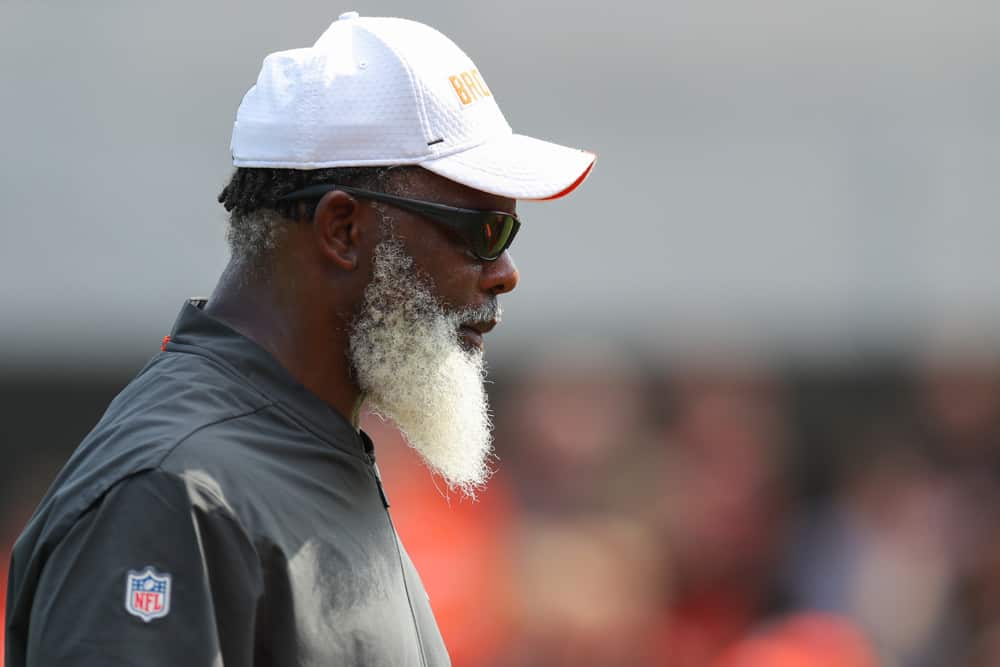 The Cleveland Browns will be without one of their stalwart guys on the sidelines on Sunday afternoon when they face the Pittsburgh Steelers.
Running backs coach Stump Mitchell, who was heavily involved in the Week 7 Denver game, coaching D'Ernest Johnson to tremendous success, will not be with the team.
He is dealing with a medical issue related to a prior knee injury.
#Browns will be without running backs coach Stump Mitchell, who is tending to a medical issue related to a previous knee injury.

— Tom Withers (@twithersAP) October 29, 2021
Mitchell had a knee procedure in the offseason, but the specifics of what he is dealing with are unknown.
All the team is saying is that Mitchell is out indefinitely to deal with these issues.
Coaching assistant Ryan Cordell and offensive assistant Kevin Roger will work together to fulfill Mitchell's duties while he is out.
Browns RBs coach Stump Mitchell will not be available to coach Sunday and is out indefinitely while he tends to a medical issue related to a previous knee injury.

Browns assistant Ryan Cordell will serve as interim RBs coach and sr. offensive assistant Kevin Rogers will assist.

— Andrew Gribble (@Andrew_Gribble) October 29, 2021
Stump Mitchell Has Survived Coaching Changes
It is a pretty good indication that a coach is good if he is held over from previous coaching staffs.
Normally, when a coach is fired, the entire staff goes too.
That has not been the case for Mitchell (or special teams coordinator Mike Priefer).
Mitchell has been with the Browns since 2019; he was hired by Freddie Kitchens.
He has worked with Nick Chubb and Kareem Hunt.
Both have credited his coaching and insight as contributing to their successes.
Kevin Stefanski plans to retain #Browns RB coach Stump Mitchell, league source says. He's done an outstanding job with Nick Chubb and Kareem Hunt and Stefanski wants to build on that success.

— Mary Kay Cabot (@MaryKayCabot) January 20, 2020
Coaching D'Ernest Johnson
Prayers for stump Mitchell 🙏
Get better soon 🙏#Browns #brownstwitter pic.twitter.com/Kn5uVQrsC0

— The_Brownie_Elf (@TheBrownieElf1) October 29, 2021
It was obvious that Mitchell enjoyed coaching Johnson in his first career NFL start in Week 7 against the Denver Broncos.
He was spotted on the sidelines talking with Johnson with Nick Chubb sitting nearby.
Mitchell's coaching clearly worked wonders.
Johnson had over 140 yards rushing and 1 touchdown.
He was named the FedEx Ground Player of the Week for Week 7.
Mitchell has always believed in Johnson so it was especially gratifying for the coach to see his player live up to the potential on a national stage.
I think Stump Mitchell had D'Ernest Johnson in mind when he said, "You're on the roster for a reason."

What a performance!!!

— Jim McCullough (@YCityJim) October 22, 2021
Hopefully, Mitchell can rejoin the team soon.
The running back room has been beaten up this season so far and now includes the coach in addition to the players.