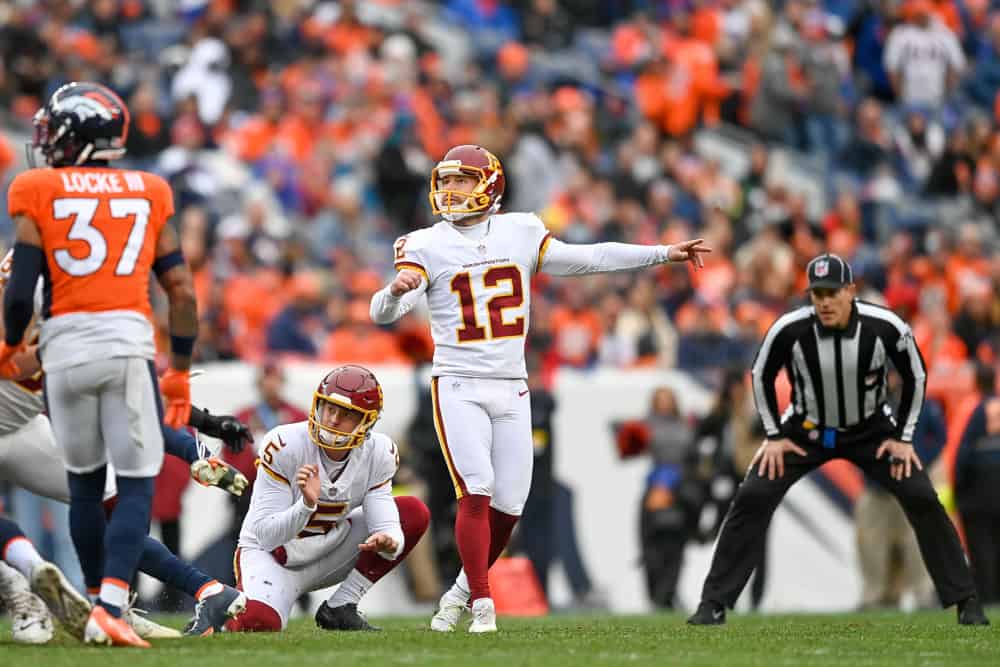 The Cleveland Browns have decided to bring in another kicker ahead of their matchup with the Pittsburgh Steelers.
Last week, starting kicker Chase McLaughlin was unable to play since he was on the COVID list.
Instead, Chris Nagger was the active kicker and missed an extra point during the loss to the Green Bay Packers.
Now, the Browns have decided to add more reinforcements in the form of kicker Chris Blewitt.
#Browns have signed kicker Chris Blewitt to the practice squad and placed QB Nick Mullens on the COVID list

— Jake Trotter (@Jake_Trotter) December 29, 2021
Cleveland signed Blewitt to their practice squad, while placing quarterback Nick Mullens on the COVID list.
The 26-year-old kicker could very well get a chance to play if the Browns are down McLaughlin again this week.
Blewitt To Cleveland
This isn't exactly huge news, but the Browns have been struggling to find a consistent kicking option.
McLaughlin has struggled in the second half of the season, but head coach Kevin Stefanski didn't seem to trust Nagger.
Stefanski explained after their loss to Green Bay why he decided to pass three times having three timeouts left.
"I would just tell you, I think to be fair to Chris in that type of game, didn't want to attempt a long field goal with the game in the balance. We wanted to go score a touchdown — something that we had done throughout that game moving the ball," said Stefanski.
It certainly seems like coach Stefanski didn't have much faith in Nagger.
That being said, it's not shocking that they've decided to bring in another kicker.
Blewitt is an undrafted rookie out of Pittsburgh who spent most of the season with the Washington Football Team.
Sadly, his time with the Football Team didn't go as expected and the team moved on from the young kicker quickly.
Chris Blewitt again and 60% of his field goal attempts have been blocked thus far in his young #NFL career. #WashingtonFootball #WASvsDEN pic.twitter.com/oCAQk0sO0w

— JRED.COM (@JRedcom) October 31, 2021
Through two games, Blewitt made only 2-of-5 field goal attempts, but made both of his extra-point attempts.
Possibly, it was just a bad start and Blewitt is actually better than he seems.
Regardless, the Browns expect McLaughlin to be ready for their Monday night matchup with the Pittsburgh Steelers.
If not, Nagger or Blewitt could become the active kicker, but neither of them seem like much of an upgrade.
This is a position the Browns are going to need to address in the offseason.