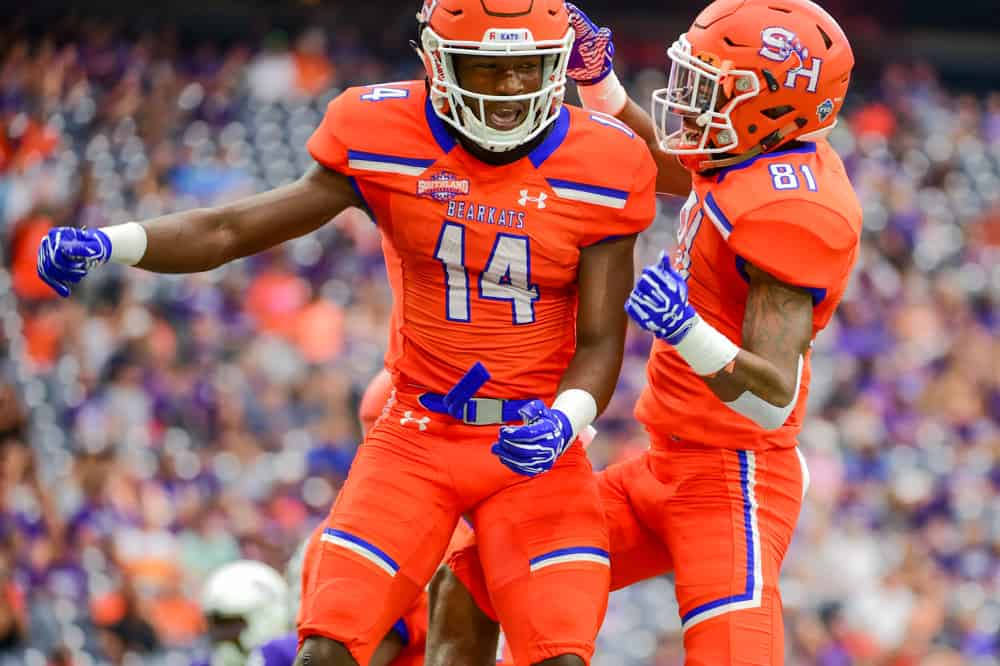 Just when you think GM Andrew Berry is done finding talent for the 2021 Cleveland Browns, he pulls another trick out of his hat.
Today, the Browns sign Spring League star wide receiver Davion Davis.
BREAKING: #TSLBlues WR Davion Davis is heading to Cleveland for mini-camp with the @Browns.

Davis finished #TSL2021 with 14 receptions for 223 yards and 2 TDs (including this highlight reel catch in Week 1).

Congrats, @14DDavis!#TSLinNFL pic.twitter.com/eKWpgPgfzF

— The Spring League 🏈 (@TheSpringLeague) June 14, 2021
Who Is Davion Davis?
Davis's name may be familiar.
He is a 2019 UDFA from Sam Houston State who signed with the Minnesota Vikings.
During the 2019 season, he was on the Vikings practice squad.
Davis is 6'0″ and weighed 185 pounds at the time of the 2019 NFL Draft.
At Sam Houston State, Davis had 226 catches, 3,181 receiving yards and 40 touchdowns.
A leg injury caused Davis to miss the last two games of his senior season.
In his senior year, he did make an OBJ-like one-handed catch.
He is coined a "triple threat" as he can play receiver as well as on the punt and kickoff return teams.
In 2019, the World Wide Arms draft profile for Davis talked about his special teams skills describing him as:
"A fearless and dangerous return specialist that [has] the capability to bust any return."
Davis Honed His Skills In The Spring League
He ran a slow 40 which hurt his draft stock.
It was in the 4.6 range when he ran it at his 2019 Pro Day.
He was also considered small, and his technique including route-running needed improvement.
However, analysts projected him as a 5th to 7th round draft pick.
After the Vikings waived him before the 2020 season, Davis went to The Spring League and worked on all the issues that were considered impediments to his NFL career.
He put on muscle and weighs in now at 205 pounds.
Davis also has significantly improved his route running skills.
Will Davis Make The Browns Roster?
No one knows the answer to that just yet.
He will receive serious consideration not just for his college career, but for the developmental time he spent working on his game in The Spring League.