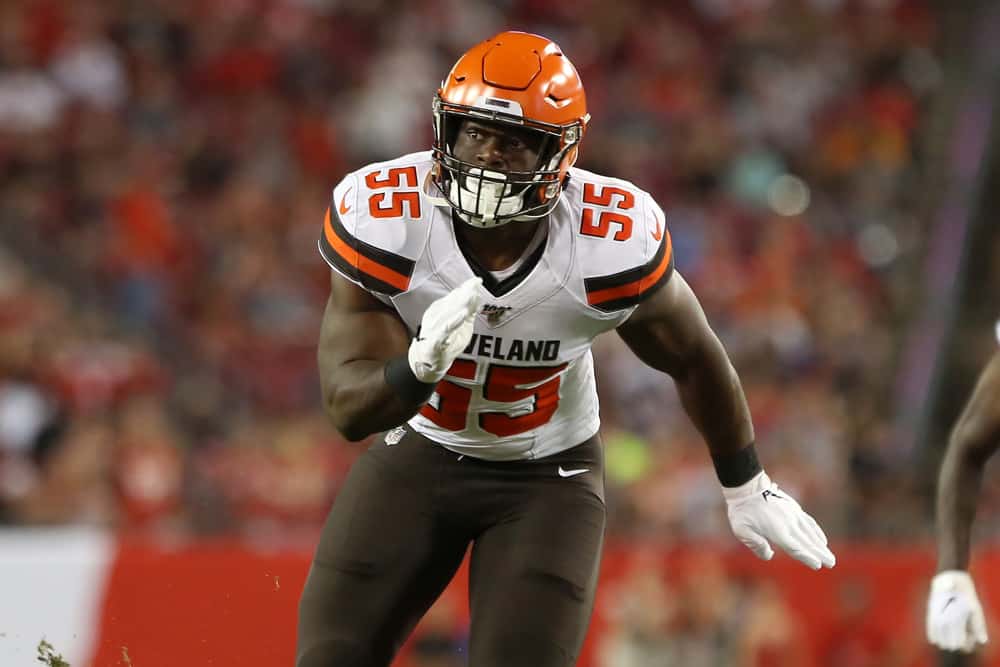 Yesterday, the Cleveland Browns announced a trade with the Philadelphia Eagles. Unfortunately, it wasn't for an offensive lineman.
Rather, John Dorsey dealt 2018 stand out edge rusher Genard Avery for a 2021 fourth-round draft pick.
Dorsey drafted Avery out of Memphis in the fifth round of the 2018 NFL Draft.
In his rookie season, Avery impressed, playing 14 games and seeing 63.4% of the Browns' total defensive snaps. He recorded 4.5 sacks.
More impressively, Avery pressured the quarterback 42 times (29 of those pressures included hurries). He finished in second place on the team for both pressures and hurries.
The Eagles traded for Genard Avery this afternoon, a player with explosive traits who can explode upfield and turn the corner. He's got legit juice off the edge and joins a team where he can just fly upfield and wreak havoc as a subpackage rusher. #FlyEaglesFly pic.twitter.com/4vHRG23krc

— Fran Duffy (@fduffy3) October 28, 2019
In 2019, the Browns failed to find ways for Avery to make an impact. He played on less than 5% of the Browns' total defensive snaps, recordeding 1 tackle during that time.
The trade makes sense for Cleveland, if Avery is never going to see the field. However, his measurables combined with his significant development in a short period of time make finding a replacement in the fourth round difficult.
His workout metrics suggest Avery has plenty of upside moving forward. He ran a 4.59 40-yard dash, which ranks in the top 80th percentile of linebackers in his class.
His speed score is in the top 90th percentile, as well, but speed is not his only strong suit. As a former state powerlifting champion, Avery's used his strength. It is no surprise that he repped 26 bench presses, ranking him in the top 84th percentile.
Linebackers going thru drills. Here's Genard Avery #Memphis pic.twitter.com/KhZf5sfaQC

— Evan Barnes (@evan_b) April 3, 2018
A few comparable edge rushers that will be available during the 2021 NFL Draft (the year of the Eagles' fourth-round draft pick) are Boise State's Curtis Weaver, Arizona State's Merlin Robertson, Tulane's Patrick Johnson, and Auburn's Big Kat Bryant.
It is difficult to predict where these four outside linebackers will eventually be selected in the NFL Draft, but between the second and seventh rounds is the current projection. None of them currently possess the speed and agility of Avery.
Obviously, the Browns could go an alternative route in 2021 and draft another defensive position, or disregard defense entirely in favor of offense. Either way, Dorsey gave up an athletic edge rusher who has shown quick development in the NFL for a chance at a similar player.
ICYMI: Memphis Tigers Genard Avery @AveryGenard off the deflection, snags it, bolts in for the TD vs. Temple pic.twitter.com/8Omqvpao8l

— Bryan Fenley (@BryanFenley) October 8, 2016
The Eagles won this exchange. The future in Cleveland does not look as bright as it did at the beginning of the season. That could all change before the end of the trade deadline. Stay tuned.