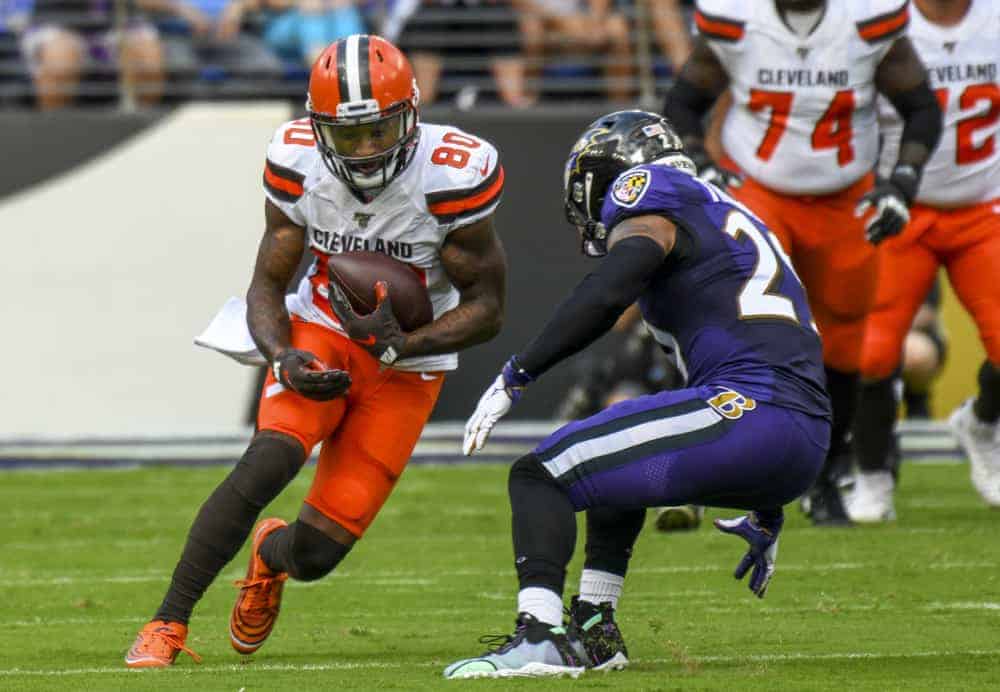 During his time with the Miami Dolphins, Jarvis Landry averaged 100 catches per season. In his last season before joining the Browns, he caught 112 passes and 9 touchdowns.
Unfortunately, Landry is disappointing the city of Cleveland this year.
[table id=3 /]
The Browns are trying to turn him into a different type of player than he was with the Dolphins. While his overall receiving yards and touchdowns are similar to what he saw in Miami, there is one statistic that changed dramatically.
Landry's average depth of target (aDOT) by season:
2014 – 5.0
2015 – 7.2
2016 – 6.4
2017 – 6.2
2018 – 11.2#Browns

— Mike Clay (@MikeClayNFL) September 26, 2018
Mike Clay illustrates that Landry is seeing an average depth of target (aDOT) with the Browns that nearly doubles his Miami numbers.
This trend continued in 2019. Landry possesses an aDOT of 11.4 yards through seven games.
This chart suggests that the Browns deserve some criticism for Landry's poor performance.
In Miami, Landry picked up first downs because the Dolphins threw him the ball in space. He is one of the better wide receivers in the NFL after the catch.
[table id=4 /]
In 2018, Landry had the fewest first down receptions of his career. Through seven games in 2019, he is on pace for a similar number.
The Browns need help moving the chains, ranking 28th in the NFL in first downs per play.
So, how did Landry convert so many first downs in Miami? He used his speed and agility after the catch.
[table id=5 /]
Landry's yards after catch (YAC) numbers dropped off significantly since joining the Browns.
Of his 198 YAC this season, 124 came in a single game against the Baltimore Ravens. In that game, Landry had one target that traveled more than 10 yards in the air.
It's not surprising that this was the best game the Browns played all season. Baker Mayfield had his best quarterback rating (QBR) of the season in that game, as well.
To better illustrate how good Landry is at running after the catch, see this video from Harris Football.
Using Landry appropriately is about more than just improving his personal performance; it should benefit the entire offense.
Mayfield needs a player like Landry as a security blanket. He should be someone the quarterback can get the ball to when he's under pressure.
The entire offense should benefit from Kitchens shifting the way he uses Landry. Odell Beckham Jr. would likely see less targets, but should be more efficient with the targets he gets. He might also see more trips to the red zone, leading to more touchdowns.
The offensive line has not been able to protect Mayfield while his wide receivers are running longer routes, and getting the ball out sooner can help that struggle.
Coming up in the next two weeks, the Browns face two solid defenses in the Denver Broncos and Buffalo Bills. Whether or not Kitchens is able to make the necessary changes and adapt his play calling to best utilize the players he has on the roster will likely determine his status as Browns' head coach after this season.
Browns' fans have mixed feelings about Kitchens right now, but he can still grow as a head coach and right this ship. Kitchens should start by giving Denver a heavy dose of Landry next week, and watch the rest of the offense improve as a result, similar to the game against Baltimore.