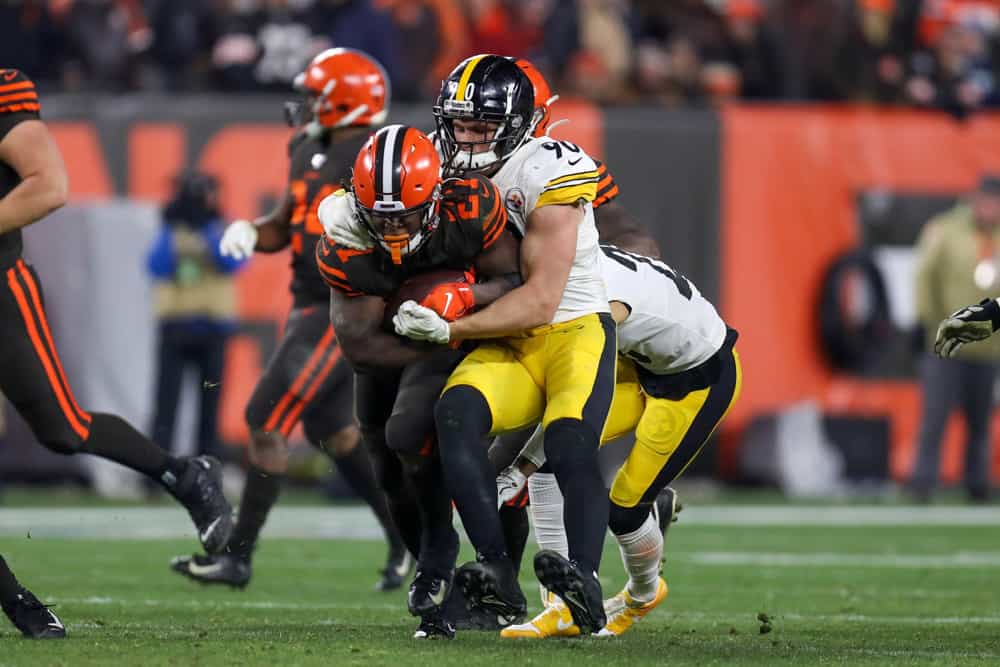 Nearly 10 months after the Cleveland Browns played one of their most memorable playoff games, they will matchup with Pittsburgh once again.
The Browns are coming off a win against the Broncos in what was a coming out party for running back D'Ernest Johnson.
Both the Steelers and Browns are trying to keep pace with the Ravens and Bengals in the AFC North standings.
Who will prevail on Sunday?
Let's take a look at our writer's bold predictions for this Thursday night matchup.
Writer: Wendi Oliveros

The Cleveland Browns have a huge Halloween game on Sunday.
The Pittsburgh Steelers, who are still offended by how soundly they were beaten in January in the wild card game, are coming to town.
Quarterback Baker Mayfield is playing with that left non-throwing shoulder, the source of multiple injuries.
Coach Stefanski and GM Berry are Ivy League graduates so I assume they know what is best.
If Mayfield gets injured worse, I will lose my appetite for all Halloween candy even the really good kinds.
I am going with a Browns victory in a close one because there must be a method to the madness.
The defense had better get in Roethlisberger's face because we know the Steelers will be doing that with Mayfield.
My Prediction: Browns 23, Steelers 21
Writer: Ben Donahue
Oh, what a tangled web we weave…
In anticipation of this week's match up with division rival Pittsburgh, both teams have been savvy in the art of deception.
So far, we've heard mention of "revenge" from the Steelers in retaliation for last year's playoff exit at the hands of the Browns.  However, Ben Roethlisberger downplays that notion.
Cleveland has also teased that quarterback Baker Mayfield will return from his one-game absence.
Report: Browns' Mayfield expected to return in Week 8 vs. Steelers https://t.co/IwImUqPh3v pic.twitter.com/HZzmf969Nh

— theScore NFL (@theScoreNFL) October 29, 2021
Is that just a clever ploy from the team to keep Pittsburgh guessing as to who will start?
In reality, it's much ado about nothing.
On Sunday, two teams that desperately need a victory will take the field in Cleveland.
Regardless of whether Baker starts or Case Keenum logs some snaps, they have their work cut out for them.
The Steelers defense is 12th in the league and they have very aggressive playmakers in TJ Watt, Cameron Heyward, and Minkah Fitzpatrick.
The Steelers are not great on offense and are currently ranked 26th in the NFL.
Roethlisberger probably should have retired after last season.
He has been a human piñata this year, enduring 12 sacks.  He's also been picked off four times.
The game comes down to whether the Browns can protect their quarterback, the running game pokes holes in the Pittsburgh D, and the Cleveland defense hammers Roethlisberger.
With the game being played in Cleveland, I give the crowd the 12th man assist.
My Prediction: Browns 28, Steelers 21
Writer: Pat Opperman

Who needs two arms?
Well, we'll find out soon enough if Baker Mayfield can play up to snuff with an arm tied behind his back.
Or, at least with an arm slightly immobilized by a shoulder brace.
Injuries continue to poke holes in the Browns roster, but the repairs have been mostly holding up.
And beating the Steelers makes everyone feel better.
Kevin Stefanski might call a Case Keenum-type of game plan for his one-winged quarterback.
And I fully expect the offense and defense to step up and rally around Mayfield.
Look for multiple sacks and turnovers from the defense in a relatively low-scoring affair.
My Prediction: Browns 24, Steelers 19
Writer: Mark Bergin

It's scary to think about which Browns are going to be healthy enough to play Sunday.
However, the Browns are due to get Nick Chubb (calf) and Jack Conklin (knee) back from injury.
Conklin is vital in slowing down Steelers outside linebacker T.J. Watt, especially because Watt typically lines up against the opposing offense's right tackle.
I think Chubb can carry a good portion of the load as long as Baker Mayfield doesn't turn into a pumpkin while returning to action with a torn labrum in his left shoulder.
The Steelers' young offensive line — they start two rookies in left tackle Dan Moore Jr. and center Kendrick Green, and second-year left guard Kevin Dotson — will have the spooky task of slowing down Myles Garrett.
Garrett enters Week 8 as the favorite to win NFL Defensive Player of the Year.
The key to t̶r̶i̶c̶k̶ ̶o̶r̶ ̶t̶r̶e̶a̶t̶i̶n̶g̶ the game will be controlling the line of scrimmage and time of possession.
I think the Browns can do both.
My Prediction: Browns 24, Steelers 20
Writer: Rocco Nuosci

Few things excite Browns fans more than a chance to beat the Pittsburgh Steelers.
On Sunday, Cleveland has a chance to do that and send Pittsburgh to last place in the AFC North if they can find a way to win.
With a bruised and battered Baker Mayfield set to start this week, keeping him upright will be the key to victory.
Baker went into the first Steelers game last season with concerns over his ribs.
He looked bad in the Week Six loss to Pittsburgh, throwing two interceptions and taking four sacks.
Nick Chubb missed that game dealing with an MCL injury but should be back Sunday.
#Browns QB Baker Mayfield and RB Nick Chubb both are off the final injury report, confirming they're set to return to action Sunday against the #Steelers.

CB Denzel Ward is out, while WR Odell Beckham Jr. and DE Jadeveon Clowney are among six listed as questionable.

— Tom Pelissero (@TomPelissero) October 29, 2021
Pittsburgh is fresh off a bye and won two straight heading into their break.
Without Baker at 100%, I don't love Cleveland's chances here.
My Prediction: Steelers 27, Browns 24