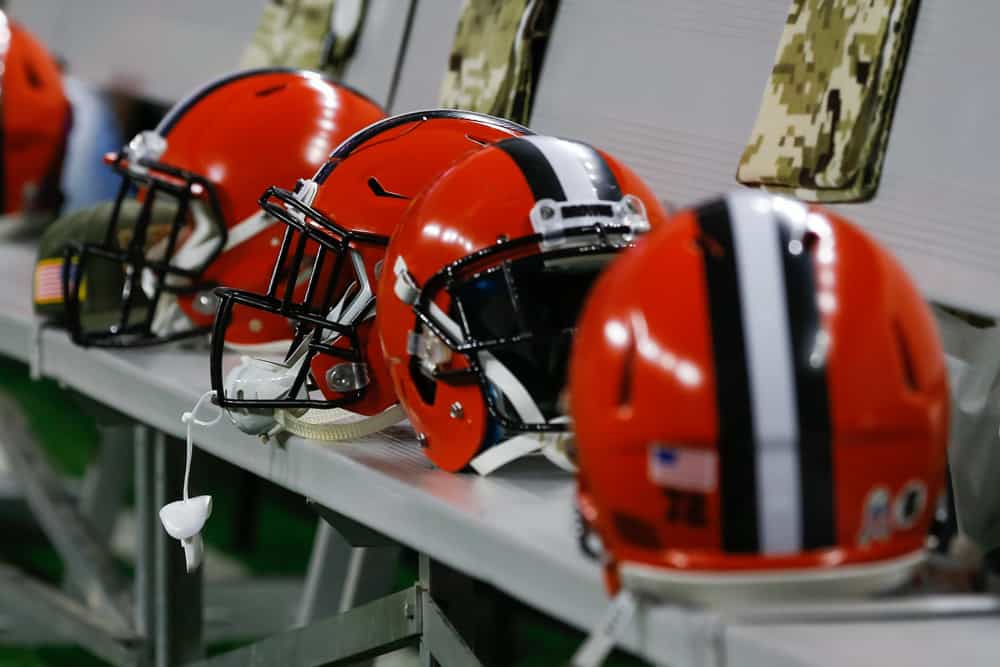 The Cleveland Browns continue to make moves in this strange summer to try and trim the roster down to 53 guys.
On Thursday, they took another step, or couple of steps, toward that goal. J.T. Hassell, Donnie Lewis Jr., J'Mon Moore, and Ricky Walker were all waived earlier this morning.
#Browns have made their first roster cuts. 4 waived Thursday: S J.T. Hassell
CB Donnie Lewis Jr.
WR J'Mon Moore
DT Ricky Walker
 
The active roster is at 75 players. All NFL clubs must reduce their active rosters to a maximum of 53 players by 4:00 p.m. on Saturday, Sept. 5.

— 92.3 The Fan (@923TheFan) September 3, 2020
As the above tweet states, all NFL teams have until September 5th to field a roster of just 53 guys.
With the Browns currently at 75 after the 4 cuts today, they must make 22 cuts by 4:00 PM Saturday.
Any Significant Loss?
To be frank, no, the Browns didn't make any big waves with the release of these four players.
The "shocking cut" champion would still probably go to the Jaguars and Fournette as of now.
Hassell, who is the first graduate of Florida Tech to appear in an NFL game, was waived last preseason as well before being signed back to the practice squad.
Hassell wound up making his debut in November, recording two tackles in a matchup with the Dolphins.
It's a similar story for Donnie Lewis Jr., who was drafted in the seventh round out of Tulane last April.
He was also waived by the Browns in September before signing to the practice squad later that same month.
J'Mon Moore, a fourth-round selection by the Packers back in 2018, played 12 games in Green Bay but caught just two passes before being waived the following August.
The Browns signed him to the practice squad in September but was never promoted to see NFL game action.
Ricky Walker signed with the Cowboys as an undrafted free agent last year.
After being waived after the season, he appeared in the XFL with the Tampa Bay Vipers.
Their season, and his contract, were terminated due to COVID-19.
He had just signed with the Browns less than 20 days ago.
Who to Expect Back
it's certainly possible to see some of these guys signed back to the practice squad.
This season, with new COVID-19 policies in place and a new CBA, practice squads jump from the usual number of 10 to 16 players.
This will allow six more guys to fight day in and day out throughout the season for a roster spot.
Practice squads typically see quite a bit of turnover. It's also possible we don't see any of these guys back.
Andrew Berry's regime with Kevin Stefanski could be looking for completely different things from it's practice squads member than the previous crew in charge.
Moore, the former Missouri stud, could potentially be back.
Being a 6'3", 200 lb receiver that was a fourth-round pick just two years ago is worth taking a closer look at in my opinion.
#Browns J'Mon Moore with the catch (via Browns) pic.twitter.com/yN4ENZJSzZ

— BrownsWave \: (@BrownsByBrad) August 29, 2020
For all of these guys, trying to crack that final roster somehow, somewhere, will continue to be a grind.
Being a practice squad member doesn't come with much job security.
I'm sure any of these four will tell you.
Even if the Browns don't intend to sign any of them back to their practice squad, don't be too shocked to see them all land elsewhere.