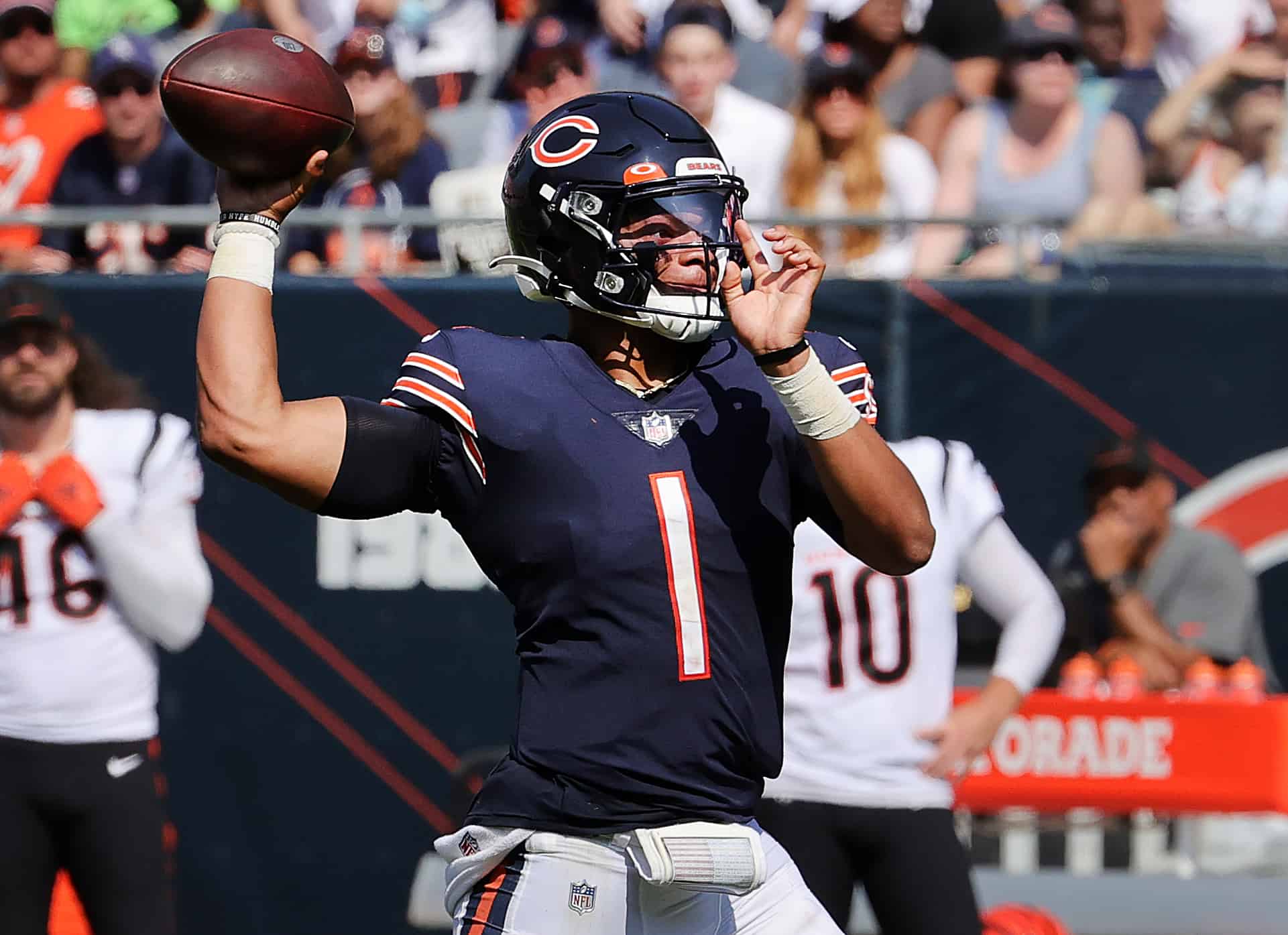 Chicago Bears rookie quarterback Justin Fields could make his first NFL start on Sunday against the Cleveland Browns depending on the health status of starter Andy Dalton.
Fields relieved Dalton during the Bears' 20-17 win over the Cincinnati Bengals in Week 2.
Dalton left the game late in the second quarter with a bone bruise injury in his left knee.
"It's not that significant of an injury, but generally, when people have this injury, they miss time," NFL Network reporter Ian Rapoport said on Tuesday. "That means we could see the first start of Justin Fields' career."
From @NFLTotalAccess: Final thoughts on the high-profile QB injuries to Tua Tagovailoa, Tyrod Taylor, Carson Wentz and Andy Dalton, with the latter potentially leading to the first start of Justin Fields' career. pic.twitter.com/OTv3fw8lVE

— Ian Rapoport (@RapSheet) September 20, 2021
It appears Dalton suffered the knee injury on a 14-yard run when he landed awkwardly on the sideline, and his left knee buckled.
Dalton actually returned to the game for a series before going to the locker room before halftime.
The Bears have stated Dalton would continue to be the Bears' starting quarterback if he's healthy.
The team also said Dalton did not suffer a torn ACL.
Perhaps Bears head coach Matt Nagy doesn't want the Browns' coaching staff to know which quarterback to prepare for.
In the 2021 season, Dalton is 36-of-49 passing for 262 yards, throwing for one touchdown and one interception.
Here is exchange from minutes ago when Nagy was asked if Dalton is healthy, is he the starting QB

MN: "If Andy is healthy, is he your starter? That's something that I'm not going to get into with scheme."

Reporter "That's not scheme"

MN: "Of course it is, that's 100% scheme."

— Brad Biggs (@BradBiggs) September 20, 2021
Meanwhile, the rookie from Ohio State has played in each of the Bears' two games:
Fields went 2-for-2 passing with 10 yards and had a 3-yard rushing touchdown in Week 1 against the Los Angeles Rams.
Fields went 6-for-13 passing for 60 yards, an interception, two sacks and he had 10 rushes for 31 yards in Week 2 against the Bengals.
However, the normally sure-handed wide receiver Allen Robinson II dropped what would have been a touchdown against the Bengals.
Box score won't tell you that this was a perfectly thrown should-be TD by #Bears QB1 Justin Fields: pic.twitter.com/7SvoZPqE5l

— Bryan Perez (@BryanPerezNFL) September 19, 2021
Fields was not pleased with how he played in his second NFL game.
"I think there's a lot more in me that I have to show," Fields said. "I know that's going to come with time. I know it's not going to come overnight, so I'm just going to keep grinding."
You gotta love this answer from Justin Fields.pic.twitter.com/iDhpv6HCBS

— BFR (@BearsFilmRoom) September 19, 2021
A key to Sunday's game could be whether Fields can extend plays with his legs against a pass rush led by All-Pro defensive end Myles Garrett.
Bears fans have clamored for the team to start Fields since trading up to draft him with the 11th overall pick of the 2021 NFL Draft.
In March, the Bears signed Dalton to a one-year deal worth $10 million.
Dalton, who played for the Cincinnati Bengals from 2011-2019, has a 12-6 record as a starter against the Browns.
Several other NFL starting quarterbacks got injured in Week 2, including:
Miami Dolphins quarterback Tua Tagovailoa with a rib injury
Houston Texans quarterback Tyrod Taylor has a hamstring injury
Indianapolis Colts quarterback Carson Wentz sprained both of his ankles.