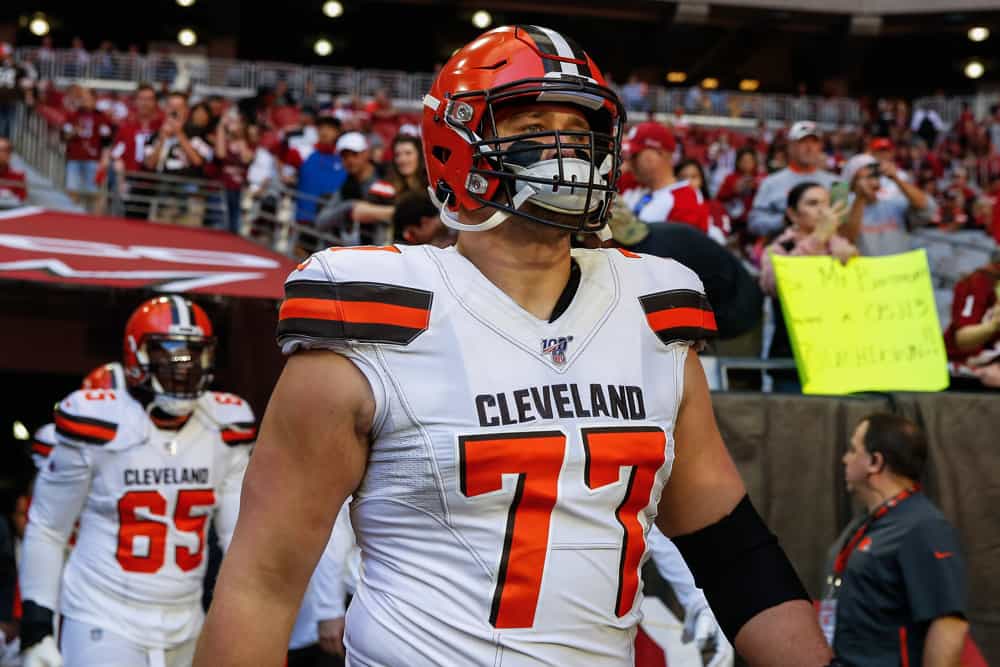 Andrew Berry pieced together one of the best offseasons (if not the best) in recent Cleveland Browns history.
Fans aren't the only ones taking note and getting excited, however.
Browns offensive lineman Wyatt Teller isn't so much impressed by any additions, rather, the continuity that the 2021 team features.
"It's crazy going into Year 4 in the NFL and this is the first time having the same offensive line coach for two years in a row", Teller told Browns.com.

"I'm doing my work and I'm trying to get better".
Fans in Cleveland are all too familiar with what a lack of continuity looks like.
Head coaching changes, quarterback swaps, and a mountain of other typical changes were absent this offseason.
That, as Teller mentioned, is a very welcomed sight in northeast Ohio.
Run it Back
The Browns offense was pretty loaded heading into 2020.
Despite that, they finished just 13th in total points scored and 16th in yards per game offensively.
That left plenty of room for improvement.
With Odell Beckham Jr. back amongst a roster that already is familiar with the offensive scheme, Cleveland should move the ball even better in 2021.
Teller and the offensive line are a huge part of that.
With all five starters back from last season, Cleveland's offensive front should be one of the best in football.
Nos. 77 + 76 on the #PFNTop100 – the Cleveland #Browns offensive line duo of Wyatt Teller & Jack Conklin.

Is this the best right tackle | right guard combination in the NFL this season? pic.twitter.com/9vAvnxpt4k

— Pro Football Network (@PFN365) July 6, 2021
They aren't the only group to stick around offensively though.
Obviously, Baker Mayfield is back under center.
The skill positions will mirror 2020, too, with Odell, Jarvis Landry, Nick Chubb, and Kareem Hunt highlighting the bunch.
Even the backup spots on the depth chart, filled with guys like Rashard Higgins and Donovan Peoples-Jones, look similar to last season.
The tight ends group may as well have been copied and pasted too.
This just isn't common across the NFL.
Teams that are loaded with talent are rarely able to keep everyone around for more than a season.
Yet, Andrew Berry and the front office did a tremendous job of keeping talent in Cleveland.
If there's anyone who can appreciate that, it's Teller, who's already witnessed a career's worth of coaching and front office changes.
Teller's Tale
Teller has quickly made his way to the top of the list for best right guards in football.
Here's 30 seconds of #Browns G Wyatt Teller absolutely dominating. Enjoy. pic.twitter.com/aI8PzwVlsm

— MoreForYouCleveland (@MoreForYou_CLE) October 6, 2020
Even while missing a few games due to injury, Teller's improvement from 2019 to last season was nothing short of incredible.
Pro Football Focus even named him the Browns' most improved player of the 2020 season.
Wyatt Teller's improvement in 2020 was nothing short of incredible 🤯 💪 pic.twitter.com/Netf8DoOnB

— PFF (@PFF) February 23, 2021
He also went viral back in March for carrying an alligator over his shoulders.
That may be looked at as something between impressive and insane, but it makes one confident that he can keep Mayfield safe in the pocket.
Nothing to see here, just Browns All Pro G Wyatt Teller carrying an alligator over his shoulders 🐊 🐊

(🎥: @BrownsByBrad) pic.twitter.com/KbAaT93IRE

— Field Yates (@FieldYates) March 5, 2021
As Teller enters the final year of his contract, an extension could very well be coming his way.
While he was a fairly average lineman before last season, his improvement in 2020 can't be understated.
Some may write that off as one great season and a flash in the pan.
The level at which he dominated matchups should tell those folks otherwise.
At just 26-years old, Teller could hold down Cleveland's right guard spot for several years.
It'd be a good bet that the front office makes sure he sticks around awhile.