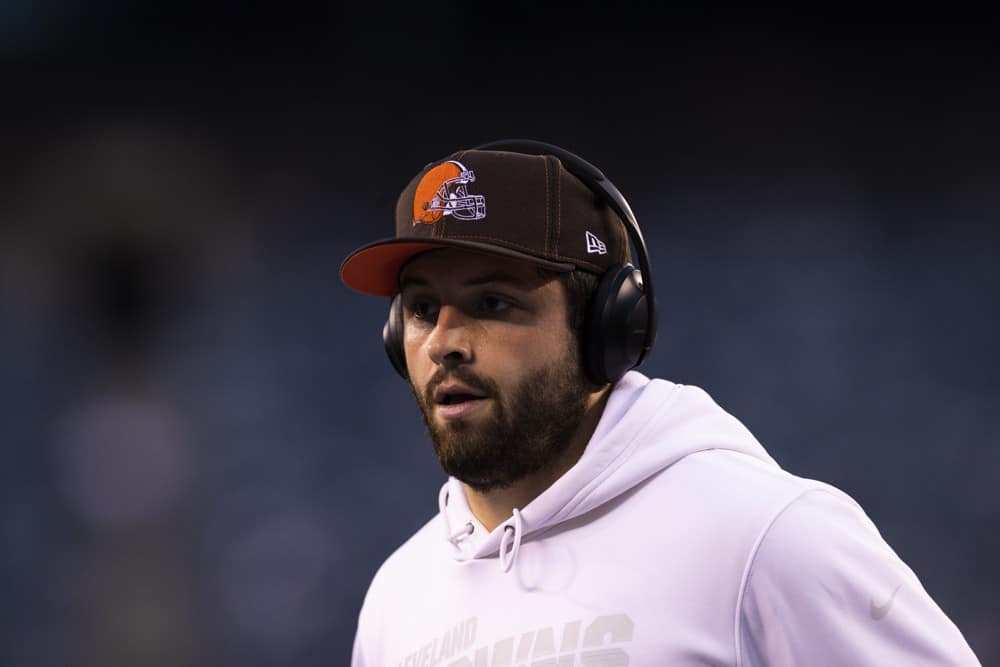 It's good to see teammates of Odell Beckham Jr. encouraging him lately.
As a quick personal note, I just recently tore my ACL and had surgery, so I can empathize with Odell in the fact that recovery is just not fun.
It's a slow and painful process.
For Beckham Jr., early portions of recovery just happen to coincide with his 28th birthday.
His quarterback, Baker Mayfield, made sure to do his part in showing his teammate some love.
View this post on Instagram

The Cleveland Browns social media team took the time to send their happy birthday wishes to Beckham Jr. as well.
RT to wish @obj a Happy Birthday! 🥳 pic.twitter.com/5rVcDh7emI

— Cleveland Browns (@Browns) November 5, 2020
Locker Room Bond
Since the offense clicked so well against the Bengals following Beckham Jr.'s injury, some speculated the offense might just be better without him involved.
This has been followed by rumors claiming the receiver may never play another snap for the Cleveland Browns, implying some sort of offseason trade.
"There's a very real possibility" that Odell has played his final game with the Browns, per @RapSheet

Cleveland could trade the WR next spring or summer pic.twitter.com/HPGkpFYcUB

— Bleacher Report (@BleacherReport) November 1, 2020
Even with all the background noise, it's nice to see Baker make this gesture towards Odell.
Sure, it's just a happy birthday post affirming his brotherhood with Beckham Jr.
These guys are still human beings though, as often as we tend to forget that.
I know I still enjoy seeing birthday posts on social media for me when my day rolls around, there's no reason to believe Beckham Jr. doesn't either.

Is He Gone?
It's still too early to tell what the future holds for Odell Beckham Jr.
As talented as he is, it's safe to assume Andrew Berry has received phone calls with different trade packages from opposing general managers.
That doesn't mean he's seriously interested in moving Odell though, and there's plenty of reason to believe (his expensive contract being one of them) he'll be in Cleveland to the end of his current deal.
Everyone's only talked about OBJ impact on @Browns offense in pass game—I think we will see his lack of presence more in the run game.@Browns Yds per rush since 2019:

OBJ on field (5.2)
OBJ off field (3.9)

Difference between ranking 2nd and 26th in the NFL in that statistic.

— Dan Orlovsky (@danorlovsky7) October 29, 2020
Browns QB Baker Mayfield said it was "completely insensitive" to think the team is better without Odell Beckham Jr., even though the offense looked pretty good without him in Week 7.

— MrTopNews (@MrTopNews1) October 29, 2020
Berry praises Odell Beckham Jr., and says primary focus is on him recovering from knee injury. Overall, pleased with @obj and hasn't changed his stance he's long-term fit here. #Browns

— Tom Withers (@twithersAP) November 4, 2020
Of course, nothing is guaranteed. Berry can say he is committed to Odell long-term now.
But if the right trade package arrives in the offseason, who knows what will happen.
For now, though, it's good to see both teammates and front office staff expressing their support for Odell, and wishing him a happy birthday too.