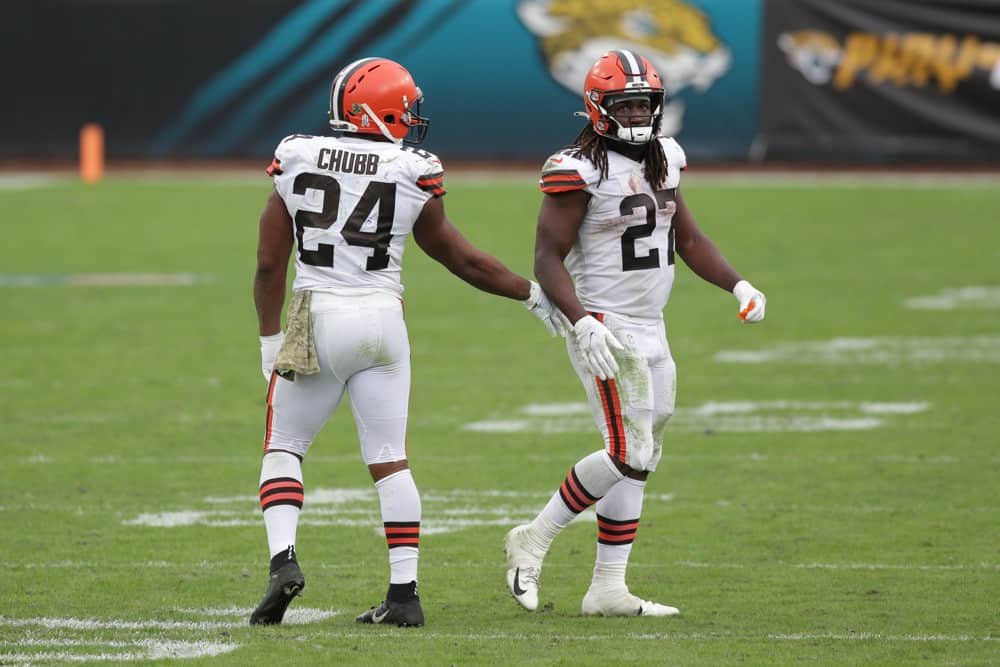 The Cleveland Browns boast two of the league's best rushers this season in Nick Chubb and Kareem Hunt.
Their ground and pound offense has thrived in a world where the passing game typically reigns supreme.
Each week, the team has had two dynamic rushers on the field.
Chubb and Hunt have helped shoulder the team's rushing attack, with each being on pace to have 1,000-yard seasons.
Only six teams in NFL history have ever had two such runners.
The last team to do so was the 2019 Baltimore Ravens with Lamar Jackson and Mark Ingram.
As their running backs approach history, what do their paths to 1,000 yards look like?
Where do they stand going into the final stretch of the season?
The Rise of Nick Chubb
Chubb, entering his third year in the NFL, has emerged as one of the league's best running backs.
.@NickChubb21 is now averaging 102.7 rushing yards per game 🤯 pic.twitter.com/qTx9jZSE3H

— Cleveland Browns (@Browns) November 30, 2020
In 2019, he rushed for 1,494 yards which was good for second in the NFL behind Derrick Henry.
Though a Week 4 MCL sprain sidelined him for a bit this season, he hasn't let it slow down his production.
Even with missing four games, Chubb leads the Browns in rushing yards with 719.
He is currently tied for sixth in the NFL for total rushing yards; he is also the only player in the top 13 for rushing with less than 10 games played.
This means he is averaging the most yards per carry among running backs, with 6.3 YPA.
1,000 yards is well within reach for Chubb over these last five games.
If he keeps his weekly average of 102.7 yards per game, he will break the threshold against the New York Giants in Week 15.
Hunt's Return to Success
After his future in the league was unclear due to off-field incidents, it seemed as though Hunt's NFL career was slowly slipping away.
However, 2020 has seen the 25-year-old running back return to form with the Browns.
With a backup role for most of the season, Hunt has stepped in and given the team better production than they could've asked for.
#Browns Baker Mayfield on the matchup between Titans' Derrick Henry and Nick Chubb: "You forgot Kareem Hunt."

— Camryn Justice (@camijustice) December 2, 2020
In 11 games, Hunt has rushed for 706 yards.
His 4.5 yards per attempt ranks 21st among all qualified rushers.
For a backup, this is great production to have at your disposal, allowing for the team to get creative with their offense.
Hunt's path to 1,000 yards may be a bit more difficult.
With him getting less primary touches than Chubb, and averaging just 64.2 yards per game, Hunt will need to put together a good five game stretch.
If he continues playing with this average, he will cross the mark during the last game of their season.
However, there is no sign that their rushing offense will be slowed.
The Importance of the Browns' Rushing Game
For the Browns, their running game is critical to their success.
They are a true ground and pound team, with a distinguished rushing attack to back it up.
The Browns are 7-0 when either Nick Chubb or Kareem Hunt scores a TD 🔥 pic.twitter.com/hkCcPGwaTE

— Sports Nation Ohio (@SN_Ohio) November 29, 2020
Chubb and Hunt aren't the only reasons for this, however.
Their offensive line has risen to become one of the league's best and most dynamic.
They are able to line up in a variety of formations and still run the football, making it difficult for opposing teams to prepare and game plan against them.
This is extremely important as their passing game isn't their strongest area.
Improved play from QB Baker Mayfield has given the team more of a threat in the air.
Regardless, they still rank lowly in the NFL.
With important games ahead of them, both to close out the regular season and in the playoffs, the Browns will likely choose to go with what works for them.
Potentially having two 1,000 yard rushers gives the team a distinct advantage, and they will likely try to ride them for as long as they can.