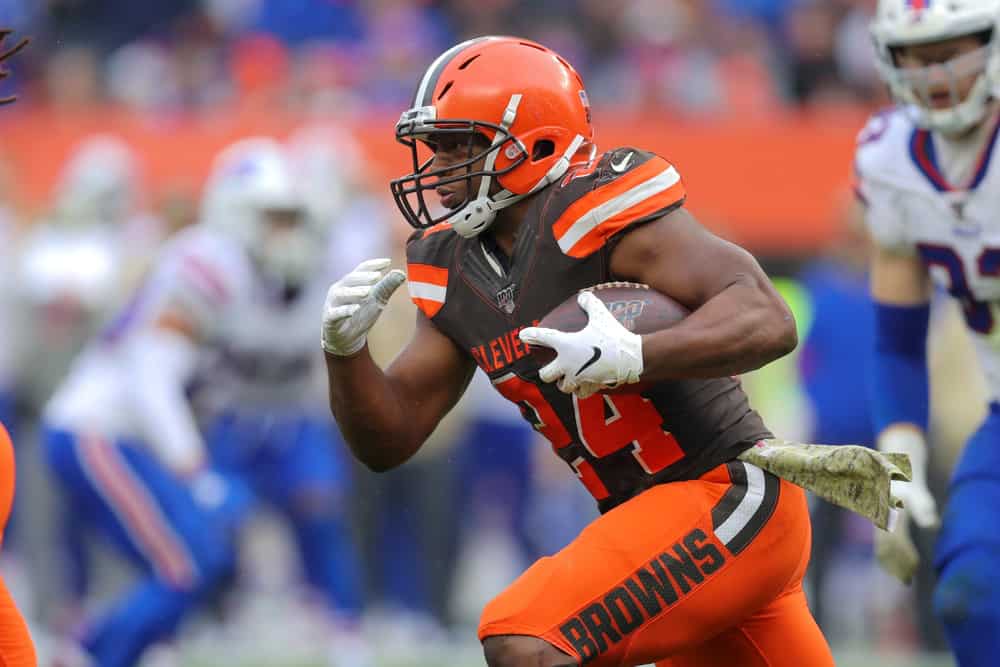 The Cleveland Browns have been without star running back Nick Chubb since he went down with a knee injury in Week 4 against the Dallas Cowboys.
The team is still 5-3, but missing a star has made things much more difficult.
His absence has loomed large even with Kareem Hunt serving as the lead back.
Great news is coming out of Berea following the team's bye week and that includes several players returning from injuries.
Chubb is a part of that list and is expected to play Sunday against the Houston Texans.
Nick Chubb will practice today when the #Browns return to the field from their bye weekend.

— Mary Kay Cabot (@MaryKayCabot) November 9, 2020
Getting Chubb Back on the Field
This is huge news for the Browns offense.
Chubb has two 100-yard games this season and was on pace for a third in Dallas before suffering his injury.
He is one of the more elite backs in the game and is expected to return against Houston's league-worst run defense.
The star runner has 335 yards on 57 carries this season.
He also has four touchdowns and any complaints about the offense during his absence should acknowledge the fact he was out.
Chubb's return totally changes the dynamic on offense.
Hunt can focus on being a threat in the passing game and not be forced to handle around 17-20 carries per game.
This becomes even more important with no Odell Beckham Jr.
This return comes at a time when Austin Hooper and Wyatt Teller are also back from injuries.
Nick Chubb, Wyatt Teller, Austin Hooper and Jacob Phillips all back at practice.

Stefanski: "Good to see those guys out there."

— Andrew Gribble (@Andrew_Gribble) November 9, 2020
The entire offense is becoming whole again and getting elite players back in several key spots.
Chubb Against the Texans
Sunday is the perfect game for Chubb to get back into the flow of the offense.
The Texans allow an average of 159.5 rushing yards per game.
That is the worst mark in the NFL right behind the Cowboys.
Teller being back means the Cleveland offensive line should dominate the Houston defensive line and allow Chubb to get an easy 100 yards on a mild workload.
— Cleveland Browns (@Browns) November 9, 2020
It's not like he is returning against the defensive front of the New Orleans Saints or Los Angeles Rams.
A lot of the focus Sunday will be on Baker Mayfield.
The third-year quarterback is seeking his first 300-yard game of the season following a disastrous performance against the Las Vegas Raiders before the bye week.
Having Chubb back changes what Mayfield needs to do in order for the Browns to win.
In fact, it takes the pressure off everyone else on offense because there is an expectation Chubb will dominate every Sunday.
Expectations in general remain high and getting Chubb back is also good for his personal interests.
The running back will likely want a new contract before the start of the 2021 season.
He doesn't seem like someone who would hold out, but you never know what can happen when money is involved.
Coming back off a knee injury and looking like his normal self should force the Browns' hands into just giving him that extension and not messing around.
We have all seen how the offense looks different without Chubb and the road to earning a fortune begins again Sunday.