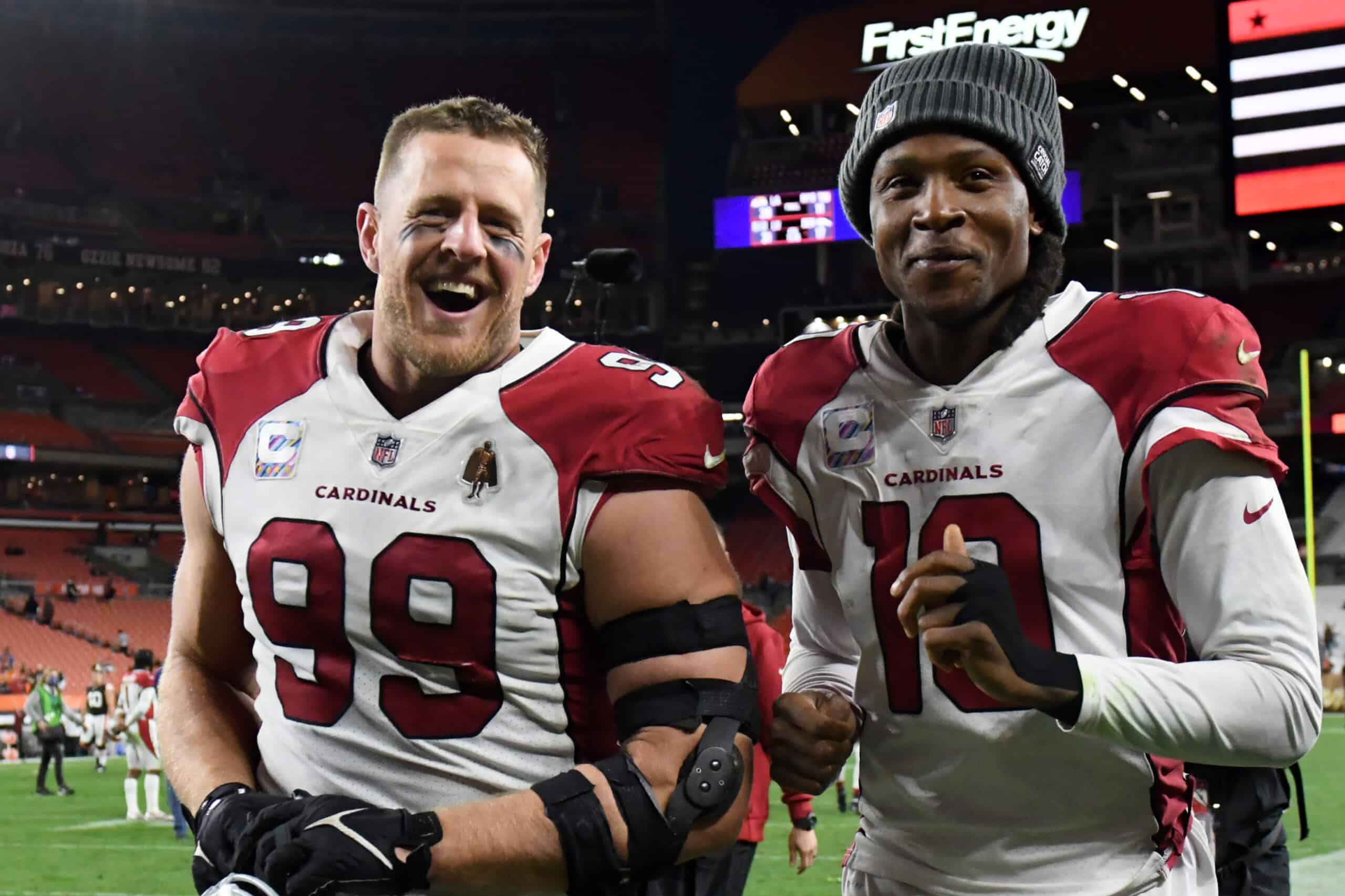 Adding insult to injury is commonplace across sports.
It's part of that "trash talk" mentality so prevalent in sports, especially football.
Following the Arizona Cardinals 37-14 thrashing of the Cleveland Browns on Sunday, the Cardinals Twitter account wasted no time enjoying the victory.
The oh-so-familiar downtown Cleveland billboard was used as the template.
Taking our talents back to the Valley. pic.twitter.com/zFvDTfZ5CA

— Arizona Cardinals (@AZCardinals) October 17, 2021
"Taking our talents back to the Valley", reads the caption.
This of course is a jab at former Cleveland Cavalier and face of that billboard LeBron James, who "took his talents to South Beach" in the summer of 2010.
When you come into enemy territory and win by 23 points, you earn the right to gloat a bit.
Return of the Red Birds
It's been a while since we've seen the Cardinals relevant on the national stage.
Last time that happened, it was 2008 and Kurt Warner was under center in Arizona.
He led them to the franchise's first postseason birth since 1998 and first-ever Super Bowl appearance.
Since losing to the Steelers, the Cardinals have pieced together a couple of good seasons, even returning to the NFC Championship game.
Yet, that first Lombardi Trophy remains elusive.
After hitting rock bottom at 3-13 in the 2018 season, a new rebuild began.
The team drafted Oklahoma product Kyler Murray with the first overall pick and sent Josh Rosen to Miami.
Kliff Kingsbury also came aboard as head coach, replacing Steve Wilks after just one season.
After two mediocre years, the Cardinals now seem to have found their stride.
At 6-0, they may have a claim as the best team in the NFL right now.
A major statement.

🗣 @DavePasch pic.twitter.com/XU8JGXE1il

— Arizona Cardinals (@AZCardinals) October 18, 2021
Sunday was a complimentary game all-around for the Cardinals.
The offense put up points, defense held their ground, and special teams played mistake-free.
It's the kind of performance the Browns will need to start piecing together if they want to get the season back on track.
What the Browns Should Be
The conversations around the Cardinals are the ones Browns fans want to have about their team.
Unfortunately, there seems to be more going wrong than right in Berea.
Part of the problem is Kevin Stefanski being out-coached by an opposing sideline without their head coach.
Cardinals HC Kliff Kingsbury, QBs coach Cam Turner and DL Zach Allen all tested positive today for COVID and are out for Sunday's game in Cleveland. In Kingsbury's place, DC Vance Joseph and assistant HC/ST coordinator Jeff Rodgers will split the Cards' head-coaching duties.

— Adam Schefter (@AdamSchefter) October 16, 2021
Injuries have not plagued Arizona to the same detriment as Cleveland.
Missing two starting offensive tackles in Jack Conklin and Jedrick Wills Jr. have started to catch up with Cleveland.
Still, some of the issues, such as the defensive lapses in coverage, are inexcusable regardless of injuries.
Seeing the Cardinals social media team have fun at their expense will hopefully light a spark under the Browns.
Not that every guy needs to print out the Tweet and tape it to their locker like some inspirational scene out of a 90's sports flick, but pride needs to kick in at some point.
It was completely absent from the Browns sideline in Sunday's loss.
That's not a great look from a team that had Super Bowl contending aspirations when this season kicked off.
With a short turnaround ahead of Thursday night's contest with Denver, this week of preparation is crucial for Cleveland.