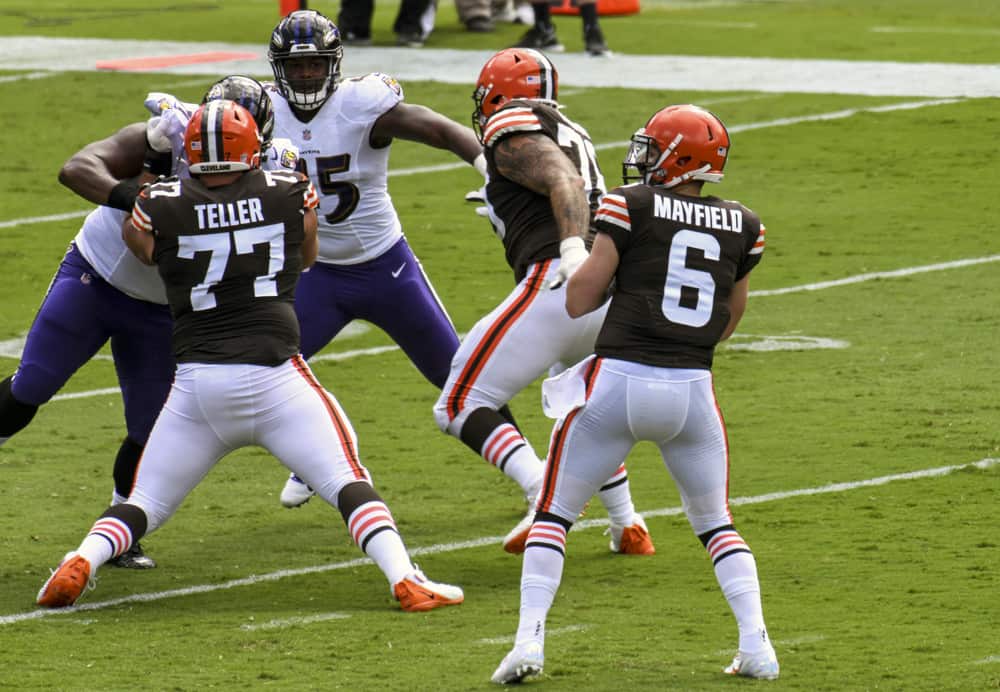 Joe Woods is living large with a wealth of new additions, and attention, to his Cleveland Browns defense.
But last Spring, it was Kevin Stefanski and his offense that raised hopes of a Browns renaissance.
Speculation about whether the running game could cover for a weaker passing attack raged.
Baker Mayfield was the subject of intense debate about franchise quarterbacks.
Baker Mayfield made a HUGE leap in 2020!

It's looking scary for #Browns opponents in 2021 😳 pic.twitter.com/LUCPjy69jQ

— CBS Sports HQ (@CBSSportsHQ) March 31, 2021
And there were some who expected Case Keenum to compete for a starting role.
After a crushing 38-6 opening weekend defeat in Baltimore, that debate seemed justified.
But something happened to the Browns offense after that.
They went on to score 32 or more points in 5 of the next 6 games.
The #Chiefs offense is awesome… but the @Browns have had some big games this year 👇 pic.twitter.com/zFKFGESWuC

— NFL GameDay (@NFLGameDay) January 17, 2021
Cleveland wound up with a more-than-respectable 14th-most points and 16th-most yards for the season.
Baker Mayfield was a top-5 NFL quarterback over the second half of the season.
And he leads every starter back for a second go-round in 2021.
That prompted 2 popular NFL analysts to predict the Browns will field the 7th-best offense.
But… CBS/NFL Debate Mayfield's Impact 
Baker Mayfield's name still sparks debate among NFL fans and analysts.
Despite his statistical and game-winning exploits of 2020, Mayfield still has doubters.
Enter CBS Sports analyst Jared Dubin and NFL.com analyst Cynthia Frelund.
Both of these respected experts believe in the Cleveland Browns offense.
.@BakerMayfield calls continuity within offense "pretty special"

📰 » https://t.co/5merPM1GYx pic.twitter.com/vjFf2LR5tj

— Cleveland Browns (@Browns) April 27, 2021
They each ranked Alex Van Pelt's unit as the 7th best overall attack for the upcoming season.
But when it comes to Mayfield, Dubin argues the Browns are at a disadvantage.
Frelund uses an unusual, but easily verified, argument that Mayfield is a key to Cleveland's potential success.
To be clear, neither analyst is telling readers to bet the house on where the Browns offense actually finishes.
Jarvis Landry says offense determined to be even better in 2021, focused on beating 'the standard'

📰 » https://t.co/7y8RCw2SVp pic.twitter.com/heumwmzW5s

— Cleveland Browns (@Browns) February 2, 2021
Their assessments are more a data evaluation of the current players and coaches equated to potential.
But on any given Sunday, or in any given season, the sum can exceed the parts… or fail miserably.
And if one player affects an offense's potential more than any other, it is usually the quarterback.
That is what makes the comments about Mayfield in each assessment so important.
Dubin Credits Stefanski For Mayfield Performance 
Jared Dubin's article grading 2021 NFL offenses uses a weighted system to assign more value where warranted.
Quarterbacks are most important and thus, their assessment is weighted heavier than the others.
Play callers, offensive lines, pass catchers, and then running backs carry progressively lesser weight.
Cleveland outscored the 10th-best Bills by 2 full points in the 25-point unweighted assessment.
But in the weighted results, Cleveland falls just behind Buffalo into 7th place.
Will the @Browns open it up on offense in 2021 (like they did in the playoff win over the Steelers)? 🤔 @nflnetwork @wyche89 @PatrickClaybon pic.twitter.com/vJIpIZbtRN

— Michael Silver (@MikeSilver) May 10, 2021
Quarterback Josh Allen is graded just below elite, while Mayfield comes in just above average.
That was enough to push Buffalo into the sixth position despite their significantly lower raw score.
"We don't want to double-credit Kevin Stefanski for getting the best out of Baker Mayfield last year, so he (Mayfield) remains a 3.5 (slight above-average) for now."
We are not privy to the precise weighting of the CBS system.
But if Baker Mayfield earns just a half-point more of faith from Jared Dubin, Cleveland is probably a top-5 offense.
Frelund Introduces "Pace Control" To Analysis
Cynthia Frelund's article projects the top 10 offenses based on another group of objective data points.
The NFL Network analyst is more easily quoted than explained:
"I wanted to explore the league's top offenses via projected win share, (which) measures each player, position group, and side of the ball's ability to earn/prevent first downs, points, and touchdowns."
Like Dubin, Frelund notes Cleveland's offensive line, running backs, and Stefanski's offensive system.
The Cleveland Browns are returning their entire starting offense and bring back their coaching. Not to mention they get to build on the Stefanski scheme. This doesn't get talked about enough.

This is how good teams get better. Consistency.

— bri (@breezyCLE) April 14, 2021
But then she explains a more abstract assessment she calls "Pace Control."
She describes this as the quarterback's ability to control the time between each throw, i.e. the pace of an offense.
Working with an assortment of coaches, Frelund came up with an observable standard to measure pace control.
She watched 3 years of game films noting if and how many players turned their heads in the 2 seconds before a snap.
.@RyanDLeaf on @BullandFox: "He (Baker Mayfield) gave you something really special this year. And, one more year in that offense, the wide receivers coming back…I think the Cleveland #Browns can be special with Stefanski, Baker and this team moving forward."

— Keith Britton (@KeithBritton86) February 1, 2021
Frelund and the coaches defined that action as pre-snap confusion, which disrupts the offense's flow.
Mayfield's growing confidence and success in the second half of 2020 coincides with a 20% improved pace control.
Armed with a returning cast of coaches and teammates, Mayfield figures to continue that improvement.
And that makes Mayfield an impetus, not a detriment, to the Browns' 7th-best offensive attack.