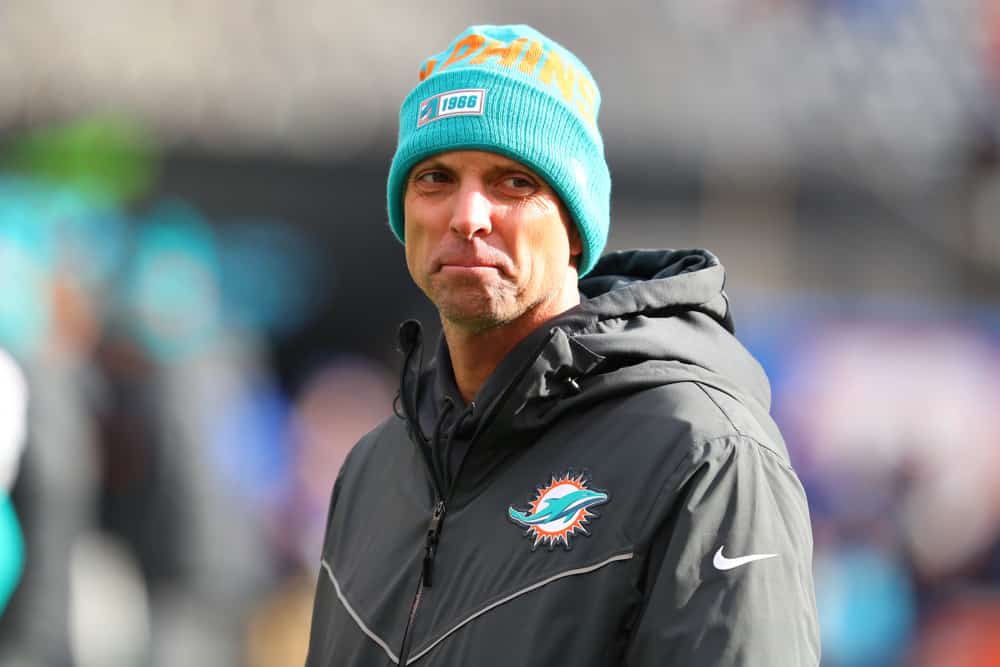 New Browns head coach Kevin Stefanski's staff is one step closer to completion.
Today, the Browns hired Chad O'Shea as wide receivers coach and passing game coordinator.
#Browns hire former #Dolphins OC Chad O'Shea as WR coach and possibly passing game coordinator. As reported Sunday, Stefanski will also interview ex #Broncos OC Rich Scangarello Mon or Tues. Titles will be set when all on board https://t.co/mAgbvnMjUb

— Mary Kay Cabot (@MaryKayCabot) January 19, 2020

O'Shea was with the Miami Dolphins this past season as their offensive coordinator.
He brings a wealth of experience with him that could help the Browns improve offensively next season.
Playing and Early Coaching History
O'Shea's experience on the offensive side of the ball first came as a quarterback.
He spent 1991-1993 with Marshall University.
He then transferred to the University of Houston and played quarterback from 1994-1995.
After graduating from college, O'Shea spent time as a college coach at Houston, then at Southern Mississippi.
In 2003, O'Shea joined the coaching staff of the Kansas City Chiefs.
He coached special teams for the Chiefs through the 2005 season.
O'Shea and Stefanski in Minnesota
O'Shea then joined the staff of the Minnesota Vikings in 2006 as an offensive assistant and wide receivers coach.
In a twist of fate, Stefanski was also hired by the Vikings in 2006.
During their years together in Minnesota, O'Shea and Stefanski helped the Vikings offense take shape.
Stefanski and O'Shea saw the Vikings go from 6-10 to 8-8 and then finish 2008 at 10-6.
After the 2008 season, the careers of both men took off.
O'Shea in New England
While Stefanski was working with Brett Favre in Minnesota, O'Shea left Minnesota and joined the Patriots.
He joined Bill Belichick's staff in 2009 as wide receivers coach.
O'Shea tutored a who's who of receivers during his time with the Pats.
The list of names include: Julian Edelman, Danny Amendola, and Brandin Cooks.
O'Shea also had the good fortune of coaching during Super Bowl LI.
In that game, the Patriots were down to the Atlanta Falcons 28-9.
They got it together and roared back for a 34-28 overtime victory.
O'Shea continued to coach Patriot receivers through the 2018 season.
Poor results in Miami
O'Shea was hired by the Dolphins to be their offensive coordinator before the 2019 season.
Unfortunately, O'Shea joined an organization that was about to experience major upheaval and dysfunction.
Before and during the season, the Dolphins traded key personnel including quarterback Ryan Tannehill and Laremy Tunsil.
Then, O'Shea had to design an offense to meet the strengths of journeyman Ryan Fitzpatrick and newly acquired Josh Rosen.
Miami began the '19 season 0-8, and were outscored by opponents 238-77.
On November 24, the Dolphins traveled to Cleveland and were handed a 41-24 loss by the Browns.
The high point of Miami's season was a season-ending 27-24 victory at New England.
However, that victory was not enough to save O'Shea's job and he was fired by the team on December 30.
During O'Shea's tenure as Dolphins OC, the team finished near the bottom of the NFL in several offensive categories.
Miami was 25th in points per game, 13th in passing yards, 31st in yards per rush, and 25th in turnovers.
After examining O'Shea's experience as a coach, it's hard to say who the Browns are getting.
Was O'Shea just a victim of circumstance in Miami or were the results an indication of his ability?
O'Shea does have an impressive coaching pedigree.
Only time will tell how much that pedigree helps the Browns get to the next step in their development.