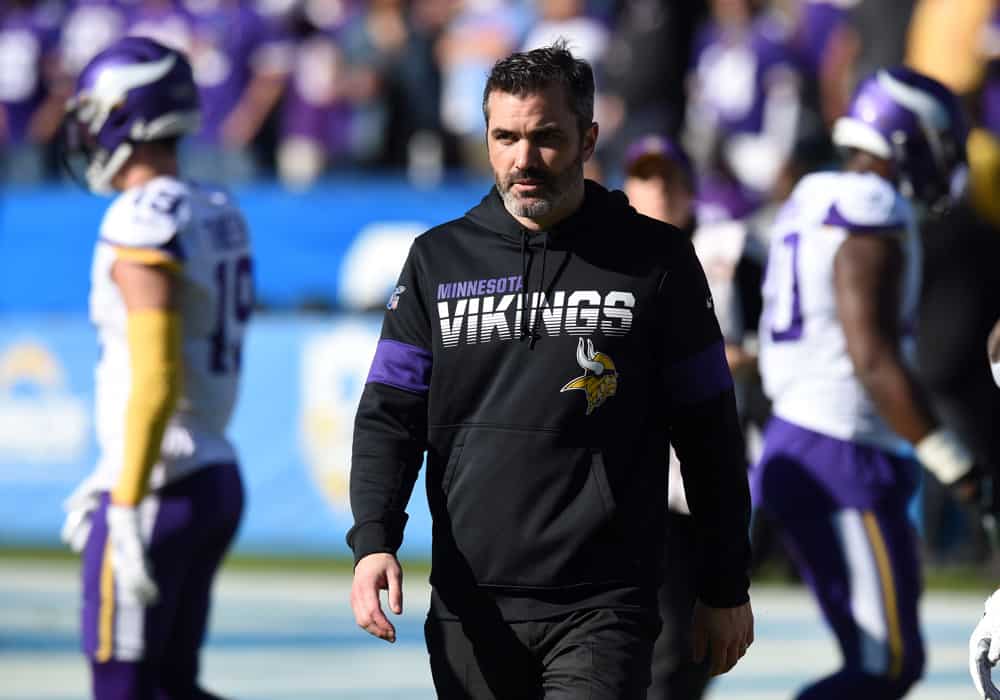 Jimmy and Dee Haslam beamed radiantly at the Cleveland Browns' press conference when they introduced Kevin Stefanski as their new head coach.
Their smiles were challenged only by the wide grin of Paul DePodesta.
When Stefanski said, "The sky's the limit" regarding the future of Baker Mayfield and the Cleveland franchise, the mood grew brighter.
The Browns' front office believes they finally have their winning combination, a "well-aligned" group to lead their team to the Promised Land.
Jimmy Haslam plans to hire Browns coach and let coach pick general manager so they 'align' https://t.co/dvaWDC5fi6

— The News-Herald (@newsheraldinoh) January 3, 2020
Considering some key personnel aren't yet in place, the optimism might be a little over-warranted.
CBS recently interviewed members of the Browns search committee.
They indicated the Haslams and the front office believe their team is on the cusp of greatness.
The committee told candidates they have most of the pieces they need.
They believe the right head coach could bring playoff football back to Cleveland this season.
Unnamed reporters in the CBS piece feel the committee is delusional about the magnitude of the task at hand.
Certainly, Josh McDaniels' plan to gut the front office did not match their narrative.
The reports are that Josh McDaniels wanted to revamp the entire organization and that didn't fly with Browns Brass. pic.twitter.com/2P6PMkNmQS

— Cleveland Sports Talk (@CLEsportsTalk) January 12, 2020
But Kevin Stefanski has been cautious to control near-term expectations, too.
"We will start at the foundation, and then reinforce that foundation, so we can build something great," said Stefanski.
That's a far cry from, "We're going to the Super Bowl!"
So what should we expect in Kevin Stefanski's first season as head coach?
We should expect quite a bit, actually.
We Should Expect to See Discipline on the Field
Without a doubt, this has to be the top priority of every Browns coach.
It was the basis of Freddie Kitchens' failure.
The penalties and sideline antics were only symptoms.
Discipline starts with preparation, practice, and communication.
Kevin Stefanski hit on the problem when he stressed there will no confusion about expectations for meetings, practices, workouts, and game days.
"We will have structures in place, the players will understand our rules and what we are about, and we are going to be demanding and we are going to hold each player accountable," Stefanski said.
Stefanski offered that in his experience, players don't usually ask for a more disciplined or accountable approach.
"But that's what they want."
That extends into his own preparation, as well as the preparation of whoever calls the plays on game day.
New #Browns head coach Kevin Stefanski on analytics:

"I'm looking for any edge we can get on game day…….we're looking to make informed decisions, as a play-caller or in player evaluation. Information is power" pic.twitter.com/2UTJzc9cHl

— Kevin Cole (@KevinColePFF) January 14, 2020
Stefanski brushed aside rumors of the analytics department interfering with game plans.
"Information is power," says Stefanski.
He admits he looks forward to the analytics reports each week, but he runs the team.
His team will have the information they need to make crisp decisions and execute their plan.
In other words, don't expect to see Baker Mayfield rushing to get a snap off or wasting timeouts due to communication delays from the sidelines.
We Should Expect to See More Effective Teaching
Stefanski talked about his willingness to lead from out front and step back when his players take over.
On its surface, that sounds like Kitchens' weekly mea culpa.
Kitchens, as well as former general manager John Dorsey, often cited the players' failure to execute.
They called out the team's consistency and player mistakes.
Kitchens saw his role as putting a plan in place and expecting professionals to follow it.
Stefanski considers his role (and that of his coaching staff) to be a teacher.
He promised to "develop players into the best version of themselves."
Mike Zimmer statement on Stefanski: "Kevin is a smart young coach with a bright future…. His work ethic and teaching ability have been obvious to me behind the scenes since I came here 5 years ago. He's well respected by coaches and players both and I know he's up to the task."

— Chris Tomasson (@christomasson) January 9, 2019
Players should expect more of an explanatory detail of game film and less blaming.
Instead of "you missed that block," a player might hear why he missed that block.
Mayfield can expect details of how to adapt to different throwing situations instead of "You don't throw well off the scramble."
Game reviews might take longer, but the players can expect to come away with a better vision of how to improve each week.
We Should Expect Better Use of Personnel
Much is made about the similarities in personnel between the Minnesota Vikings offense and the Browns'.
Minnesota ran early and often, and their passing game was effective.
Cleveland has the players to follow that plan.
But Minnesota's success wasn't just because of their stars' abilities.
It was because they were set up to succeed.
Stefanski believes finding what each player does best is as important as finding his weaknesses.
Using each player's strength is easier than asking players to change tendencies.
Minnesota does not have an overpowering offensive line.
They still supported an explosive running game and a quarterback who set a career-best in passer rating.
That's because Stefanski introduced a zone-blocking scheme that made the most of the line's athleticism and lessened the importance of power and technique.
Stefanski knows Mayfield does some things better than others.
Stefanski thinks Baker Mayfield is a special player.

Buy all the Baker Mayfield stock 👊🏽

— Everything Cleveland (@EverythingCLE_) January 15, 2020
Expect lots of play-action and maybe some Run-Pass Options to get Mayfield on track.
Odell Beckham Jr and Jarvis Landry have important roles in what Stefanski describes as a flexible offense.
Stefanski will use David Njoku and Demetrius Harris to provide Mayfield with more options.
It won't take much analytical data to improve play-calling in the red zone and goal-to-go scenarios.
Stefanski knows the Browns skill positions are amenable to his West Coast derived offense.
Expect everyone to touch the ball and have their moments.
We Should Expect More Cohesion
Jimmy Haslam spoke repeatedly about the alignment of his front office and coaches.
Stefanski's job will be to extend that alignment into the locker room and onto the field.
Communication will be key.
Players will know where they stand and what the team expects of them.
But it goes beyond that simple objective.
Stefanski's teaching moments are more than an exercise in skill improvement.
They give the coach a chance to get to know his charges.
By all accounts, players in Minnesota admired their offensive coordinator.
#Vikings TE Kyle Rudolph on new #Browns HC Kevin Stefanski pic.twitter.com/XSAstE9Eeh

— BrownsWave \: (@Brownswave) January 14, 2020
They felt he cared about them as much as he did about winning.
Freddie Kitchens tried to use encouragement and trusted the players to find ways to improve.
Stefanski builds players' confidence and abilities by providing analytical feedback.
Minnesota players bought into Stefanski's methods and mannerisms.
In a paradoxical way, individual attention promotes cohesion.
"This is what you can do to improve the team."
Stefanski has some challenging personalities to win over.
But his extended experience with the Vikings should help turn the Browns into a more cohesive unit.
We Should Expect More Pro Bowl Candidates
Without a doubt, the Cleveland Browns underperformed in 2019.
But the players didn't forget how to play football.
Stefanski hasn't decided who will call the offensive plays in 2020.
But an Ivy League-educated, analytics-believing coach understands the game plan can't change on game day.
Improved play will come from more predictable and timely play calls than the Kitchens-Todd Monken disconnect provided.
Baker Mayfield is the main benefactor of that dynamic.
Browns new coach Stefanski working on scheme to draw out best in Mayfield https://t.co/Zqix19zg7d

— Morning Journal Sports (@MJournalSports) January 19, 2020
Stefanski's plan will put him in a better position to succeed.
Play-action, designed rollouts, more receiving options in play, and the threat of Cleveland's running backs set Mayfield up for a Pro Bowl season.
Nick Chubb and Kareem Hunt can be used interchangeably or given specific roles.
Hunt's 5.5 receptions per game and Chubb's 22 touches per game could each see an uptick.
If Stefanski decides to run as much as Minnesota did last season, Cleveland could boast two Pro Bowl running backs.
It's hard to believe Landry and Beckham each went over 1,000 yards last season.
Imagine if the game plan made more sense and built on their strengths?
The biggest change will be at tight end.
Expect Njoku and Harris to play important roles.
They might not make the Pro Bowl, but they will warrant red zone attention and loosen up defenses.
Should We Expect More Winning?
Here is where things get dicey.
Amid all the hype of 2019, John Dorsey tried to temper expectations.
The team would do well to follow that lead again.
Kevin Stefanski is a good choice as head coach.
He will get better performances from his players.
But his players still have a period of transition.
As with this article, all expectations revolve around the Browns' offense.
But Cleveland needs their defense to rebound, too.
The Browns clearly needed a change at DC. Wilks was greatly hurt by injuries, but his defense underperformed for most of the season. They pretty much gave up in the last few weeks. Plus I did not like how he was more a system guy rather than playing to his player's talents.

— Joe Gilbert (@JoeGilbertWFNY) January 19, 2020
An inexperienced bench (and probably a lost locker room) contributed to a second-half collapse.
The unit is as big a priority as the offensive line.
Winning games 24-10 is much easier than winning 35-31.
But, the team should find itself in a position to win games regularly.
Kevin Stefanski's offense might be the defense's biggest improvement.
Ball control and scoring cover a lot of deficiencies.
Their schedule includes the AFC South and NFC East divisions, along with Oakland and the Jets.
At this point, before free agency and the draft, everyone is expected to improve.
For now, it looks like there are as many winnable games as not.
Jimmy and Dee expect playoff football in Cleveland by next season.
Cleveland should be more than competitive and fun to watch.
There is no doubt a playoff spot is possible.
But simply winning more games than they lose is a more realistic expectation for 2020.