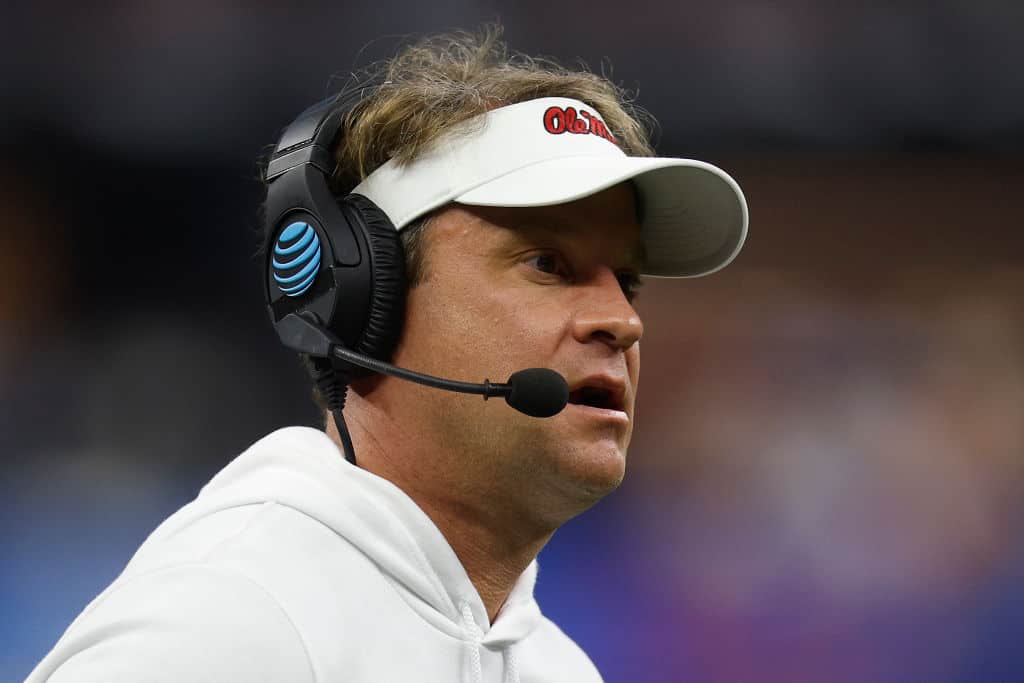 The Cleveland Browns are welcoming back defensive line coach Chris Kiffin to the 2022 coaching staff.
Less than one month ago, it was reported that Kiffin was leaving the Browns to join his brother Lane Kiffin at Ole Miss.
He was slated to become co-defensive coordinator along with Chris Partridge.
SOURCE: Cleveland Browns DL coach Chris Kiffin is expected to join the Ole Miss coaching staff as a Co-defensive coordinator and will run the defense along with Rebels defensive coordinator Chris Partridge.

— Bruce Feldman (@BruceFeldmanCFB) January 13, 2022
Kiffin's "Change Of Heart" Reported Yesterday
ESPN's Chris Low reported on Thursday that Chris Kiffin had a "change of heart" about taking the Ole Miss job.
Chris Kiffin is leaving @OleMissFB to return to coach in the NFL with the Cleveland Browns, sources tell ESPN. Kiffin joined his brother @Lane_Kiffin last month as the Rebels' co-defensive coordinator, but had a change of heart and decided to get back into the NFL.

— Chris Low (@ClowESPN) February 10, 2022
There is no word on what caused Kiffin to change his mind.
Kiffin, 40, already had two Ole Miss coaching stints on his resume.
Those were in 2007 as a graduate assistant and from 2012-2016 as the defensive line coach and defensive recruiting coordinator.
Besides his two seasons with the Browns, Kiffin's other NFL experience is with the San Francisco 49ers as the pass rush specialist coach.
The Browns had not yet filled Kiffin's position which turned out to be a fortuitous decision.
Other Browns Vacant Coaching Staff Positions
The Browns have one less vacancy to fill with Kiffin's return.
Kiffin's colleague, Jeremy Garrett, the assistant Browns defensive line coach, announced his departure from the Browns in mid-January.
Garrett will be the defensive line coach at Liberty University in 2022.
SOURCE: Liberty is expected to hire Cleveland Browns assistant Jeremy Garrett as the new Dline coach.

— Bruce Feldman (@BruceFeldmanCFB) January 11, 2022
Assistant special teams coach Doug Colman will also not be back for 2022 after spending three seasons with the Browns.
A change amongst the Browns' assistant coaching staff, as assistant special teams coach Doug Colman is no longer on the staff. He had just finished his third season in Cleveland.

— Field Yates (@FieldYates) January 20, 2022
Former Ravens DC Wink Martindale Leaves AFC North Behind
NFL and AFC North football fans were surprised that the Baltimore Ravens fired defensive coordinator Don "Wink" Martindale.
As expected, he was not unemployed for long, but he is now out of the crosshairs of the AFC North rivalries.
Giants are finalizing a deal to hire former Ravens' defensive coordinator Wink Martindale as their new defensive coordinator, per source.

— Adam Schefter (@AdamSchefter) February 8, 2022
Martindale will be the defensive coordinator for the New York Giants for the 2022 season.
After the Super Bowl, new NFL coaches will continue to fill out their coaching staff positions so more changes within the Browns and other AFC North coaching staffs are possible.