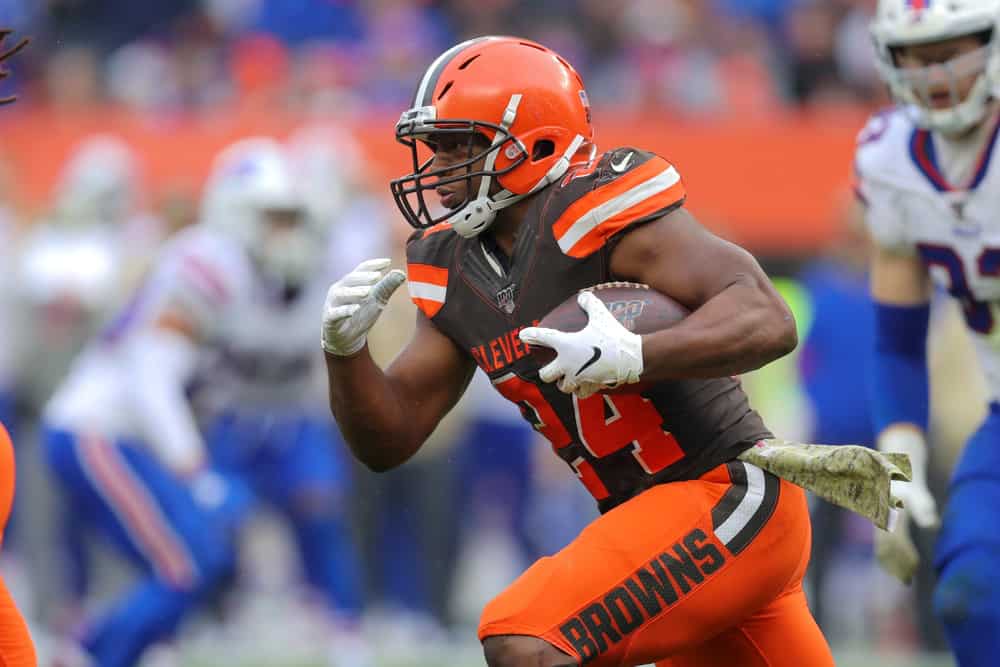 As the Cleveland Browns prepare for training camp, they find themselves in a whirlwind of uncertainty.
There are questions about masks, safe crowd sizes, and whether the games should be played at all.
But diehard fans are ready to brush viral matters aside to ponder the really important issues.
For example, what kind of offense will Kevin Stefanski run?
Will the Cleveland Browns offense in 2020 be as exciting to watch as the Kardiac Kids? pic.twitter.com/FGaqo8SNmA

— Spike Perry (@DawgPoundPerry) July 7, 2020
How much time does Jedrick Wills need to adjust and excel at left tackle?
What´s a fullback do, exactly?
That´s why Browns Nation is running a training camp preview series.
In this article, we´ll look at the four running backs returning from 2019.
Does each of these backfield mates fit the vision of the Browns offense?
Or could they get bumped out by one of the four newcomers?
Cleveland is expected to emerge as a run-first, run-heavy team.
Stefanski´s Vikings were one of only three NFL clubs that ran more times than they passed in 2019.
All three (San Francisco, Baltimore, and Minnesota) earned playoff positions.
With a pair of stud All-Pro rushers, there is little reason to think Stefanski will change.
Running backs who've earned 90+ PFF grades since 2017:

Nick Chubb (91.4)
Christian McCaffrey (90.8)
Aaron Jones (90.6)
Alvin Kamara (90.5)
Austin Ekeler (90.4)
Kareem Hunt (90.1) pic.twitter.com/lpcX1L6bYr

— PFF CLE Browns (@PFF_Browns) July 23, 2020
But with a trio of former All-Pro receivers to work with, you never know.
If these players have anything to say about it, the Browns will dominate on the ground.
Let´s take a look at who could line up behind Baker Mayfield this fall.
Nick Chubb, RB- 5´11″, 227# entering 3rd year (Georgia)
Cleveland fans might never forgive Freddie Kitchens for costing Nick Chubb a rushing title.
Chubb had the prize in the bag after Week 15, topping 100 yards in 5 of 7 games out of the bye.
But he could only muster a total of 90 yards on 26 carries over the final two weeks.
Whether that is Kitchens´ fault or not is a topic for another day.
More important is how Kevin Stefanski translates what could look like a late-season fade.
Most missed tackles forced on rushing attempts since 2018:

Nick Chubb – 110
Chris Carson – 107
Derrick Henry – 103 pic.twitter.com/qz8wU56tby

— PFF CLE Browns (@PFF_Browns) July 22, 2020
With a second former All-Pro in the backfield, Stefanski has options he didn´t have in Minnesota.
Cleveland could roll out a two-headed monster to dominate the game.
But Stefanski ran Dalvin Cook as a workhorse for the Vikings.
He didn´t have an All-Pro level backup in Walter Mattison or Mike Boone, but they ran well and could catch.
And Cook´s injury history warranted concern about wear and tear much more than Chubb´s does.
Adding to the mystery is Stefanski´s discussion of Kareem Hunt lining up as a wide receiver.
Could that mean Stefanski is trying to get Hunt on the field while Chubb handles the rushing attack?
Or is the coach plotting more misdirection and deception for his Browns offense?
While Cleveland´s fanbase ponders all this, Chubb continues to work as if he´ll carry the ball 1,000 times.
Nick Chubb's workouts have been on a different level this offseason 😳 @NickChubb21 @Browns pic.twitter.com/F7Paaed7MN

— The Checkdown (@thecheckdown) June 18, 2020
Regardless of Stefanski´s plans, Nick Chubb is ready to carry it out.
There is no question he is the starter and a lock to make the roster.
Stefanski´s game plan is widely touted as one devised to help Baker Mayfield excel.
But Nick Chubb will thrive in a zone-blocking, play-action attack with its built-in misdirection as well.
Anything less than 1,000 rushing yards will disappoint, with 1500 total yards a good bet.
Kareem Hunt, RB- 5´11″ 216# entering 4th year (Toledo)
Could the Cleveland Browns have a pair of 1,000-yard rushers in 2020?
If Kareem Hunt has anything to say about it, they will.
But it is likely most of Hunt´s yardage will come through the air.
Hunt caught 37 of 44 targets for 285 yards in a somewhat unimaginative offense last year.
He tacked on 179 rushing yards at 4.2 yards-per-carry.
Stefanski´s conversation about Hunt as a wide receiver validates his pass-catching ability.
#Browns RB Kareem Hunt's ranks from the time he returned to the team in 2019 (Wk10-17):

▪️Forced missed tackles on receptions: 15 (2nd)
▪️Elusive rating: 119.2 (3rd)
▪️Receiving grade: 83.4 (4th) pic.twitter.com/xYHbDkl5YB

— PFF CLE Browns (@PFF_Browns) July 4, 2020
Like most of the Browns skill players, Hunt is excited about their new playbook.
After signing his ERFA tender, Hunt is basically playing for his next contract.
He hopes this season looks more like his All-Pro effort of 2017 than last year´s post-suspension contribution.
Andrew Berry is more concerned about Hunt´s off-field performance.
Besides the assault that earned him his suspension, Hunt had a well-publicized police interaction this offseason.
All is apparently forgiven and barring another incident, Hunt is a lock for the roster.
The biggest threat to a 1,000 all-purpose yards for Hunt might not be an over-reliance on Chubb.
It could come down to how much the Browns use the fullback in their new offense.
Dontrell Hilliard, RB- 5´11″ 202# entering 3rd season (Tulane)
Cleveland re-signed Dontrell Hilliard this offseason primarily as a special teams player.
Hilliard led the team in return yards and played on coverage teams, too.
Mike Preifer´s return as the special teams coordinator could help Hilliard survive final cuts.
It is unclear if Stefanski plans to carry 4 running backs and a fullback like he did in Minny, or just three and one.
Dontrell Hilliard is IN FOR SIX!

We're on the board for the first time in 2019.#TENvsCLE pic.twitter.com/bheLy5SyyU

— Cleveland Browns (@Browns) September 8, 2019
On offense, Hilliard snagged 12 catches (92 yards) and ran 13 times for 49 yards and a pair of touchdowns.
An early-season blocking miscue resulted in a hard hit on Baker Mayfield and a spot in Freddie Kitchens´ doghouse.
Stefanski´s offense and an improved offensive line can cover some running back blocking deficiencies.
Coaches that like to teach more than criticize will help, too.
Unless a rookie UDFA excels in the preseason, Hilliard has at least a 60-40 shot of making the roster.
D´Ernest Johnson RB- 5´10″ 208# entering 2nd season (South Florida)
D´Ernest Johnson earned some preseason love last year after leading the team in rushing and grabbing a touchdown pass.
But he also left Mayfield exposed on a blocking miscue in Week 2, and never touched the ball on offense again.
He did return some kicks and punts when active.
D'Ernest Johnson rips off 47-yard runback on opening kickoff
#Browns vs #Bengals pic.twitter.com/7bK78SNCFn

— Browns Replay (@BrownsReplay) December 29, 2019
That is why he has any shot at making this year´s roster.
Prior to his ill-fated blocking attempt, Johnson gained 98 yards on 10 touches through 2 weeks.
He could make it hard for Stefanski to cut him with another strong preseason.
But if it comes down to a gut call, Johnson is the underdog to Hilliard or a Berry-signed rookie.