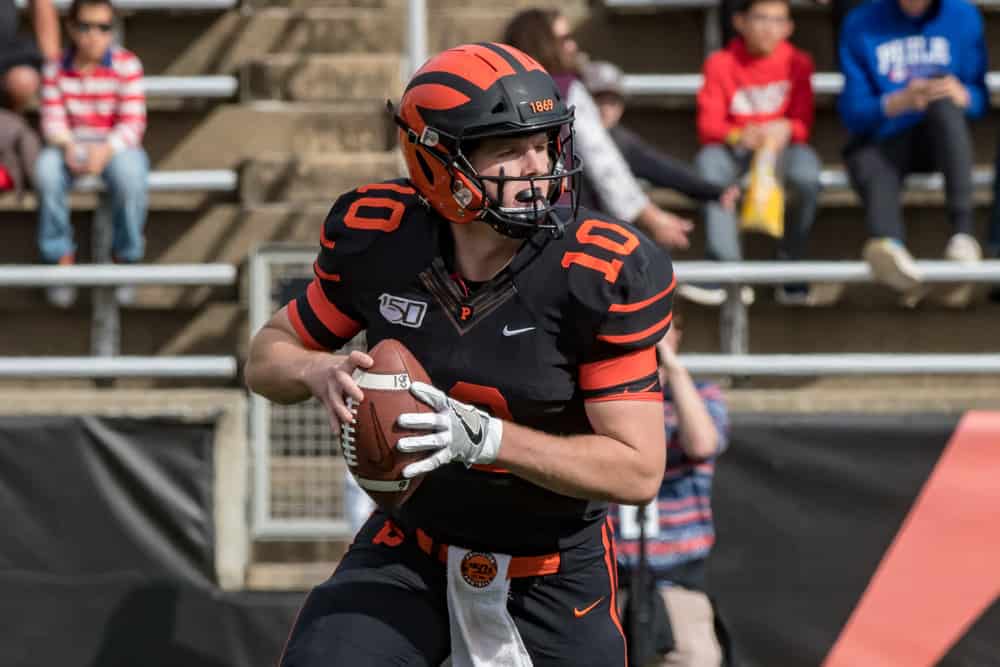 Most Cleveland Browns fans will not concern themselves with any quarterbacks other than Baker Mayfield and maybe Case Keenum.
But fans have seen third-string quarterbacks be called upon in the recent past.
That is all part of supporting the Browns.
Mayfield holds the top spot on the depth chart and the veteran Keenum will provide some real competition as the backup.
Training camp is set to begin and fans will be hearing about and seeing pictures of two other quarterbacks getting reps.
Let's get to know both a bit better.
Garrett Gilbert is in at QB.#CLEvsPIT

— Cleveland Browns (@Browns) December 1, 2019
Garrett Gilbert's Second Year
Garrett Gilbert made his NFL debut in 2014 and his Browns debut in 2019.
He threw a total of three passes from 2014-2018 and his career seemed to be all but over.
Then Gilbert emerged as a superstar in the AAF with the Orlando Apollos.
His AAF career ended abruptly when the league went under, but his performance was enough to earn him a job with the Browns.
Gilbert spent the year as the backup with Drew Stanton serving more as the mentor.
He finished with three total passes in limited action in relief of Mayfield.
A fun fact about Gilbert is he and Mayfield both went to Lake Travis High School in Texas.
Before they occupied our QB room together, Baker Mayfield and Garrett Gilbert starred at the same Texas high school

📰 » https://t.co/G6CC2XNw1f pic.twitter.com/0RwbusyRX9

— Cleveland Browns (@Browns) April 5, 2019
Gilbert is the older of the two and will enter the season as a 29-year-old.
He does provide depth, but having Keenum on the roster means seeing Gilbert on the field in 2020 would signal total chaos for the Browns.
The Texas native is on the roster simply for depth and his stint in the AAF proves he at least hold his own if needed for a short amount of time.
Yet once again, Gilbert staying on the sidelines is ideal in 2020.
Kevin Davidson, The Rookie
Kevin Davidson is a new name for Browns fans.
He is an undrafted free agent out of Princeton and if you want to feel old, just know he was born in 1997.
Former Princeton QB Kevin Davidson is signing with … the #Browns, source said. Obviously.

Coach Kevin Stefanski went to Penn. GM Andrew Berry went to Harvard. Another Ivy League connection with Davidson.

— Tom Pelissero (@TomPelissero) April 26, 2020
Davidson did not start until his senior season and finished that year in 2019 with 2,569 yards and 20 touchdowns.
Right now Davidson is in a competition with Gilbert for that third quarterback spot.
Unfortunately, having less time to work with the team in this unique summer may doom his chances from the start.
Davidson also has the chance to end up on the practice squad.
Teams always carry extra quarterbacks this time of year and the Ivy League front office settled on a player from a familiar program.
Davidson does stand 6-foot-4 and was invited to the East-West Shrine Bowl earlier this year.
Getting young quarterbacks in camp is never a bad idea and the Browns can at least see what he can do.
That could result in a practice squad spot or maybe nothing.
This is all part of the business.
July is the time of year when fans are able to look at the expanded roster and think of all the possibilities.
Gilbert and Davidson are not important pieces right now, but Browns fans know anything can happen.