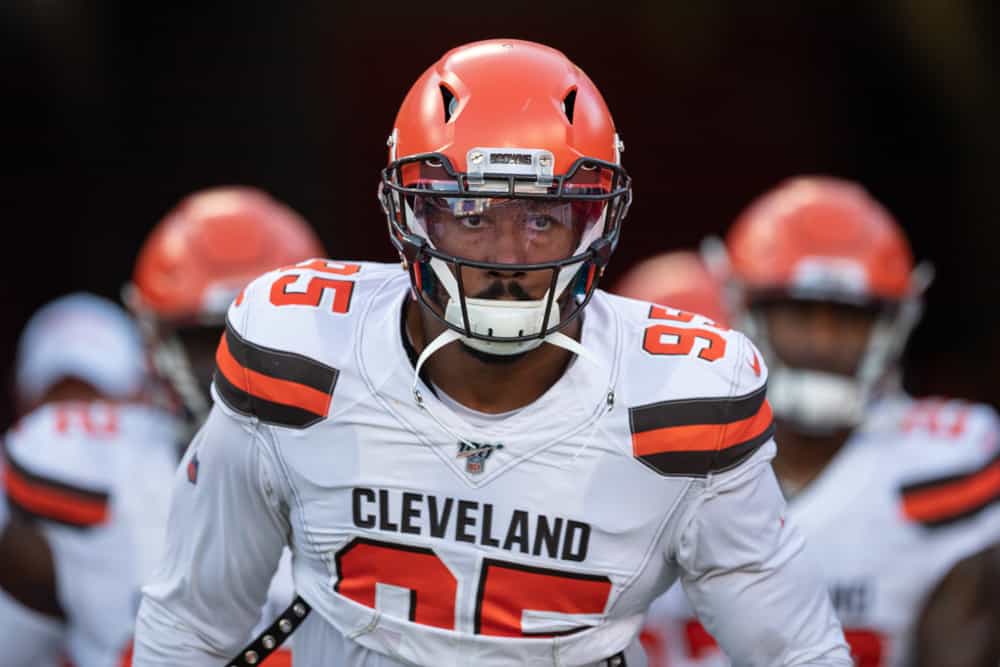 Cleveland Browns defensive end Myles Garrett will miss his second consecutive game during Sunday afternoon's contest against the Jacksonville Jaguars, head coach Kevin Stefanski said Monday.
Akron Beacon Journal Browns beat writer Nate Ulrich asked Stefanski why the team decided to rule Garrett out on Monday when there remained a chance of getting him back to play.
"I'm not going to get into specifics, per say, on how he's feeling," Stefanski said. "I'll just tell you we're ruling him out because that's what the protocols are called for. We're just following the rules and we'll continue to do so."
NFL rules state a player who tests positive for COVID-19 can't return to the team until at least 10 days after the start of symptoms.
Also, NFL teams must wait at least 24 hours after symptoms have passed.
HC Kevin Stefanski meets with the media live:
https://t.co/DO3b4Ukjrd

— Cleveland Browns (@Browns) November 23, 2020
The Browns put Garrett on their COVID-19/reserve list ahead of their Week 11 game against the Philadelphia Eagles.
In the 22-17 win over the Eagles, the Browns didn't seem to miss Garrett.
The Browns forced the Eagles into three turnovers and had five sacks, which included Olivier Vernon's career-high three sacks and his safety of Eagles quarterback Carson Wentz.
Stefanski was complimentary of his defensive line without Garrett.
"Yesterday, those guys were relentless in their pass rush," Stefanski said. "They played the run really well. [It was] really [a] good collective effort from the defensive line and it's something that we need from those guys every game."
The Browns limited the Eagles to 106 rushing yards on 25 carries.
Stefanski commented about Garrett's candidacy as a potential Defensive Player of the Year candidate.
Entering Week 12, Garrett is still considered a top candidate to win the award along with Los Angeles Rams defensive lineman Aaron Donald and Pittsburgh Steelers linebacker T.J. Watt.
"I want all of our guys to have individual success," Stefanski said. "I think that's a big, big deal for all of our guys. I want them to go to the Pro Bowl, and put up numbers and win awards like you're talking about, but [the] bottom line is it's a team game.

"I think Myles understands that completely and we're all about winning, not so much about awards."
Garrett, 24, remains tied with New Orleans Saints defensive end Trey Hendrickson for the NFL lead with 9.5 sacks this season.
The first overall pick of the 2017 NFL Draft is also tied with Baltimore Ravens cornerback Marlon Humphrey with a league-leading four forced fumbles.
Stefanski said Ronnie Harrison is day to day with a knee injury and cornerback Denzel Ward is dealing with a calf injury.
It's unclear whether Harrison or Ward will play Sunday against the Jaguars.