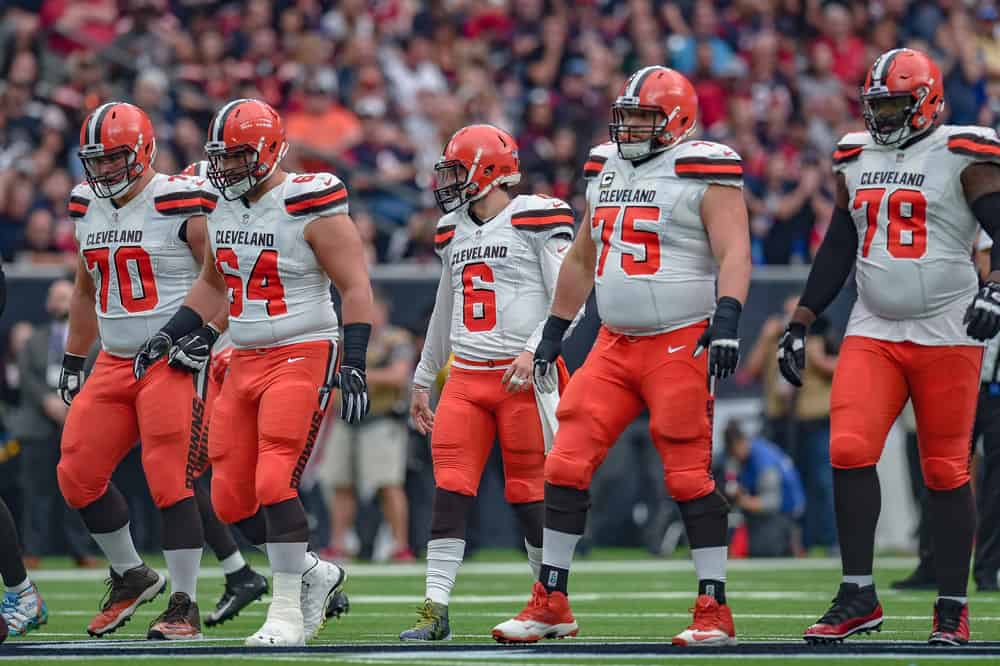 It doesn't take an expert to know that having a trustworthy offensive line is important in the NFL.
The Cleveland Browns spent much of the offseason revamping their o-line.
In 2019, quarterback Baker Mayfield was sacked 40 times, which is going to make it tough to win when that happens.
The front office made it their mission to rebuild and improve the offensive line after last season.
The Browns have much better options on the o-line now than they did a year ago, but can they actually stay healthy?
New Improvements
New Browns general manager Andrew Berry has not been shy about adding talent this offseason.
He went after and signed highly-coveted free agent right tackle Jack Conklin.
#Browns new RT Jack Conklin passes his physical and signs his 3-year, $42 million contract

— Mary Kay Cabot (@MaryKayCabot) March 20, 2020
The 25-year-old is a former 1st round pick of the Tennessee Titans from 2016.
Although, Conklin is not the only player the Browns added to their offensive line.
They drafted Alabama offensive tackle Jedrick Wills with their first selection in the draft.
The Browns already have Conklin covering right tackle, so Wills is forced to move over to left tackle.
How Jedrick Wills Jr. has been preparing for the switch to left tackle ⬅️

Full episode with @JWills73 👇https://t.co/inANR9Kqoa pic.twitter.com/eMarTXPLBa

— ThomaHawk (@ThomaHawkShow) April 29, 2020
It's a fairly unfamiliar position to him, but a player with that much talent should be able to transition without many issues.
Both tackle spots were major areas of concern for the Browns last season, so it's great to see that they've made upgrades over the offseason.
What Went Wrong In 2019?
The Browns went into the 2019 season with possibly the most hyped team in their history.
Sadly, the team wasn't able to perform up to their expected standards.
One of the biggest reasons for that was the lack of a reliable offensive line.
Two-time Pro Bowl left guard Joel Bitonio was seemingly the only trustworthy option on the offensive line.
The Browns were playing musical chairs at right guard basically all season long.
The tackle spots were a disaster and things just got out of control for Cleveland.
The team didn't have much useful depth, so that was part of the problem as well.
How Can They Get Better?
Cleveland has already made drastic improvements by adding Conklin and Wills.
However, there are still some concerns going into the 2020 season.
One of the problems is the fact the Browns don't have much depth on the o-line.
Second-year right guard Drew Forbes decided to opt-out of the season along with a number of other guys on the o-line.
Opt-out deadline has passed and #Browns have had the 5 linemen opt out, 4 OL: Gs Drew Forbes, Colby Gossett and Malcolm Pridgeon; OT Drake Dorbeck; and DT Andrew Billings

— Mary Kay Cabot (@MaryKayCabot) August 6, 2020
Cleveland could be in danger if some of their starters go down with injuries.
Conklin suffered an ACL tear a few years ago and Wyatt Teller hasn't started a full-year in the NFL.
The Browns could be in some hot water if they go down a couple of starters due to injury or poor performance.
The organization doesn't have strong enough depth to replace the starters if they get hurt.
Sadly, the team could end up in the same spot they were last season if things go wrong.
Hopefully, the Browns starters will stay healthy, but the team could be in some serious trouble if they don't.