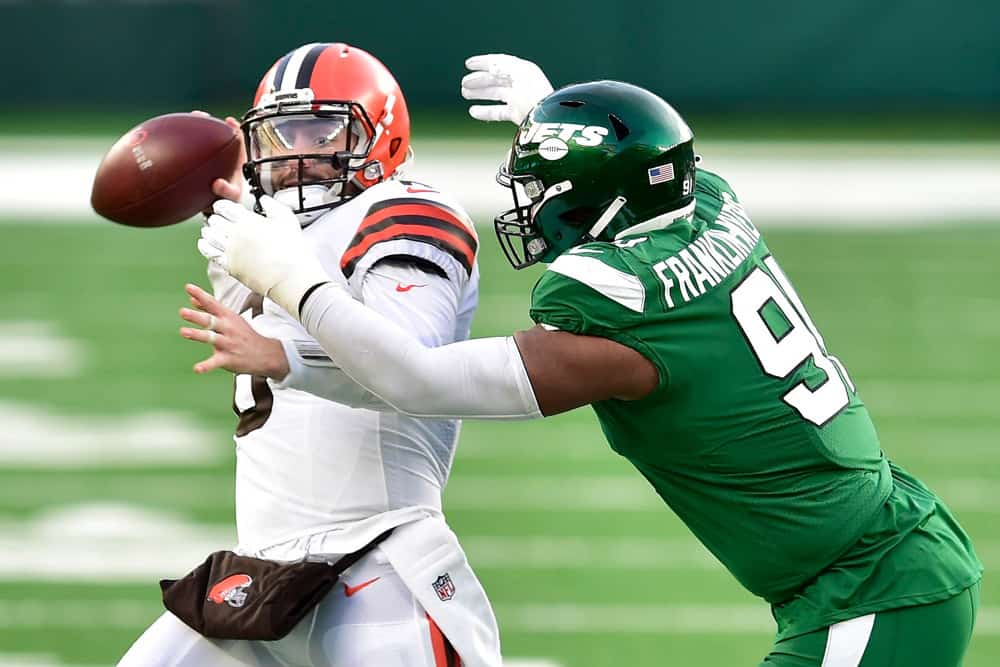 The Cleveland Browns had their back pinned against the wall for their Week 16 matchup against the New York Jets.
They were big favorites in this game until basically all of the Browns receivers were ineligible to play.
The organization was forced to place five players including Jarvis Landry on the COVID-19 list ahead of this game.
It was a frustrating game all around for the Browns on Sunday.
The Jets were able to pull off the narrow 23-16 victory over Cleveland in Week 16.
This loss drops the Browns to 10-5 with an important game versus the Pittsburgh Steelers next week.
It wasn't all bad from Cleveland in this one as there were a few decent performances on Sunday.
Stud: Austin Hooper
It's refreshing to finally put tight end Austin Hooper on something other than the dud list every week.
He was actually able to make a significant impact in this game.
Although, it was likely mainly because the Browns had limited options on offense.
Finally, Hooper and quarterback Baker Mayfield look like they have built some chemistry together.
Baker Mayfield to Austin Hooper 🔥🔥🔥 #CLEvsNYJ
pic.twitter.com/uuh9OgaAR6

— Christopher Reiss (@ReissReport) December 27, 2020
Hooper finished this game with seven receptions for 71 yards which was a team-high in this game.
It was a frustrating day for the Browns offense, but at least Hooper was a bright spot.
He finished with his season-high in both receptions and yards in this loss.
Hopefully, he can carry some of that into next week versus Pittsburgh.
Dud: Cody Parkey
The misses are starting to pile up for Parkey.
Parkey has now missed an extra point in 3 straight games.
Death, Taxes, and Cody Parkey doinks pic.twitter.com/SEfwUFqnpP

— NFL Humor (@NFLHumor) December 27, 2020
If the Browns make the playoffs, this is very concerning moving forward.
Stud: Jamie Gillan
You know it's a frustrating day when your punter lands on the stud list.
This isn't an attempt at trolling, Browns punter Jamie Gillan is well deserving of this honor.
It was a bad day for the Browns offense, but at least Gillan made life difficult for the Jets offensive unit.
He punted six times for 251 yards and landed one punt within the 20 yard line.
Those 251 yards on his punts set a new season-high for Gillan on the year.
That is not all, he also is the best dressed player on the Browns roster.
Jamie Gillan rocking kilt for final #Browns home game. pic.twitter.com/5W5KPJpSVP

— Tom Withers (@twithersAP) December 22, 2019
All jokes aside, Gillan did make it difficult on the Jets offense, but sadly the Browns weren't able to do much at all in this game.
Hopefully, Gillan won't be called upon six times against the Steelers next week.
Dud: Baker Mayfield
To be fair, Mayfield had his top four receivers land on the COVID-19 list the day before kickoff.
He was also without two of his best offensive linemen in Jedrick Wills and Wyatt Teller.
There is no arguing that Mayfield was put in an awful spot for this Week 16 matchup.
However, he failed to stand tall and take over things by himself.
Mayfield is well aware that his performance on the field hurt the Browns on Sunday.
Baker Mayfield took only one question during his postgame Zoom call. Completely owning the loss — "I failed this team" — this is what else he had to say: #Browns pic.twitter.com/PxSjbLglID

— Jake Trotter (@Jake_Trotter) December 27, 2020
He completed 28 of 53 passing attempts for 258 yards with zero touchdowns and zero interceptions in the loss to the Jets.
Yes, Mayfield had limited weapons, but still had Hooper, David Njoku, Chubb, and Kareem Hunt.
This game had disaster written all over it from the beginning, but that doesn't give Mayfield an excuse.
He needs to execute even when things aren't perfect on the field.
Mayfield was making bad throws and will quickly need to turn it around in a must-win matchup against the Steelers next week.