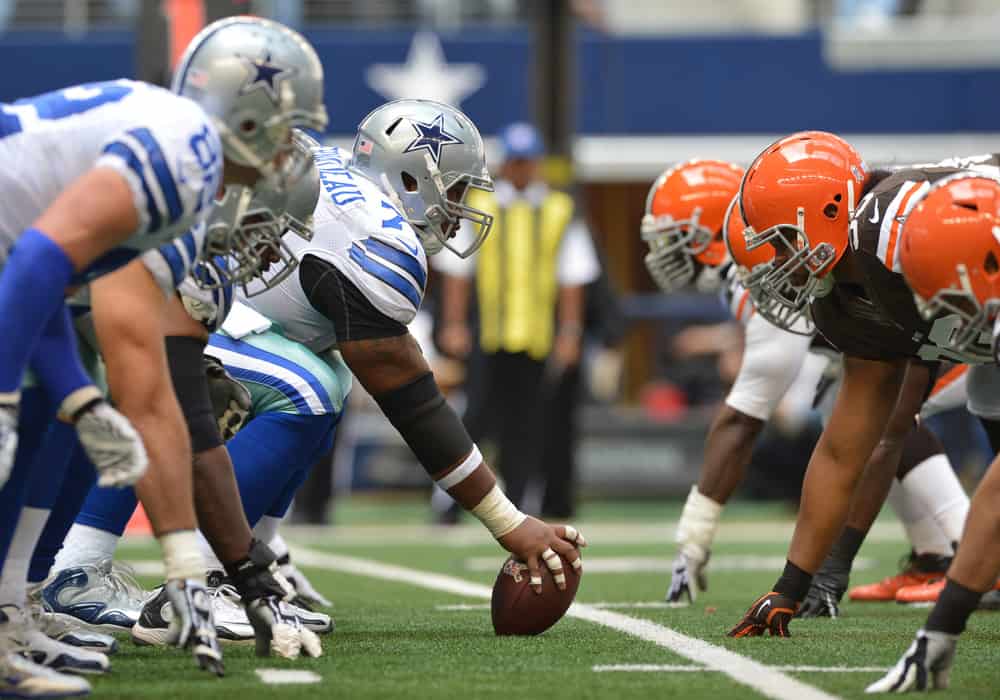 The Cleveland Browns travel to Dallas on Sunday and try to extend their winning streak to 3 games.
They face a Cowboys team that is off to a disappointing start to the season at 1-2.
The Browns have their first winning record since 2014, but are carrying some other losing streaks into Dallas.
The Browns last won in Dallas in 1994 and have lost 7 straight games on the road.
Let's take a look at our writer's bold predictions for this Sunday's matchup.

Writer: Pat Opperman

Sometimes, things happen that we just didn't see coming.
The Cleveland Browns have a winning record.
Dallas is 1-2 and still sit in first place in the NFC East.
But Baker Mayfield became a game manager?
Don't bet on it.
The running game played a large role in the Browns' two victories, keeping Mayfield's performance subdued.
But it was awfully good.
Yes, he still showed some happy feet, but the game plan and improving line kept him upright and in control.
Folks who think the Baltimore game proves Cleveland can't win if Mayfield has to throw more miss an important point.
Kevin Stefanski threw that game away.
The Browns new offense simply wasn't on display as it has been the past two weeks.
Mayfield was not running play options, nor did he roll out by design.
The difference afforded Mayfield two games with very good passer ratings.
Cleveland will run successfully,
But if they need (or want) to attack Dallas through the air, there is no reason to think 10-15 more passes won't yield results similar to the past two weeks.
Dallas has a bad defensive backfield that just lost arguably their best corner.
And Cleveland's defense is getting stronger as they face a wounded Dallas offensive line.
It all adds up to a statement game from the Cleveland Browns.
My Prediction:  Browns 34  Cowboys 24
Writer: Mark Bergin

The Browns enter Sunday's game as a 4.5-point underdog on the road against the Cowboys.
Call me crazy, but I like the Browns to win outright.
The Cowboys (1-2) could easily be 0-3 if not for a miraculous comeback against the Falcons in Week 2.
Through three weeks of the season, the Cowboys average 29 points per game, but allow an average of 32 points per game.
The key for the Browns is to avoid a shootout against the Cowboys.
In Week 1 against the Ravens — the Browns' lone loss this season — Cleveland got away from its running game facing a double-digit deficit for most of the game.
Cleveland has showed it is most effective when committing to the running game with Nick Chubb and Kareem Hunt.
The Browns must limit the Cowboys' potent offense and effectively run the ball against a Dallas defense that allows 127.7 rushing yards per game (23rd in the NFL).
The last time the Browns had a winning record in December 2014, the rest of the season was a disaster.
In November 2014, the Browns had a 7-4 record and flirted with a postseason appearance.
Cleveland wound up losing its remaining five games to finish with a 7-9 record for the 2014 campaign.
Fast forward to 2020, and there are several reasons to be encouraged by the Browns' 2-1 start.
Plus, the NFL expanded its playoff format this season to include seven teams from both the AFC and NFC.
The Browns are trying to make the playoffs for the first time since the 2002 season.
My Prediction:  Browns 33  Cowboys 27
Writer: Rocco Nuosci

How about those Browns?
Cleveland sits at 2-1 and are above .500 for the first time since 2014.
There is a renewed sense of optimism around this team.
Fans feel this is finally the culture-changing season the franchise has needed for two decades.
That narrative will either grow or be put on pause as the Browns travel down to Dallas this Sunday to take on the Cowboys.
Defending Dak
The Cowboys seem to be leaning on Dak Prescott more and more each week as the season goes on.
After throwing the ball 39 times in the season opener, Prescott racked up 57 pass attempts in last week's loss to Seattle.
It hasn't exactly panned out, however, as some costly, late turnovers from Prescott have Dallas at just a 1-2 mark so far.
Prescott is still well above the level of Dwayne Haskins, however.
The former Buckeye made a lot of mistakes against Cleveland in the Browns win, but I don't anticipate Prescott to do the same.
With a plethora of receivers to throw to like Amari Cooper, Michael Gallup, and CeeDee Lamb, the Browns defense will have its hands full.
CeeDee Lamb among all rookie receivers

⭐️Yards: 165 (1st)
⭐️Yards after Catch: 83 (1st)
⭐️First Downs: 7 (1st)
⭐️Dropped passes: 0pic.twitter.com/GjUgf5RjEp

— PFF (@PFF) September 24, 2020
Not to mention Zeke Elliott isn't exactly easy to wrap up.
Play Your Game
The Browns never tried to get too cute in their win over Washington, and that's just fine.
Not forcing Baker Mayfield to try and make downfield plays helps keep the offense in a groove.
Relying on the rushing attack of Nick Chubb and Kareem Hunt while allowing Mayfield to play complimentary football has been working so far this season.
I see no reason to change things unless they get down big early.
My Prediction:  Browns 27  Cowboys 21
Writer: Adam Lowenstein

Browns fans can breathe a sigh of relief, as Cleveland has a record above .500 for the first time since Week 15 of 2014.
Who would have said that the Browns would have a winning record and the Cowboys a losing one for their meeting in Week 4?
While Dallas is favored for this contest, it is not by many points.
If you figure in the three points for home-field advantage, the Cowboys are a better football team by just a couple of points.
Mike McCarthy is in his first year as the head coach of the Cowboys, and even with the poor start, they are tied for first place in the poor NFC East division.
If the Browns had that type of division, it would be very nice and the chances of a playoff berth would increase.
However, Cleveland has to battle with the Pittsburgh Steelers and Baltimore Ravens.
With the Browns heading to Pittsburgh soon, this game against the Cowboys is important.
Dallas has been dealing with a large number of injuries to its defense and offensive line in addition to tight end Blake Jarwin.
The injuries have hurt the Dallas defensive unit in a very bad way, as the Cowboys rank 30th in the league in points allowed.
Baker Mayfield and company are able to take advantage of the Cowboys' holes on defense, but Dallas is just too much for Cleveland in Week 4.
My Prediction:  Cowboys 30  Browns 27
Writer: Ben Donahue
Before the season began, I looked at this matchup and saw an easy Cowboys victory.
Now?
Not as much.
The Browns have improved the past two weeks against substandard teams.
The Cowboys have underperformed and are not as good as advertised.
If it wasn't for Atlanta's defense letting Dallas back in the game in Week 2, the 'Boys would be an 0-3 team.
The Browns had strong offensive performances the past two weeks.
Kareem Hunt and Nick Chubb are arguably the best running back tandem in the league.
Dallas' defense is ranked in the bottom third of the NFL.
In other words, start licking your chops, Coach Stefanski!
Linebackers Jaylon Smith and Aldon Smith for the Cowboys, along with D-linemen Dontari Poe and Demarcus Lawrence (if he's healthy), will need to be accounted for on every offensive snap.
Other than that, the Dallas defense, and especially the secondary, is suspect.
If he has time, Baker Mayfield will be able to connect with Odell Beckham Jr. and Jarvis Landry.
Hunt and Chubb might find the going tough, but they should have fairly good rushing outputs.
Where I have concerns is the Dallas offense versus the Browns defense.
Yes, Cleveland's D is ranked in the upper third of the league.
However, they achieved that ranking against Washington and Cincinnati.
The Cowboys are ranked number one in the NFL in total offense.
At any time, they can deploy their Swiss army knife of weapons.
Quarterback Dak Prescott (who is having an MVP year) can turn around and hand off to Ezekiel Elliott.
Elliott has rushed for 219 yards this year, not bad, but not great.
Prescott also has no less than four receiver options to throw to.
In Week 2, Amari Cooper and rookie CeeDee Lamb both had over 100 yards receiving.
CeeDee Lamb among all rookie receivers

⭐️Yards: 165 (1st)
⭐️Yards after Catch: 83 (1st)
⭐️First Downs: 7 (1st)
⭐️Dropped passes: 0pic.twitter.com/GjUgf5RjEp

— PFF (@PFF) September 24, 2020

This past Sunday, Michael Gallup and Cedrick Wilson Jr. both had over 100 yards receiving and three scores between them.
Let's cross our fingers and toes that Greedy Williams, Denzel Ward, and Kevin Johnson can somehow make their way to the field on Sunday.
If not, or if only one or two of them can go, it will be a long day in Dallas.
Sure, the Cowboys offensive line is not as strong as it has been in years past.
However, I think they will be able to hold off the Cleveland pass rush.
My Prediction:  Cowboys 36  Browns 24
Writer: Wendi Oliveros

The Cleveland Browns Week 4 matchup is a tough one to predict.
In trying to decide what the final score will be, I have erased many other scores and flip-flopped on who the winning team will be also.
Ultimately, the winning team will be the one who controls the line of scrimmage and runs the ball more effectively against the opposing defense.
Given how Nick Chubb and Kareem Hunt have been playing, it is really hard to pick against them, even though the home team (Dallas) has a good RB in Ezekiel Elliot.
Other Keys To The Game:
1. QB Play
If one team's defense can in fact stifle the run game, it will be up to the opposing team's QB to make key plays to keep scoring drives going.
I'm not saying the QB has to miraculously win the game Aaron Rodgers style, but I am saying that either Dak Prescott or Baker Mayfield may need to make smart throws on 3rd downs and keep the chains moving.
2. Special Teams
This game could be so close that the kicking game will be a factor.
Punts and kickoffs have to trap the opposing team well on their side of the field to start drives.
And clean kicks for extra points and field goals will be essential.
Ultimately, I think Cleveland will manage all aspects of the game better and win the game, 27-24 over the Dallas Cowboys.
My Prediction:  Browns 27  Cowboys 24