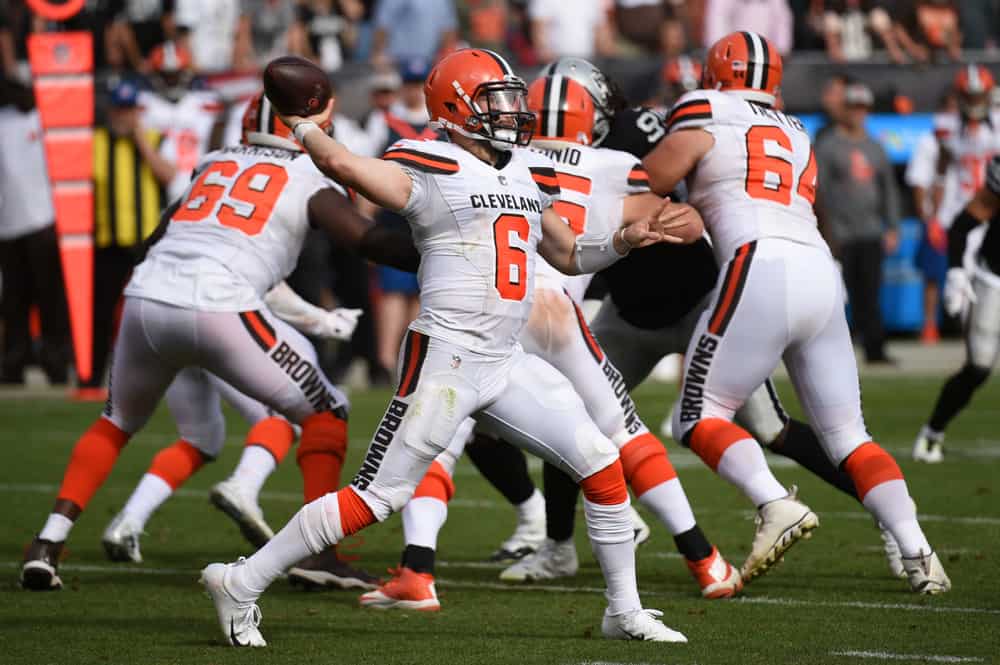 The Las Vegas Raiders (3-3) and Cleveland Browns (5-2) are preparing for what should be an intriguing matchup at FirstEnergy Stadium.
Both teams have efficient offenses and the game could very well turn out to be a shootout.
The Raiders average 28.5 points per game, while the Browns average 28.6
Which team will prevail?
Let's take a look at our writer's bold predictions for this Sunday's matchup
Writer: Pat Opperman

Oakland rolls into Cleveland this week desperate to get back in the win column.
If the playoffs started today, the 3-3 Raiders would need a tiebreaker to beat out the Dolphins for the expanded wild card slot.
What better way to improve their odds than to pull even in the loss column with a team ahead of them, like the Browns?
Oakland lost to the surging Buccaneers last week, but they beat the division-leading Chiefs in Kansas City just the week before.
So, we know they can beat a good offense on the road.
But Baker Mayfield is riding an emotional high, the kind we saw in his rookie of the year season.
Will Derek Carr be able to keep up with Mayfield's rolling attack?
Certainly, Cleveland's suspect defense leaves the possibility of a shootout loss, where the last offense with the ball wins.
If the Browns give up just 17 points to Oakland, they will set a team record for the most points allowed over an 8-game stretch.
But there is at least one team allowing more than the 31-points-per-game that the Browns allow.
And that team is the Raiders at nearly 33 points per game.
I'll take my chances on Mayfield and the home team emerging victorious in another wild offensive battle.
My Prediction: Browns 38, Raiders 33
Writer: Rocco Nuosci

This past work week started off with a bummer as fans received news that receiver Odell Beckham Jr. had torn his ACL and would be out the remainder of the season.
Cleveland fans do have a chance to enjoy consecutive weekends, however, as the Browns welcome in the Las Vegas Raiders this Sunday.
Capitalize at Home
There are big implications for both teams in this one. Cleveland is looking to keep pace with the Ravens and Steelers while Las Vegas looks to stay in playoff contention.
Home field advantage could play a factor on Sunday despite fan limitations.
The Browns are 3-0 when at home this season and will look to stay perfect against the Raiders.
Similarities
These two sides come in as similar bunches.
Offensively, both Cleveland and Las Vegas have been average, boasting the 10th and 11th best-scoring offenses, respectively.
Defensively, however, those ranks drop to 29th and 31st.
One key difference between these two is how much they air the ball out.
Cleveland flirts with the bottom of the league with passing attempts per game, while Las Vegas sits in the top half.
Per usual, the defense will be looking to Denzel Ward and Myles Garrett to make big plays and perhaps create a few turnovers.
Myles Garrett has recorded a sack in 6 straight games 😳 @brgridiron

That's the longest active streak in the NFL. pic.twitter.com/lesZvE975m

— Bleacher Report (@BleacherReport) October 25, 2020
My Prediction: Browns 34, Raiders 24 
Writer: Jake Luppino

This weekend, the Cleveland Browns will look to improve to 6-2.
After receiving the saddened news about star wide out, Odell Beckham Jr. tearing his ACL, the Browns will look to see if they are truly better off without him.
Their opponent, the Las Vegas Raiders, are looking to bounce back after a tough loss to the Tampa Bay Buccaneers.
While I expect a close game, I see the Raiders coming out victorious in this one.
Raiders Will Be Healthy This Week
Last week, against the Bucs, the Raiders were missing 4 out of 5 starters on the offensive line.
Due to COVID-19 reasons, the Raiders had many key players miss their game.
This week, they are expected back, and that will be the difference in this game.
If the offensive line was not healthy, then I would predict a huge game from Myles Garrett.
I know the Raiders have the second-worst scoring defense in the league, but, they have proven to be explosive on offense.
The Cleveland secondary isn't great either as they currently rank 30th in the league, allowing 288.1 yards per game through the air.
With the combination of Jacobs, Waller and Ruggs, I see the Raiders having no problem moving the ball.
Remember, it was just three weeks ago, they went toe-to-toe with the Chiefs.
In fact, they won that game due to the defense causing a late turnover.
I see a similar outcome in this week's matchup.
My Prediction: Raiders 35, Browns 28
Writer: Mark Bergin

The Browns should be able to score during Sunday's matchup against the Raiders.
The Raiders have allowed at least 24 points in each of their six games so far this season.
I have no idea which Las Vegas team will show up on Sunday because the Raiders beat the Chiefs in Week 5.
However, the Buccaneers annihilated the Raiders last Sunday, which is especially concerning considering Las Vegas was coming off its bye week.
Browns fans and critics often focus on Baker Mayfield's play in his third season, as the team continues to contemplate whether to pick up his fifth-year rookie option.
It's important for the Browns to figure out what they have in Mayfield, but the team's struggles in the running game pose as the more immediate concern.
The Bengals and Steelers each held the Browns to fewer than 100 yards rushing the past two weeks.
The Browns have missed running back Nick Chubb and right guard Wyatt Teller.
Neither player is expected to play Sunday.
Considering the Raiders have an average rush defense — allowing 4.6 yards per carry and 119.8 rushing yards per game (14th) — the Browns should try to establish Kareem Hunt and company.
The Raiders also struggle to run the ball at 3.4 yards per carry while averaging 65.7 rushing yards per game.
I think the Browns can control the clock and dictate the pace of Sunday's game.
My Prediction: Browns 31, Raiders 27
Writer: Wendi Oliveros

The 5-2 Cleveland Browns face the 3-3 Las Vegas Raiders on Sunday.
While the Browns have a winning record, the team is trying to rebound from the loss of Odell Beckham Jr. (ACL) for the rest of the season.
Here are the keys to the game.
1. Rashard Higgins and Donovan Peoples-Jones must perform well.
Rashard Higgins: "I want to get to the playoffs. I am going to do whatever it takes. Wherever coach needs me, I am going to be there."#Browns

— Tom Withers (@twithersAP) October 25, 2020
THE ROOKIE DONOVAN PEOPLES-JONES GAME WINNER🔥

— PFF College (@PFF_College) October 25, 2020
Last week, both did great coming to Baker's rescue when OBJ went down.
This week, the Raiders have watched film and are preparing for them.
There is a difference between coming into the game as a result of injury and being the starting go-to receivers for the QB.
Hopefully, both can rise to the challenge.
2. Myles Garrett has to be healthy.
Myles Garrett has recorded a sack in 6 straight games 😳 @brgridiron

That's the longest active streak in the NFL. pic.twitter.com/lesZvE975m

— Bleacher Report (@BleacherReport) October 25, 2020
He is the leader of the defense and will be instrumental in keeping Derrick Carr in check.
Without Garrett at full strength, there could be concerns.
He missed practice on Wednesday and Thursday with an ankle injury.
3. Baker Mayfield needs to be really good.
He needs to avoid the sluggish start he had against the Bengals before he went on that near perfect completion run.
As always, Mayfield must play smart and protect the ball.
If the offense can get Kareem Hunt and the ground game going early, that will also take some of the pressure off of Mayfield.
My Prediction: Browns 27, Raiders 23
Writer: Ben Donahue
Whew!
That was close!
Last Sunday's game versus the Bengals was a back-and-forth affair that was decided at the last minute.
Odell Beckham Jr. went down with a season-ending injury, but Donovan Peoples-Jones (game-winning touchdown catch) and Rashard Higgins (six catches, 110 yards) stepped in nicely.
The result was a 37-34 victory and a respectable 5-2 record for the Browns.
The newly-minted Las Vegas Raiders come to town on Sunday, sporting a 3-3 record after Tom Brady and the Bucs manhandled them 45-20.
The Raiders looked good to begin the season when they started 2-0 and upset the Chiefs 40-32 in Week 5.
However, they are an enigma because you don't know what to expect from the team each week.
I guess the same could be said about Cleveland.
Which team will we see on Sunday?
Will it be the grind-it-out version, the ground and pound version, or the whimper and drown version of the Browns?
Since the opponent is Las Vegas, I'm betting on a mix of grind-it-out and ground and pound.
First, let's hope that Baker Mayfield continues his play from last week, limits his mistakes, and does more to help rather than hinder the team.
You can't ask for much better than 297 passing yards, five touchdown passes, and a 135.6 quarterback rating.
If he performs anywhere near that level again this week, Cleveland gets win number 6.
I'm excited to see David Njoku put aside his petty team squabbles and pair with fellow tight end Harrison Bryant.
If Coach Stefanski can unlock that pairing to their fullest potential, the sky's the limit.
Baker Mayfield comes to life on #NationalTightEndsDay with 2 TDs to Harrison Bryant and 1 TD to David Njoku. 🏈👻 pic.twitter.com/l51NYu1v9u

— Rotoworld Football (@Rotoworld_FB) October 25, 2020
Also, if Higgins continues to play well and Peoples-Jones develops into the receiver the team believes he can be, do the Browns really need to shop for an OBJ replacement?  (I say no).
For the second game in a row, the Browns offense rushed for under 100 yards.
Kareem Hunt had over 70 yards rushing against Cincinnati, but he has to find more running room this weekend to take pressure off the passing game.
I think that happens as the Raiders rush defense is allowing 4.6 yards per carry and 119.8 yards per game.
That ranks them at number 14 in the league.
The Browns defense has had some good stretches this year and should be licking their chops with this matchup.
Las Vegas running back Josh Jacobs has regressed this season and is averaging 3.4 yards per carry and 65.7 yards per game.
Raiders quarterback Derek Carr has been a little predictable.
He has found a favorite target in tight end Darren Waller who has only one game with less than five receptions.
Darren Waller so far in 2020:

– 45 targets (2nd among TEs)
– 0 drops
– 4 avoided tackles after the catch (t-1st among TEs)#RaiderNation pic.twitter.com/CisIlW0Y0P

— PFF Las Vegas Raiders (@PFF_Raiders) October 22, 2020
Receiver Nelson Agholor has had a touchdown reception in the past three games.
Unfortunately, the Browns pass defense has a 97.9 rating and given up 288.1 yards per game this year.
That translates to a number 30 ranking.
Myles Garrett needs to go off against Carr and add to his league leading sack total (9).
Carr was brought down three times last week and has been sacked 11 times in six games.
I believe the Browns will step up big this week and head into their bye week with another victory.
My Prediction: Browns 30, Raiders 27
Writer: Adam Lowenstein

Well, Baker Mayfield could be ready to take the next step in the eyes of the public.
The Browns are looking to start a new winning streak that will continue through their Week 9 bye.
Cleveland begins a three-game homestand with Week 8's contest against the Las Vegas Raiders.
The football world may hope to see a shootout between Mayfield and Derek Carr.
However, the running back situation could be very interesting as well.
Can Kareem Hunt and his injured ribs reach the century mark in yards from scrimmage?
Hunt ran for 76 yards and brought in three receptions for a season-high 26 receiving yards in Week 7's win.
The 90 percent of offensive snaps played and 102 total yards also were his best in 2020.
Meanwhile, Josh Jacobs has five touchdowns in six games played this season.
Unfortunately for the Raiders, those came in just two contests in 2020.
The most important thing for the Browns will be to keep the Raiders from having an abundance of rushing touchdowns and rushing attempts.
When Jacobs reaches the 60 percent mark in terms of offensive snaps, the Raiders are 3-1 this season.
Las Vegas also has a 2-0 record in 2020 when Jacobs scores.
The Browns keep Jacobs, who is nursing a knee injury, out of the end zone and win in a close one.
My Prediction: Browns 30, Raiders 27