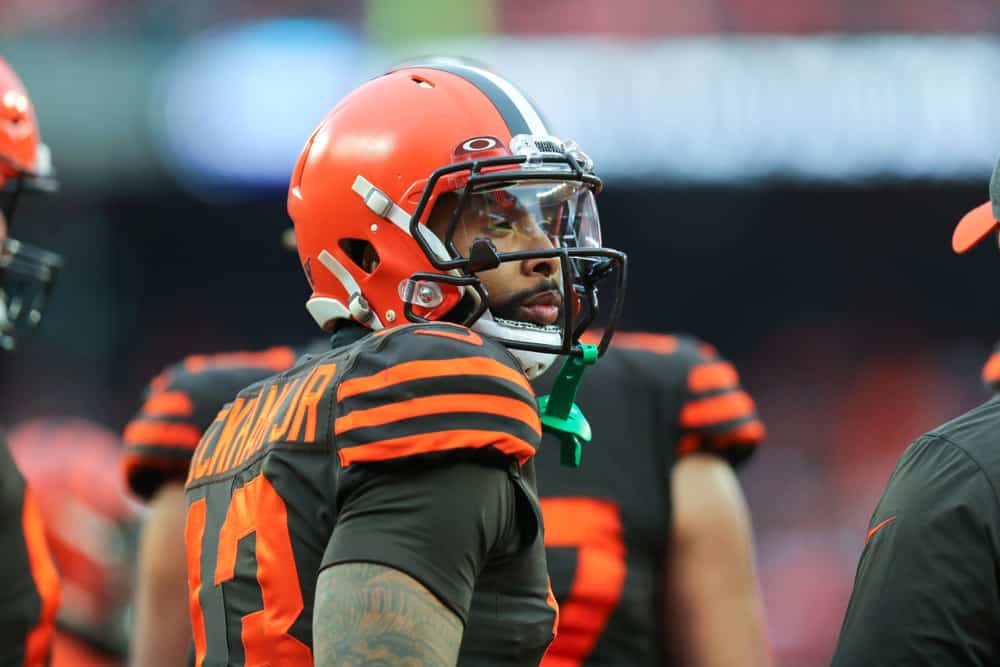 Sadly, the Cleveland Browns will be without star wide receiver Odell Beckham Jr. for the rest of the season.
The Browns will be without Beckham for the rest of the year and it's possible that he has taken his last snap in Cleveland.
But, what does the future hold for Beckham?
Beckham and Mayfield 
Unfortunately, the Browns have not been able to get what they want out of Mayfield or Beckham.
Cleveland gave up quite a lot in order to acquire Beckham from the New York Giants in March of 2019.
Full Trade Details:#Browns get:
– Odell Beckham Jr. (WR)#Giants get:
– 2019 1st Round pick (#17)
– 2019 3rd Round pick
– Jabrill Peppers (S)

[per, @AdamSchefter]

— Everything Cleveland (@EverythingCLE_) March 13, 2019
The hope was that Beckham could be the No. 1 superstar receiver in Cleveland for years to come.
Sadly, Mayfield and Beckham have not been able to build any chemistry together.
Mayfield's passer rating with Beckham on the field is 79.6, according to Next Gen Stats.
On Sunday, Mayfield threw five touchdown passes without Beckham on the field.
His passer rating is an impressive 116.6 when Beckham is on the sideline.
It gets even more interesting when you take into account what quarterback Eli Manning did with Beckham on the Giants.
Manning never had a passer rating under 95.6 when targeting Beckham in five seasons.
The two of them were a dangerous duo together for three years.
WATCH: @OBJ_3 put the Giants on the board with a TD catch from Eli Manning pic.twitter.com/I7dypEbA26

— New York Giants (@Giants) September 24, 2017
Beckham has produced his least productive games of his career while in Cleveland.
He has posted three or fewer receptions in seven of his 22 starts with the Browns.
The disconnection between Mayfield and Beckham is real and it's concerning.
What's The Problem?
Mayfield had no issues destroying the Bengals secondary once Beckham exited the game.
Right now, Beckham and Mayfield have the worst completion percentage (55.6%) of any duo in the NFL with at least 100 attempts.
In 2018, Mayfield put together a record-setting rookie campaign with 27 passing touchdowns.
Last week, Mayfield threw a team-record 21 straight completions and Beckham wasn't on the field.
Mayfield targeting OBJ this season vs. targeting all other WRs (the off-target % really stands out): pic.twitter.com/VmZYVNeHNM

— Jake Trotter (@Jake_Trotter) October 29, 2020

Possibly, Mayfield feels too much pressure when Beckham is on the field.
The star receiver has been vocal about wanting the ball in his hands early in games.
Mayfield is likely forcing the ball towards Beckham and it's hurting the Browns.
He looks like a completely different quarterback without Beckham.
Time To Move On From OBJ?
It's almost insane to think that the Browns would actually trade OBJ.
Mayfield himself insisted 'it's completely insensitive' to say he plays better without OBJ.
#Browns Baker Mayfield says 'it's completely insensitive' to suggest he plays better without Odell Beckham Jr.#NFL #NFLTwitter pic.twitter.com/XPEnK2c978

— FLEE TV ™ (@FLEESPORTS) October 29, 2020

However, the front office needs to consider it after what they've seen.
Next season, Beckham is set to make a $14.5 million base salary.
Beckham is expected to be sidelined roughly nine to 12 months while he recovers from ACL surgery.
There is a chance that he is back on the field and practicing in August.
Beckham signed a five-year deal worth $90 million that won't make him a free agent until after the 2023 season.
There is no doubting that OBJ is one of the most talented receivers in the league.
However, Beckham doesn't look the same since joining the Browns in 2019.
Cleveland has multiple young players who are going to need massive contract extensions in the near future.
The front office is quickly going to be forced to decide which players are key pieces in the long term.
The Browns could free up quite a lot of cap space by trading Beckham elsewhere.
Sadly, Cleveland is unlikely going to get a great return for Beckham.
He's coming off major knee surgery, has an enormous contract, and has been disappointing each of the last two seasons.
Nonetheless, the Browns need to get Beckham off the roster if they want Mayfield to succeed with this team.