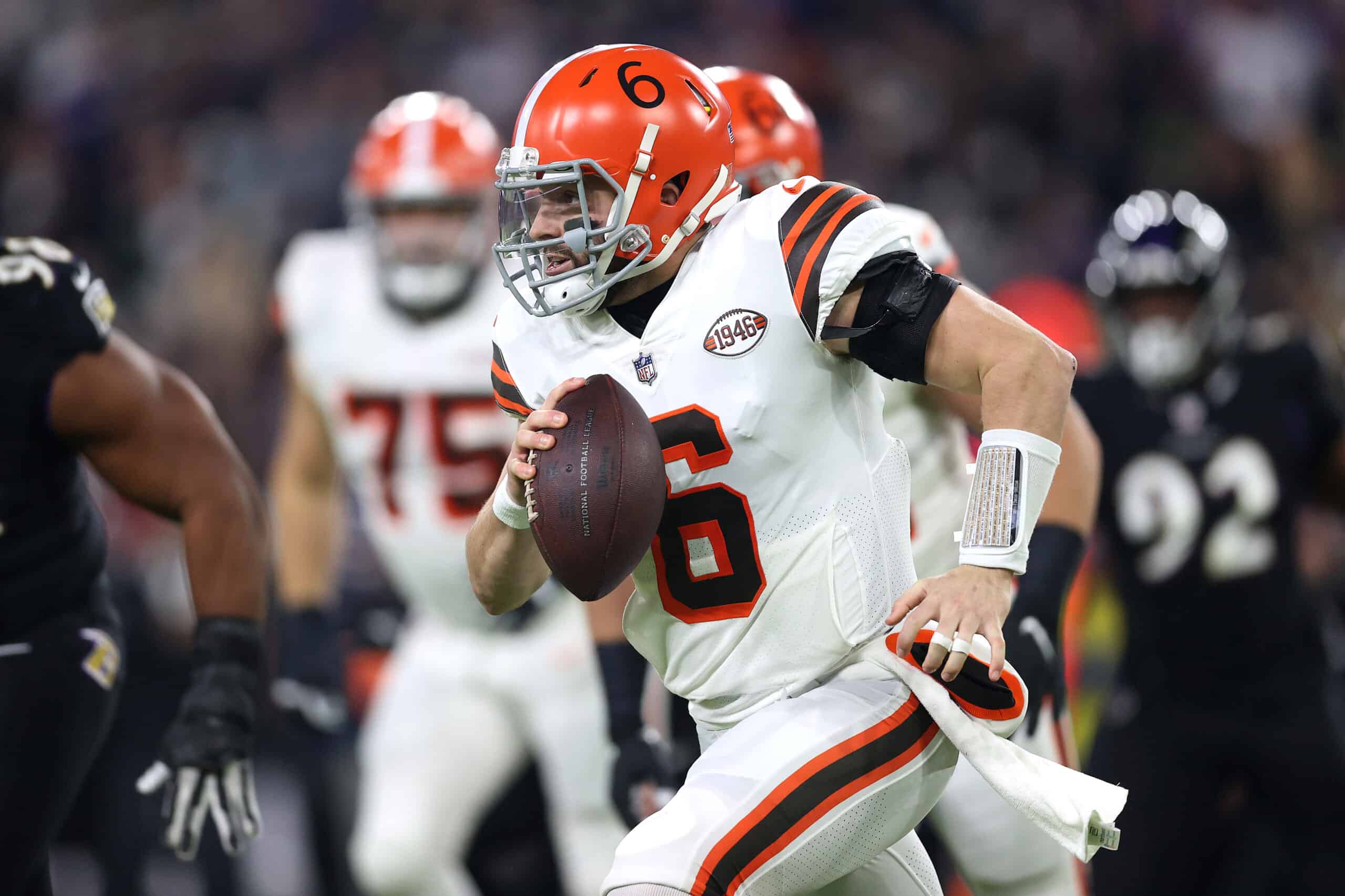 The Cleveland Browns and Baltimore Ravens matchup is an important one in determining the King of the AFC North.
The Ravens are currently in first place, but the Browns are trying to keep their playoff hopes alive.
Who will prevail in this rematch?
Let's take a look at our writer's bold predictions for this Sunday's matchup.
Writer: Wendi Oliveros

The Cleveland Browns come into Week 14 with a score to settle.
They really should have beaten the Ravens in Week 12; now it is time to secure the win.
This will be the first win against the Ravens in over 2 years.
Despite injuries, COVID-19, and all the other noise that seems to trail the Browns especially in 2021, I think they will win this game.
As with all Browns games, it will be a little too close for comfort.
Myles Garrett will break the Browns single season franchise record; he needs just 1 sack on Sunday.
Kareem Hunt and Nick Chubb will be big factors, and the rest will be history.
The Browns will move to 7-6, and the Ravens will drop to 8-5.
My Prediction: Browns 24, Ravens 20
Writer: Ben Donahue
For the second time in three weeks, the Browns face the Baltimore Ravens.
How well Baker Mayfield and friends were able to heal during their bye week will soon be revealed.
Unfortunately, Covid continues to haunt the team.
They will be without the services of punter Jamie Gillan, linebacker Anthony Walker and tight end David Njoku because of virus protocols.
Furthermore, Harrison Bryant is out this week with an injury.
The Ravens aren't faring much better.
A number of their starters are out as well including starting corner Marlon Humphrey.
When the teams met in Week 12, the Browns picked Lamar Jackson four times.
However, Cleveland could only turn those gifts into three points.
Nick Chubb and Kareem Hunt have to pound away at the vulnerable Ravens defense.
Joe Woods must be creative to attack Jackson into making more mistakes.
The Ravens offense has struggled and Lamar is having an off year.
Having just played the Browns, though, he should know what to expect from Cleveland's D.
I'm crossing all my fingers and toes, hoping the Browns are rested and ready to win at home.
My Prediction: Browns 24, Ravens 17
Writer: Pat Opperman

Covid knocked out 3 players and then Greg Newsome knocked himself out on the last play of practice yesterday.
The extra week wasn't enough for Anthony Schwartz or Harrison Bryant to get back on the field.
Myles Garrett says the remaining players aren't focused enough on the task at hand.
And it seems everybody has a better idea for the offense than whatever Kevin Stefanski is thinking.
So, I think it is obvious the Browns will come out on fire and roll to victory Sunday afternoon.
The defense will be fine with extra snaps from Malcolm Smith and Greedy Williams.
And look for a huge ground game to create some good looks off play-action.
My Prediction: Browns 30, Ravens 17
Writer: Mark Bergin

Sunday's game is a kitchen sink game for the Browns if they want to make the playoffs.
Make that a "Freddie Kitchens sink" game.
In all seriousness, the Browns' bye week couldn't have come at a better time.
The Browns are the healthiest they've been all season outside of the tight end position.
Lamar Jackson has been off the last several weeks, and I think the Browns have enough of a pass rush lead by Myles Garrett to keep the 2019 NFL MVP in check.
Plus, the Ravens lost star cornerback Marlon Humphrey for the season and right tackle Patrick Mekari will miss a few weeks.
The Browns' running game should be the difference in this one.
My Prediction: Browns 24, Ravens 20
Writer: Rocco Nuosci

The most important game of the Browns season is here.
Sunday's rematch with Baltimore will determine if Cleveland has any chance to make another playoff appearance.
Baltimore is coming off a loss to Pittsburgh and is dinged up all-across the roster.
Still, Cleveland has things to worry about in their own right.
Myles Garrett said Friday the team has not been as focused as he would like.
However, he says there is still time to correct that before kickoff.
Garrett said #Browns have not been as focused as he wanted this week, but still 48 hours to "get right." pic.twitter.com/0AodBvE82Z

— Tom Withers (@twithersAP) December 10, 2021
The inability to capitalize off turnovers doomed Cleveland two weeks ago.
Baker Mayfield must be better if Baltimore loads up the defensive box to shut down the run.
With a week of rest under his belt, I think Mayfield will have a much better outing and get this must-win at home.
My Prediction: Browns 21, Ravens 16