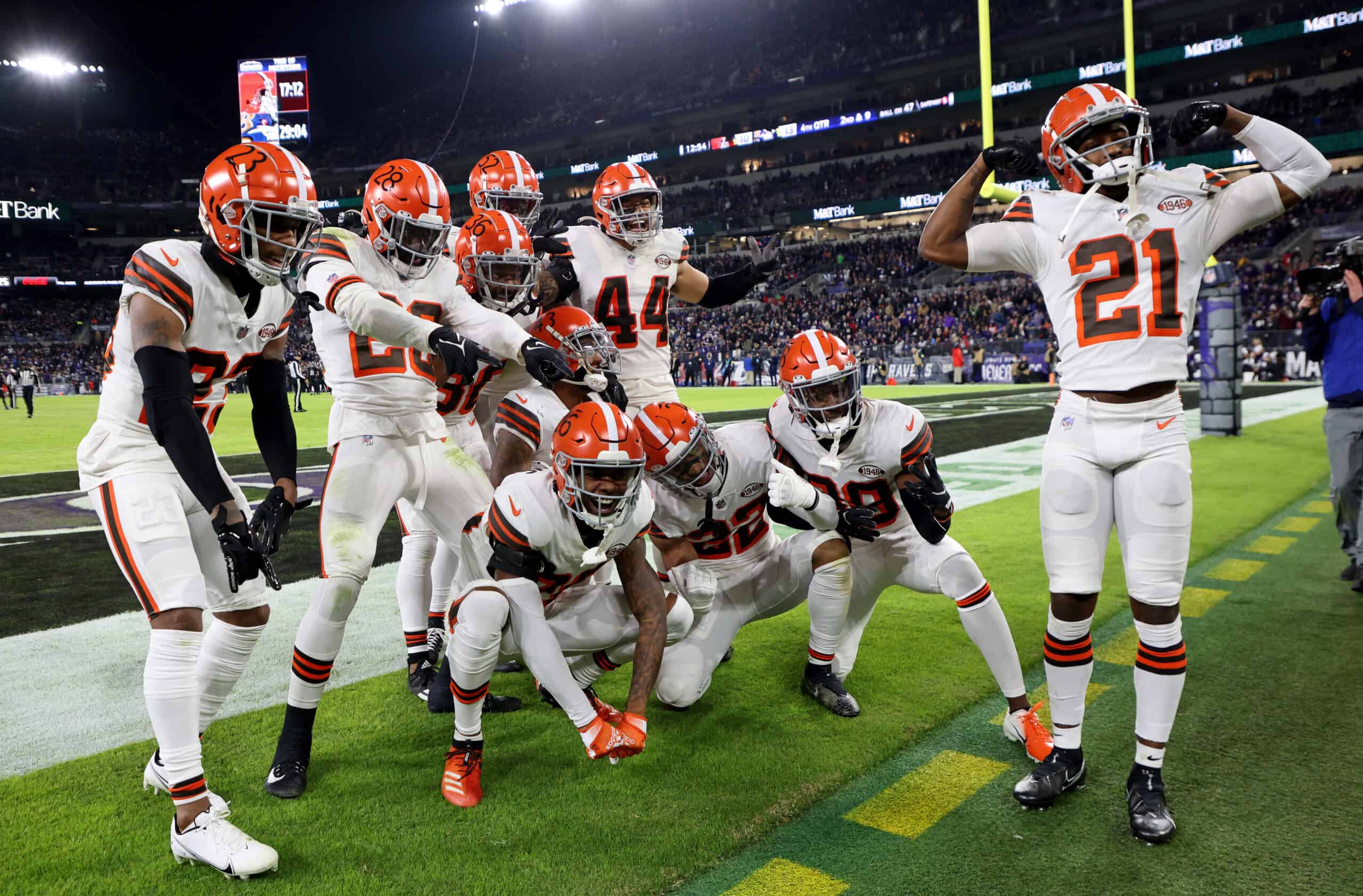 Baker Mayfield and the rest of the Cleveland Browns return to the field for a second shot at the Baltimore Ravens.
Hopes were the bye week would heal some wounds and make Cleveland stronger come Sunday.
But the team will be without at least one of their bigger offensive weapons.
Cleveland moved tight-end David Nkoju to the Covid-19 list Tuesday, and he is expected to miss the contest.
Stefanski: "They were moving around, flying around the practice field today. I feel like they recharged with their time away from here."

— Cleveland Browns (@Browns) December 6, 2021
On a brighter note, long snapper Charley Hughlett came off the Covid list and will play Sunday.
After a heartbreaking loss to the Pittsburgh Steelers, the first-place Ravens are just 2 games ahead of the Browns.
And a Browns' victory could thrust Cleveland into second place or leave the Browns in fourth in a tight division.
That much we know, but here are 3 bold predictions for the Browns-Ravens game, round 2.
1. Chubb, Hunt Lead Offensive Explosion 
Baltimore has one of the best run defenses in the NFL, and they were determined to make Cleveland pass in Week 12.
Stefanski quickly went to an air attack instead of challenging the Ravens, and the Browns only called 15 run plays.
We learned later that Kareem Hunt was on a pitch count in his first game back from his calf injury.
This is the only true game footage I can find of the "CHUNT" 2 back set in 2019. Would be really cool if we saw some of this on Sunday

*Video courtesy of the @Browns youtube channel* #Browns pic.twitter.com/tee5IPSLFd

— Mac (@tha_buffalo) December 6, 2021
But it still surprised everyone to see D'Ernest Johnson instead of Nick Chubb with the game on the line.
Expect Chubb and Hunt to get more work and show fans what "yards after contact" and angry running is all about.
Cleveland's rushing twosome will see 50 combined touches and gain over 250 yards in a big offensive showing.
2. Woods Gone Wild: 25% Blitz Rate
Holding a team like the Ravens to 16 points is a credible accomplishment.
But using the same game plan twice is begging for problems.
Fans were vocal about their desire to see an attack similar to what the Miami Dolphins used in their upset victory.
#Browns Troy Hill said getting to blitz is new and exciting for him and it's "giving me the layup, go get the money, go sack the quarterback."

"My eyes light up when I get the opportunity to blitz."

— Camryn Justice (@camijustice) November 8, 2021
Woods won't commit to 8 man fronts and as much confusion as Baltimore faced that week.
But he will let almost every one of his linebackers and secondary players get a shot at Lamar Jackson.
Myles Garrett and Jadeveon Clowney won't have to do all the work themselves this week as blitzes come from all over.
3. Baker Mayfield Starts Extension Bid 
Not much has gone as planned for Baker Mayfield this season.
But with a week to rest his legs and achy shoulder, he should be able to move better than he has in weeks.
And that is enough to kick off a run of games like he did after the 2020 bye week.
.@BakerMayfield to @David_Njoku80 … SEVENTY ONE YARD TOUCHDOWN! #Browns

📺: #CLEvsLAC on CBS
📱: NFL app pic.twitter.com/VKv1VBUG8t

— NFL (@NFL) October 10, 2021
Mayfield won't light the scoreboard up, but he'll throw a couple of deep passes amid a lot of dump-offs and screens.
And every completion will look like a laser strike in the box score, even if Chubb and Hunt put in most of the work.
Expect a line close to 21/26/215/2 with no turnovers in a must-win for the Cleveland Browns.