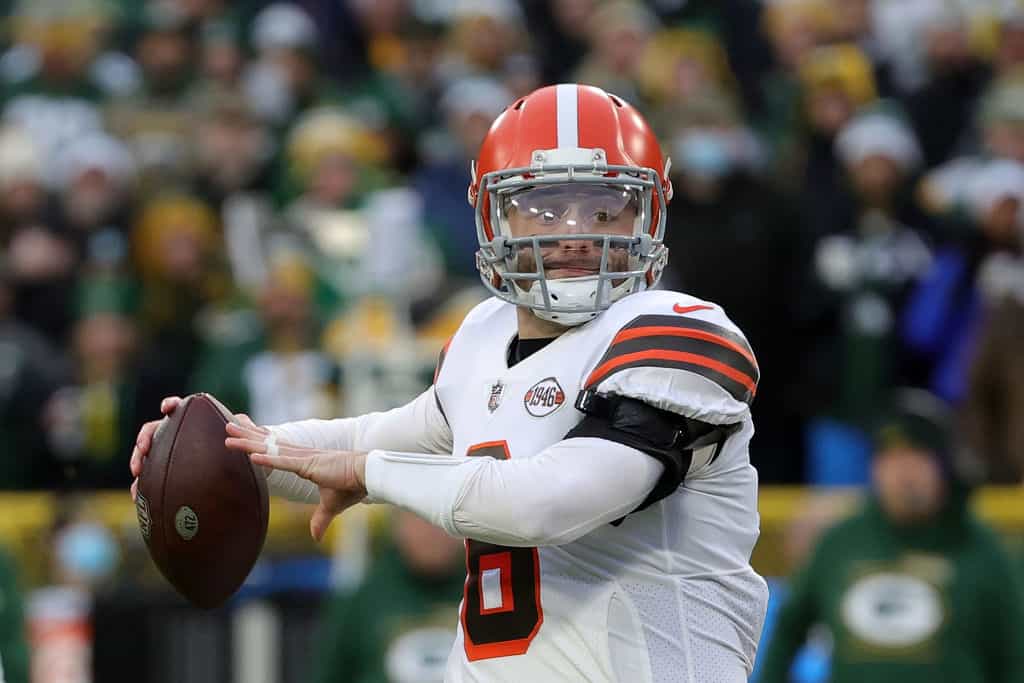 There are weeks in the offseason when NFL analysts scrape and claw for something to discuss on their podcasts.
Everyone is biding their time, anxiously waiting for the combine, free agency, and the draft to get underway.
But FoxSports's Colin Cowherd hasn't slowed down when it comes to his favorite Cleveland Browns target.
He was in midseason form when he brought up the subject of Baker Mayfield's future with the team.
"If I could get Carson Wentz, I would go get him. If I could get Jimmy G, I would go get him."

— @ColinCowherd on reports of Baker Mayfield's uncertain future in Cleveland: pic.twitter.com/cRBYtvosEQ

— Herd w/Colin Cowherd (@TheHerd) February 17, 2022
And he couldn't resist broaching a couple of recent comments from long-time Browns beat writer, Mary Kay Cabot.
Specifically, Odell Beckham proved his Browns performance wasn't his fault by doing better in Los Angeles.
And the Browns are seriously looking at veteran quarterbacks as possible replacements for Baker Mayfield.
And he went a step further in suggesting a pair of good possibilities to his audience.
Why Colin Wants Wentz, Garoppolo
Cowherd discussed a pair of expensive, veteran options the Browns would probably consider.
Carson Wentz and Jimmy Garoppolo are both hot names on the trade rumor circuit.
Neither comes cheap, with cap hits in the $27- to 28 million range.
But even though Mayfield was injured last year, Cowherd points to a trend to justify the higher cost.
The Odell Beckham Jr comeback story is making Baker Mayfield look even worse than he already does. #SuperBowl

— Rick Kamla (@RickKamlaSports) February 13, 2022
Cowherd echoed Cabot's point that Odell Beckham thrived in LA and New York but just couldn't connect with Mayfield.
He also pointed to Jarvis Landry's diminished production compared to his Miami Dolphin years.
And he noted Austin Hooper was a touchdown magnet with Matt Ryan before he disappeared with Mayfield.
Cowherd called it a "disturbing trend" that justifies looking for quarterback alternatives.
The Case For Wentz, Garoppolo
San Francisco is expected to shop Jimmy Garoppolo with an eye on about $24 million in additional cap space.
They have Trey Lance ready to take over, which is more than the Colts have if they move Wentz.
Indianapolis has an owner irate at how much he pays a quarterback who lost to the Jaguars and blew a playoff berth.
Garoppolo tied up about $27 million in cap space compared to just over $28 million for Wentz.
Carson Wentz is in the same b.s. situation as Baker this year. He's a 25-15 ranked QB that has a dogshit receiving-core so everyone blames him even though he took care of the football. pic.twitter.com/MYzrQiKutt

— Browns Analytics Bot 🤖 ➐ (@Browns_Bot) February 13, 2022
Cowherd noted how Wentz managed 27 touchdowns and just 7 interceptions with a no-name receiving corps.
Fans shouldn't expect big numbers from Jimmy G, but they'll feel more confident in the 4th quarter of close contests.
The former 49er knows how to win games and the former Eagle/Colt has some big moments under his belt, too.
If Andrew Berry agrees his team is built better than they look with Mayfield at the helm, why not make a change?
Realistic Scenario or Offseason Ranting? 
Baker Mayfield led the Browns to the playoffs in 2020 and fought through injuries last season.
One would think he earned a shot at proving he is worth a franchise quarterback-type extension.
Unless… there are residual issues from the Beckham-Mayfield matter, in which case, Mayfield has to go.
Andrew Berry and Kevin Stefanski can't afford to let divisions simmer, even if they think Mayfield is their best option.
The whole narrative of "Jimmy Garoppolo carried the his team to 2 NFC Championship games" is a false one. The 49ers have won in spite of Jimmy G., not because of him. #Browns pic.twitter.com/xyDnaUjHl7

— Roberto Shenanigans (@Rob_Shenanigans) January 24, 2022
Carson Wentz and Jimmy Garoppolo leave the Browns in the same situation they are in now.
That is, with a quarterback on a one-season trial to show he can be a long-term answer in Cleveland.
Wentz can be cut in 2023 without impacting the salary cap, and Garoppolo is a free agent after 2022.
That means it would cost Cleveland just $7-or 8 million to try out a new starting quarterback.