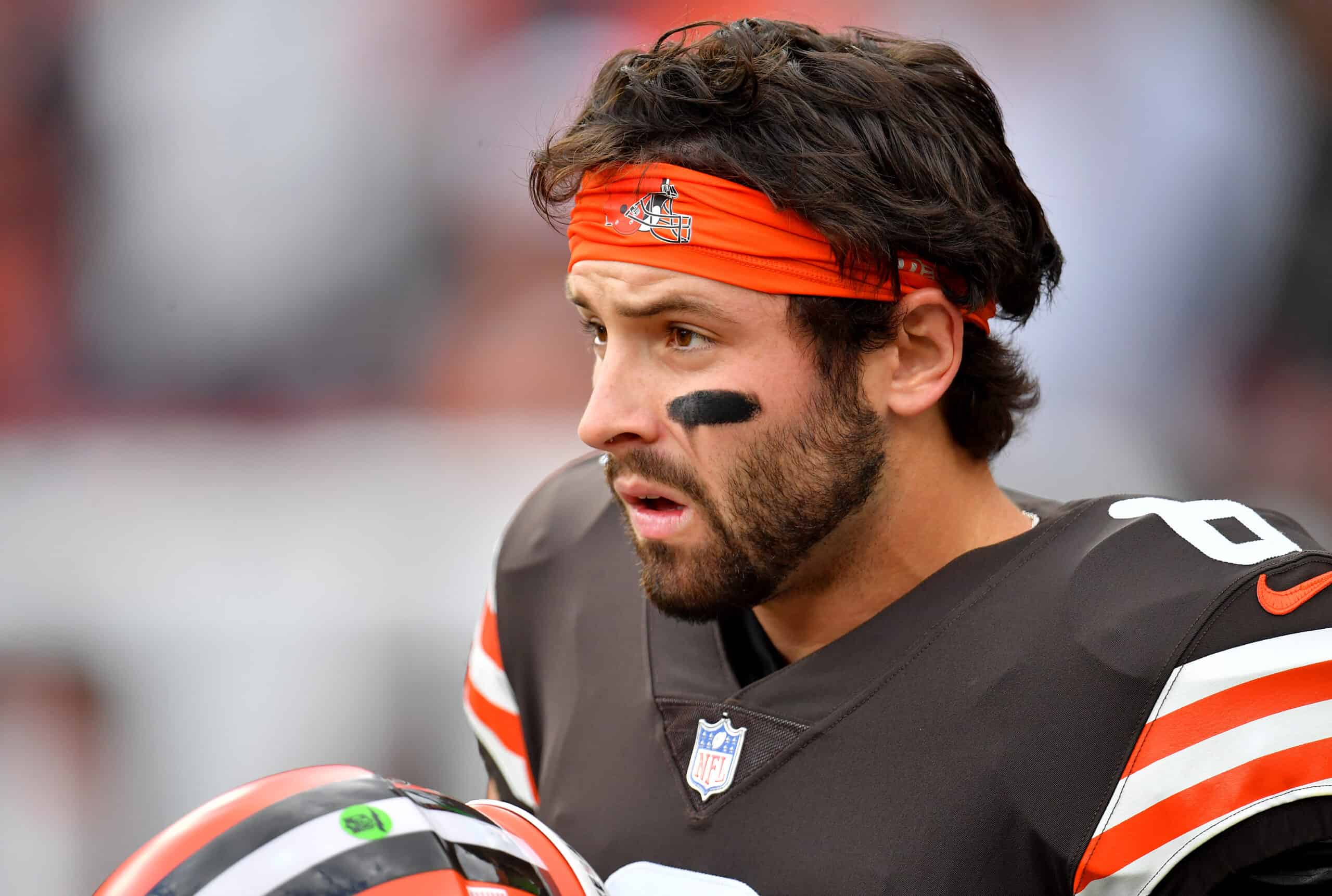 The Cleveland Browns are in their much needed bye week.
Losing a disappointing game to the Ravens where the offense sputtered was not how the Browns wanted to go into the bye.
It is how things turned out, and Colin Cowherd (among others) is weighing on the Baker Mayfield situation in Cleveland as of Week 12.
What Cowherd Said
Cowherd has been the self-proclaimed guru who predicted the Mayfield situation years ago.
Unfortunately for Browns fans, what he is saying is turning out to be true especially in Mayfield's injury-ridden 2021 season.
He has always thought Mayfield should not have been the first overall pick of the 2018 NFL Draft.
Cowherd now believes the Browns have buyers' remorse also and made their decision about Mayfield.
The Browns have made their decision on Baker Mayfield, according to @ColinCowherd:

"There's too much turmoil. There's too much ego, snark and agitation." pic.twitter.com/3bSvJyxkgw

— Herd w/Colin Cowherd (@TheHerd) November 29, 2021
He thinks the Browns already know that Mayfield is not their man beyond 2022.
Cowherd said:
"They have made their decision on Baker Mayfield.  They've made it.  They are not paying him $30-$40 million. They're not.  There is too much turmoil.  There is too much ego.  There is too much snark; there is too much agitation.  He is battling with somebody constantly."
The Tom Brady Comparison
Cowherd goes on to say that Tom Brady has been in the league for over 20 years and has never had a teammate or family member of a teammate criticize him.
Mayfield has had two family members of teammates criticize him publicly in the past three weeks.
He said Peyton Manning also never had these issues.
It is because Brady and Manning were respected, and the locker room was with them.
Cowherd is inferring that OBJ's dad and Kareem Hunt's dad know that the locker room is not with Mayfield; they are speaking out because they know the real story and don't care about the public backlash.
It is worth noting that some of Mayfield's teammates have spoken up in his defense.
We have heard Nick Chubb, Kareem Hunt, and most recently Jeremiah Owusu-Koramoah and Joel Bitonio talk about Mayfield.
#Browns Joel Bitonio: "We have not wavered on Baker Mayfield."

— Camryn Justice (@camijustice) November 29, 2021
Jeremiah Owusu-Koramoah imagines growing up
on a team led by Baker Mayfield:
"As time goes on,
you guys will see how great a quarterback he is."

— Steve Doerschuk (@sdoerschukREP) November 29, 2021
Maturity Is Huge
Cowherd says NFL quarterbacks need to be mature beyond their years.
They have to act as though they are in their early 30s when they are in fact barely out of college.
If a quarterback is going to be immature, their talent has to overcome all of the other noise.
Mayfield has not shown that maturity through his career.
He is 2-13 when the game comes down to the final drive where the Browns need to tie or take the lead to stay in or win the game.
Conclusion
Cowherd may be right that the Browns have already made their decision about Mayfield.
The fact that Chubb, Teller, and Bitonio already have extensions, and he does not is telling.
It comes down to what Andrew Berry is going to do.
Will Mayfield be the Browns quarterback in 2022 is a valid question.
That's why playing him when he is extremely injured was an odd decision.
It does not give a true evaluation of what he is for purposes of negotiating an extension or determining his value in a trade.
There are five games left in the season.
Mayfield can flip the narrative by leading the Browns on a 5-0 run.
We will see what happens.