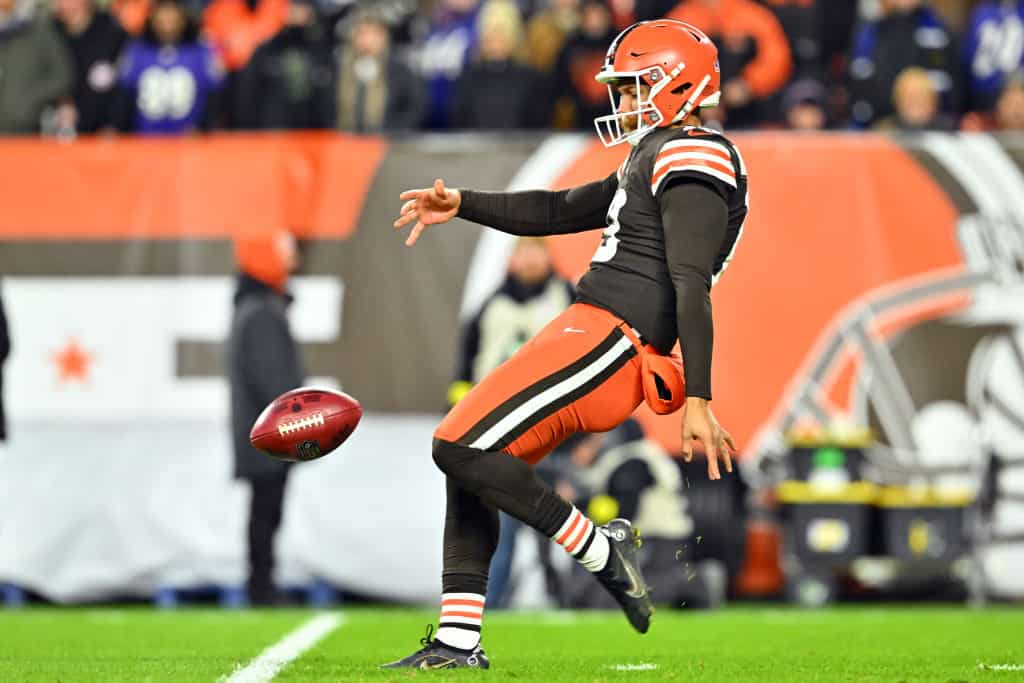 Cleveland Browns' special teams have been surging in the past few weeks.
The most recent example of this is the fact that punter Corey Bojorquez was named the AFC Special Teams Player of the Week for Week 17.
Congrats Corey! 🙌

— Cleveland Browns (@Browns) January 4, 2023
Congratulations Corey Bojorquez!
Bojorquez, 26, earned the honor by booting four punts against the Washington Commanders for a total of 187 yards.
Two of those punts were downed inside the five-yard line, and his longest punt of the day was 64 yards.
#Browns P Corey Bojorquez is the AFC's special teams player of the week.
He averaged 46.8 yards on four punts, had two downed inside the 5 and boomed a 64-yarder.

— Tom Withers (@twithersAP) January 4, 2023
Bojorquez has not just had one great week.
He has delivered good performances all season long.
#Browns Corey Bojorquez with a beautiful 57-yard punt that A.J. Green downs at the 1-yard line. Couldn't ask for anything better.

— Camryn Justice (@camijustice) December 24, 2022
#Browns go 3-and-out on the first drive, but an absolute boomer of a punt from Corey Bojorquez puts the Ravens at their own 22.

That was a 70-yard 💣

— Anthony Poisal (@AnthonyPoisal) December 17, 2022
Bojorquez Has Enjoyed Five Seasons Of Success
This is Bojorquez's fifth NFL season and third team.
He previously played for Buffalo and Green Bay.
In 275 career punts, he averages 46 yards per punt.
Longest Punt in #Packers history: 90 yards by Don Chandler.

Corey Bojorquez's punt today: 82 yards.#GoPackGo https://t.co/HcOUYuT3gZ

— Dan Edwards (@PackerEddy_FF) October 17, 2021
His career-longest punt was 82 yards in 2021.
Bojorquez Is Signed Through The 2023 Season
At least the key components of the Browns' special teams unit are a sure bet to return in 2023.
Cade York will be entering his second NFL season, and Bojorquez signed a two-year deal with the Browns in 2022.
The question remains whether there will be a new special teams coach.
Mike Priefer has come under scrutiny this season.
He is one of the holdovers (Stump Mitchell is the other) from the Freddie Kitchens era.
Will the Browns make a coaching change?
That is just one of the off-season coaching questions the Browns have to answer.