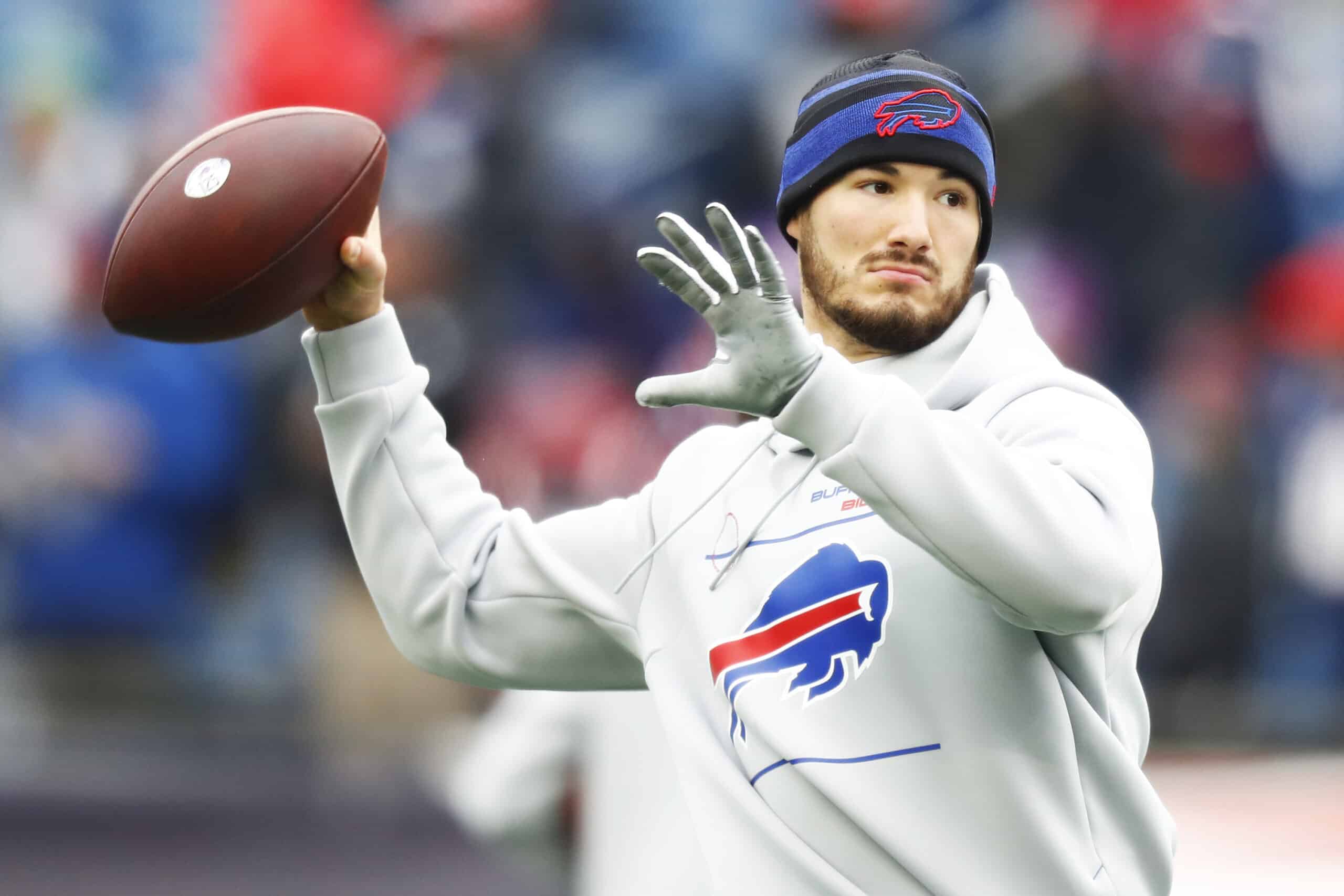 When the Buffalo Bills signed Mitch Trubisky last year, Brandon Beane made a bold prediction.
Buffalo's general manager said Trubisky would undoubtedly be a starter for some team "real soon."
Could "real soon" be the 2022 season, and could that team be the Cleveland Browns?
Some things would have to go significantly awry for Baker Mayfield if that proves to be the case.
"Very confident. He's continued to progress through the year. He'll be ready to go if and when his number is called."

-Sean McDermott on Mitch Trubisky. #Bills 🏈

— Jackson Roberts (@WHEC_JRoberts) December 13, 2021
But Mitch Trubisky is an option for the 2022 Browns if they blow up their quarterback room.
On one hand, it makes no sense as Trubisky probably won't sign for any less than Case Keenum's salary.
Keenum went 2-0 in relief of Mayfield last year, and salary cap relief is the main reason his name comes up.
But Trubisky brings some skills and history that make pairing the former first-round picks intriguing.
Psychology 101: Motivation or Anger?
Andrew Berry already announced Mayfield as the QB-1 on his preseason roster.
Bringing in some younger, more motivated competition will be tricky.
Trubisky has to accept a one-year, backup quarterback deal to keep Mayfield confident in his status.
Incentives for starts, comebacks, and touchdowns could pique Trubisky's interest in a base $7.5 million contract.
#Browns GM Andrew Berry told reporters that he "fully expects" Baker Mayfield to be their starting QB next season. They look forward to him getting healthier this offseason and seeing him bounce back in 2022.

— Ari Meirov (@MySportsUpdate) January 11, 2022
But the notion that the 2023 starting role could be the ultimate prize of a season-long competition will also help.
In a perfect world, such a deal motivates both parties in a lively and entertaining battle.
But the possibility of one or both players failing to maintain the spirit of competition is a concern.
Wounded pride or anger could easily result in a fractured locker room and derail the season.
Can a Mayfield/Trubisky Partnership Work? 
Mayfield and Trubisky have some glaring similarities in their NFL career path that could create a bond.
They were the first quarterbacks off the board in their respective drafts, followed by more successful passers.
Both are known for rising up to challenges from on the field or off the field sources.
Prior to a 2020 game against the Houston Texans, media coverage focused on the success of Deshaun Watson.
Mitch Trubisky vs Baker Mayfield career stats:

Trubisky Mayfield
44 Starts 35
32 INT 41
63.1 Comp% 61.3
949/7 Rush Yds/TD 309/3
85.9 Pass rating 85.7
26-18 W-L 16-19 pic.twitter.com/rUG7BeYpBE

— CBS Sports HQ (@CBSSportsHQ) October 22, 2020
Trubisky responded with a huge first half in a blowout victory over the quarterback selected 10 spots after him.
Both players struggled using a brace on their non-throwing shoulders before surgically repairing torn labrums.
And Mayfield can certainly commiserate with the former Bear about being at odds with offensive coordinators.
Keenum supports Mayfield well, but Trubisky and Mayfield could really click as a locker room presence.
Could They Share The Field? 
Trubisky brings a rushing ability that Mayfield does not have.
When Nick Foles took over in Chicago, Matt Nagy immediately added wildcat options for the former starter.
Unfortunately, Trubisky was injured after the first game as a backup and the notion died out.
But there is no reason Kevin Stefanski couldn't create a package of plays for the second quarterback.
Baker Mayfield is Mitch Trubisky with a better agent

— Peter Bukowski (@Peter_Bukowski) January 4, 2022
Trubisky, with a pair of healthy shoulders, presents a legitimate passing threat who runs effectively.
And that works pretty well for Marcus Mariota and the Raiders in support of Derek Carr.
Mayfield has been game to go along with some trickery in the past.
Could Trubisky's first Browns touchdown pass fall into the hands of his starting quarterback?
The Real Reason For Adding Trubisky
Cleveland could end up with a pair of interchangeable quarterbacks good enough to lead a playoff run.
But isn't that what they thought they had with Case Keenum, and maybe even Nick Mullens?
Keenum was supposed to be a mentor, someone who can translate Stefanski's offense to Mayfield.
Entering year 3 under the Browns head coach, Mayfield shouldn't need such a mentor anymore.
If had to guess, the #Browns will run it back with a healthy Baker Mayfield in 2022. They will put him in a better position to succeed from all standpoints.

If he doesn't, that issue will be resolved entirely.

— Brandon Little (@BrandonLittleSI) January 4, 2022
Trubisky enters the locker room as a younger option with more recent, and extended playing time.
Keenum won both games he started in 2021 but didn't look like a guy ready to take over for a long stretch.
If Mayfield is injured or does not return to his late-2020 form, Trubisky is a better option to take over.
And success from Trubisky puts the Browns a year ahead of a possible 2023 change behind center.