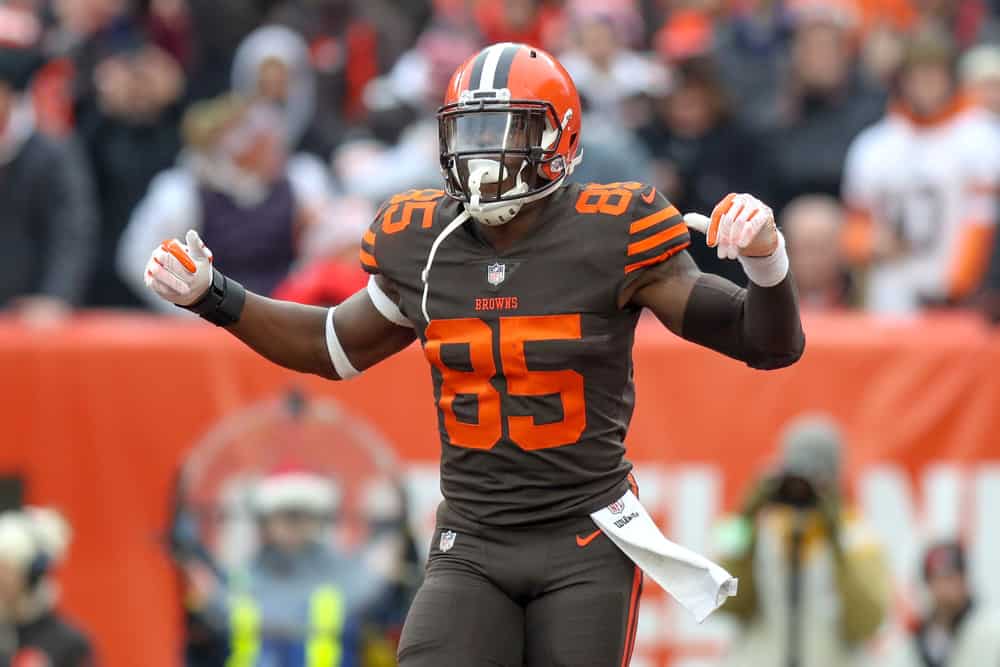 It's been a rollercoaster year for Cleveland Browns tight end David Njoku.
The 2017 first-round pick has been a healthy scratch the past 2 games for undisclosed reasons.
Njoku broke his wrist in Week 2 against the New York Jets, but never envisioned not returning to the field after his injury healed.
The Browns made him eligible to return on Nov 24 against the Miami Dolphins, but head coach Freddie Kitchens listed him as inactive.
The following week was the same result in Pittsburgh as Njoku never seen the field as a healthy reserve.
He finally made it on the field in Week 14 against the Bengals, but allowed a defender to strip him on a ball that was ruled an incomplete pass and fumble.
Kitchens was seen yelling at Njoku from the sidelines after the play
Kitchens benched him the next 2 weeks, against the Cardinals and Ravens
Njoku via Cleveland.com about sitting out after his injury healed:
"I didn't, which is why I pushed coming back so hard,'' he said Friday. "I didn't come back from a wrist injury this fast to sit on the sideline. It hurts my heart. I've got to say, this is not what I saw coming, but at the end of the day, it is what it is. I've got to keep moving from there.''
Njoku was also asked if he thinks he will return in 2020 with Freddie Kitchens as the head coach:
"That's a good question,'' Njoku told cleveland.com when asked if there's a place for him here if Kitchens remains. "I don't want to answer that yet. I'm not sure, so no comment.''
Njoku was also asked even if he would want to be back with the Browns next season:
"I'm really doing everything I'm doing now for my teammates at this point,'' he said. "Obviously it's been a rollercoaster and at this point in my life with where I'm at, I'm just doing everything for the guys that I play with."
Njoku has only appeared in 1 game since returning from his wrist injury in Week 2 where he caught 1 pass for 4 yards.
The team's depth chart has him listed as the 4th-string behind top tight ends Ricky Seals-Jones and Demetrius Harris.
He also has a 5th-year option that the Browns can decide whether to pickup by early May.
He has a fully-guaranteed salary of 1.76 million for 2020.
However everything plays out, we will soon have answers to the future and Freddie Kitchens and if a potential new coach would prefer to keep Njoku around in a new offense.