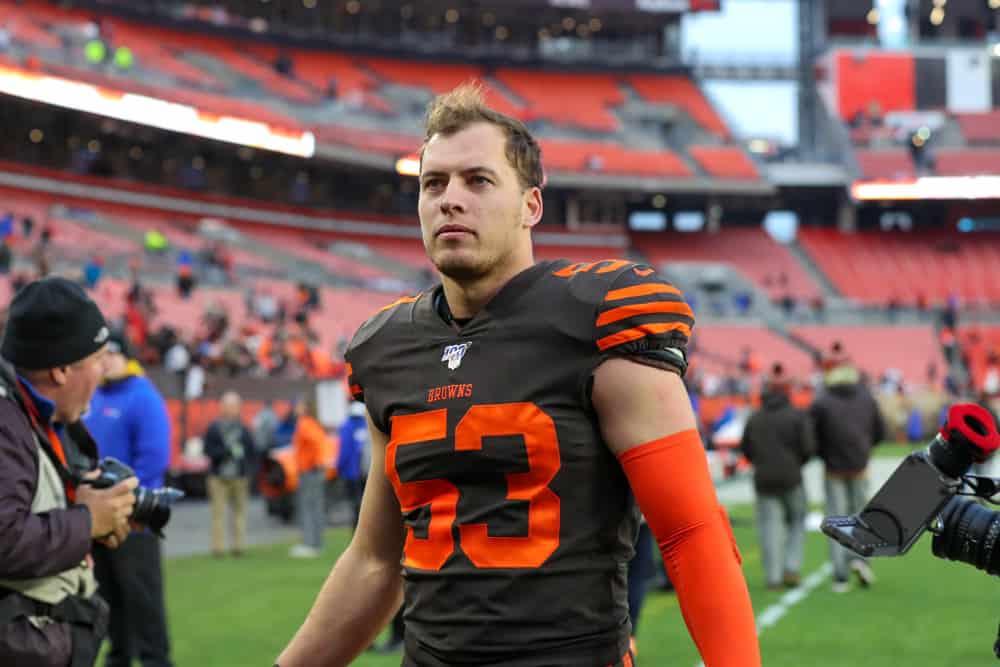 The Cleveland Browns will play their final game of the season on Sunday against the Cincinnati Bengals, but there is still plenty of reason to watch.
In terms of record, this is not the most glamorous game on the schedule, as the 6-9 Browns take on the 1-14 Bengals.
Still, if you are a Browns fan, these five reasons should be enough reason to watch.
1. Nick Chubb Looking To Rush Into Browns Record Books
Nick Chubb would have to have the game of his life to break the franchise's single-season record (Jim Brown-1,863 rushing yards in 1963), but he could still finish as the NFL rushing champion.
Chubb currently holds the edge to finish at the top with 1,453 yards compared to Carolina Panthers' Christian McCaffery's 1,361 yards.
The last time the Browns had the league rushing champion was in 1968 (LeRoy Kelly).
If Chubb can rush for at least 92 yards, he will finish with the second-most yards in a season in franchise history.
2. This Could Be Freddie Kitchens' Last Game
The Browns had playoff aspirations going into the season, and that will not happen this year.
Baker Mayfield took a step back, the defense looked undisciplined, and multiple players looked frustrated all year long.
Win or lose, this could be their head coach's last game.
It has not looked good for Kitchens at all this year.
Is this the last game for some in the Browns front office?
According to The Athletic's Michael Lombardi, more than a head coaching change could be on the way
Two NFL sources told me last night that they expect more than just a head coaching change in Cleveland. 2020 will be interesting.

— Michael Lombardi (@mlombardiNFL) December 28, 2019
3. Odell Beckham Jr. Could Surpass 1,000 yards
What is actually more interesting about this is that Beckham and Chubb could accomplish a feat that hasn't happened since 2006.
Beckham currently has 954 yards in what has been one of his quietest seasons in year's past.
However, if Beckham can surpass 1,000 yards, and Chubb can surpass 1,500 rushing yards (needs just 47 yards), then the Browns would be the first team since the 2006 St. Louis Rams to have a 3,500 yards passer (Baker Mayfield), a 1,500 yard rusher, and two 1,000 yard receivers according to Pat McManamon of The Athletic.
4. This May Be The Final Browns Game For Joe Schobert
According to multiple sources, this could the last game for linebacker Joe Schobert, offensive tackle Glenn Robinson, and offensive tackle Chris Hubbard.
The biggest loss would be Joe Schobert, who co-led the NFL in tackles in 2017.
If true, Schobert could be a highly coveted free agent that could be paid greatly, which is a potential reason why the Browns could be letting him walk after the season's end.
Report: Browns willing to let Joe Schobert leave in free agency https://t.co/9StwRuoWOc

— ProFootballTalk (@ProFootballTalk) December 15, 2019
For the season, Schobert has 125 combined tackles, 2.0 sacks, and four interceptions.
His 125 tackles rank 11th in the league, and he is just one tackle from being tied for 9th.
5. Baker Mayfield Can End The Season On A High Note
It was a down year for Mayfield, but he can slide into franchise history for multiple categories.
Mayfield currently sits with a touchdown-interception ratio of 19:18, which sounds like a Jay Cutler season that makes Chicago Bears fans, and now Browns fans, cringe.
Still, by playing on Sunday, it will mark just the second time since 1991 that a Browns quarterback played in all 16 games.
Mayfield needs 246 yards on Sunday to finish No. 4 in franchise history for single-season passing yards.