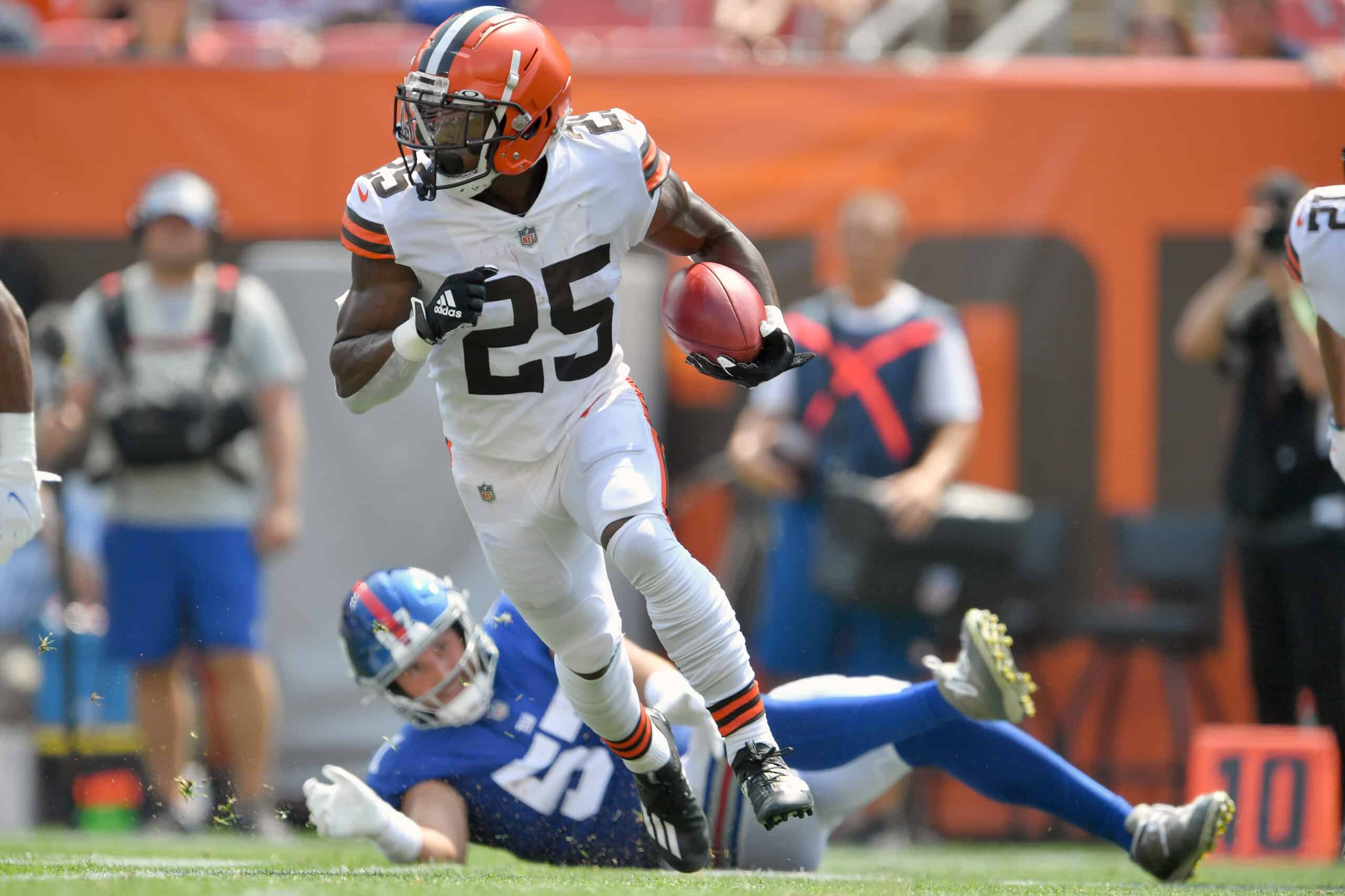 The Cleveland Browns drafted Demetric Felton in the sixth round of the 2021 NFL Draft.
Felton is a versatile player who provides the Browns with a lot of options.
Based on how he was positioned and played in the preseason games, it looks like the Browns are still trying to figure out the best way to utilize him.
Felton has studied multiple playbooks and tried to absorb a lot of information in short order with the goal of making the 53 man roster.
He measures 5'9″ tall and weighs 189 pounds and played football during his collegiate career at UCLA.
Here are the areas of the game where he is capable of contributing.
1. Running Game
His stated position is running back though his build is slight for that role.
He possesses good ball handling skills and has been shown to make the cuts needed to break free of defenders.
Demetric Felton ran to sideline and immediately got tap on helmet from #Browns QB Baker Mayfield, who said earlier this summer the rookie is considered "a key part of this offense"

— Nate Ulrich (@ByNateUlrich) August 30, 2021
Also on the subject… Demetric Felton I took mainly because he checks off the box as a 3rd down RB, WR5-WR6 on the roster who can maybe dip his toes into special teams jobs (gunner, returner, etc).

— Ken Barrett (@Bucs_Barrett) April 19, 2021
2. Passing Game
Felton has excelled as a slot receiver also.
This video is just a reminder of the talent Demetric Felton possesses at WR not even including RB or KR/PR. @demetricfelton7 is a lock to make this roster and will be a nice piece for this offense for years to come #Browns.
pic.twitter.com/Z8u2rqMfnl

— Tyler Johnson (@T_johnson_TJ) August 27, 2021
Conceivably, he could be WR6 on the depth chart with a lot of motion possibilities for him because he could be playing either receiver or running back.
#Browns WR room shaping to look like:

Jarvis Landry
Odell Beckham Jr.
Rashard Higgins
Donovan Peoples-Jones
Anthony Schwartz
Demetric Felton

Things could get interesting if RB D'Ernest Johnson is cut, could create an opening for JoJo Natson in the WR room.

— Brad Stainbrook (@BrownsByBrad) August 28, 2021
3. Special Teams
Despite being spotted on a punt return in the Atlanta game, it is clear that Donovan Peoples-Jones' days on special teams are over.
He is vying for WR3 on the depth chart which opens the special teams opportunity up to Felton and perhaps Anthony Schwartz.
#Browns rookie Demetric Felton said long kickoff return tonight was huge for him, his main goal in this game was to show coaches he could handle a lot on plate, special teams included

— Nate Ulrich (@ByNateUlrich) August 30, 2021
New #Browns running back Demetric Felton said he hit it off with special teams coordinator Mike Priefer early in pre-draft process and hopes to make a mark as a return man in Cleveland

— Nate Ulrich (@ByNateUlrich) May 1, 2021
Coach Stefanski On Felton
Stefanski loves versatile players who can be plugged into multiple positions.
After the Giants game, Stefanski said this about Felton.
"I thought he did a nice job. I would say my vantage point was not great, but he had some good dirty runs. He bounced a few and made some plays in the passing game so he did a nice job."
In the end, Felton is a rookie with a lot of untapped potential and development in his future.
Gaining a few pounds of muscle on his frame could help his game also.
We are sure Coach Stefanski has plans for Felton assuming he makes the 53 man roster (which he likely will) so we will have to wait and see what Felton's role will be on the Browns team in 2021.