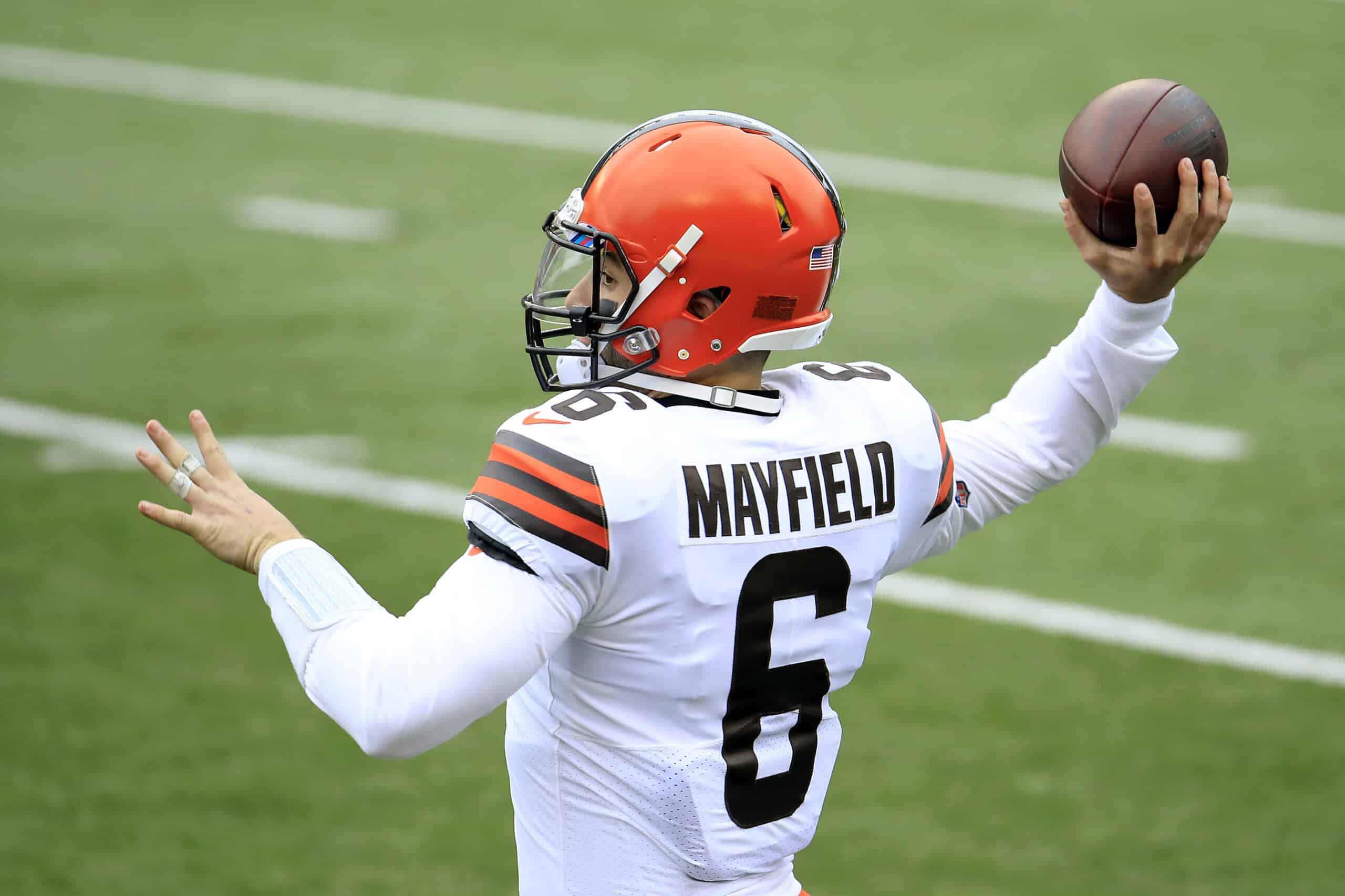 Cleveland Browns fans got to see their starting quarterback in action in the final preseason game against the Atlanta Falcons.
Prior to that, Mayfield was last on the field in mid January in the losing result to the Kansas City Chiefs.
While many argued that Mayfield should not play in the preseason and wait for the rematch against the Chiefs in Week 1, he played a few series and did a good job.
Here are three things we liked from Baker Mayfield's performance.
1. Worked The Kinks Out
Mayfield and the offensive line worked the kinks out after nearly nine months since their last official game.
The offense was far from perfect.
There were two early penalties: offensive holding on Nick Harris and a false start on Jedrick Wills.
Mayfield and the offense continued to move the ball despite the penalties.
There were also two batted balls thrown from Mayfield and some incompletions.
All of these things are normal as the offense reestablishes itself so it was a good thing to get these things identified to work on further before September 12 or out of the way all together as part of the preseason preparation.
2. Threw A Touchdown Pass
A thing of beauty from @bakermayfield and @ItsKhaDarel. 🎯#CLEvsATL on NBC pic.twitter.com/MJNvEKl4IY

— Sunday Night Football on NBC (@SNFonNBC) August 30, 2021
Mayfield threw a touchdown pass to KhaDarel Hodge.
His arm strength is on point as noted by NFL legend turned broadcaster Drew Brees.
Drew Brees on this throw by Baker Mayfield "not many quarterbacks in league can make that type of throw." #Browns pic.twitter.com/kQQDJkPC9g

— Tyler Johnson (@T_johnson_TJ) August 30, 2021
Prior to that, he spread the ball out with a pass attempt to Anthony Schwartz which resulted in a pass interference penalty against the Falcons, Donovan Peoples-Jones, and Austin Hooper.
In general, Mayfield looked confident in his offensive line and is his ability to go through his progressions to find an open receiver.
These are big positives as the Browns travel to Arrowhead for Week 1.
3. Left The Game Early
Only in the preseason would we be happy to see Mayfield exit the game before halftime.
Coach Stefanski and offensive coordinator Alex Van Pelt clearly had a plan of what Mayfield needed to accomplish in this tuneup.
When he did it, they pulled him from the game to avoid injury.
Conclusion
In addition to what he accomplished, he sounded very much like the mature leader of this Browns team during his sideline interview with NBC's Michelle Tafoya.
It has been said several times but bears repeating, Mayfield is benefitting from the second year of the same coaching and offensive system.
He never had that luxury of continuity before in his career.
Mayfield is also buying into Coach Stefanski's leadership and process.
In fact, Mayfield's words in this and other preseason interviews sound like Stefanski's.
This is extremely comforting as the Browns march ahead in their preparations for Week 1 against the Chiefs.