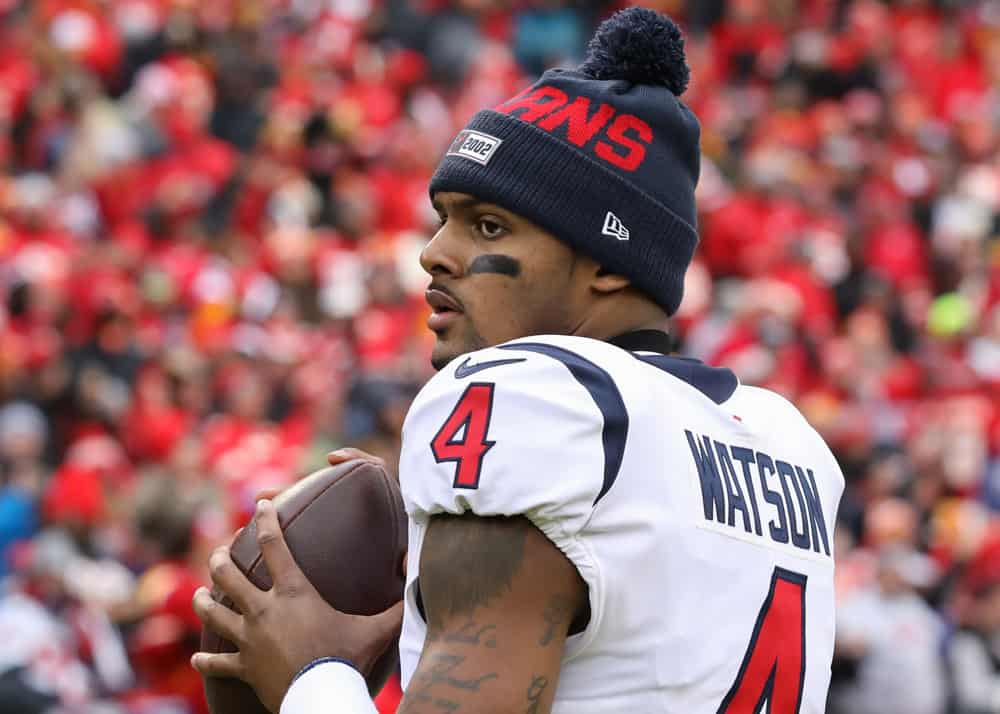 Myles Garrett is off to his best start in his early career.
He has been the driving force of this Browns defense and will once again look to anchor this team this weekend.
The man he will be chasing, Houston Texans QB Deshaun Watson, understands what he's in for.
This is a big game for the Browns as they are beginning their playoff push.
Both the Miami Dolphins and Las Vegas Raiders have shocked some people with their impressive seasons, so every game for the Browns matters down the stretch.
Watson has nothing but respect for Myles Garrett as he was asked him about this week.
"He Got Paid What He Deserved"
Earlier in the offseason, the Cleveland Browns locked up their stud defensive end.
#Browns Myles Garrett signs his 5-year, $125 million contract extension to become the top paid defender in the #NFL: 'Cleveland, keep betting on me' https://t.co/APl9WlsKeB

— Mary Kay Cabot (@MaryKayCabot) July 15, 2020
He has proved Cleveland right thus far as he is in early contention for defensive player of the year.
Deshaun Watson is another player who got a pay day in the offseason.
He was asked about Garrett's contract and had high praise for him.
"He's a beast. He got paid what he deserved…He's a special talent."-Deshaun Watson on the Browns' Myles Garrett.

— Drew Dougherty (@DoughertyDrew) November 11, 2020
He knows this weekend that Garrett will be coming for him all game long.
The Texans have had a disappointing year thus far.
Earlier in the year, they fired head coach Bill O'Brien, who made some questionable moves in the offseason.
Most notably, getting rid of star wideout, DeAndre Hopkins.
Hopkins helped ease the pressure off Watson as Houston's offensive line has been struggling for years.
Garrett will be salivating this weekend as he faces one of the weaker offensive lines in the league.
Myles Garrett Should Be Healthy For Sunday
The last time we saw the Cleveland Browns take the field was in Week 8, against the Las Vegas Raiders.
While they lost 16-6, the worst part of the day was that Garrett suffered an apparent knee injury.
#Browns players who returned to practice today: RB Nick Chubb, RG Wyatt Teller, DE Myles Garrett, WR Jarvis Landry, LB Jacob Phillips and FB Andy Janovich

— Nate Ulrich (@ByNateUlrich) November 9, 2020
It appears that Garrett will be ready for this weekend as he returned to practice earlier in the week.
With Cleveland on the bye, Garrett was granted extra time to recover.
As we currently stand, Garrett is tied for first in sacks (9) with Aaron Donald.
The $125 million man will be looking to wreak havoc as he has been doing all year long.
Most total pressures among edge defenders:

🔹 T.J. Watt – 39
🔹 Myles Garrett
🔹 Shaq Barrett – 38
🔹 Joey Bosa – 37 pic.twitter.com/zNCH7GtguD

— PFF (@PFF) November 4, 2020
The Browns secondary is considered the weakness of this team.
But, having a guy like Garrett allows the secondary problems to be masked as he has been fantastic at applying pressure.
With a poor secondary, the key to staying in games is creating turnovers.
This weekend, the Browns will look to do exactly that as their offense looked porous against the Raiders in Week 8.
With Odell Beckham Jr. out for the year, it is vitally important for this defense to create extra opportunities for this offense.
Luckily for the Browns, Watson is tied for 4th as the most sacked quarterback in the NFL (T-24, Russell Wilson).
Garrett will certainly be facing a large amount of double teams this weekend.
But, that hasn't held him back in the past and I do not think Browns fan expect that to hold him back this weekend.