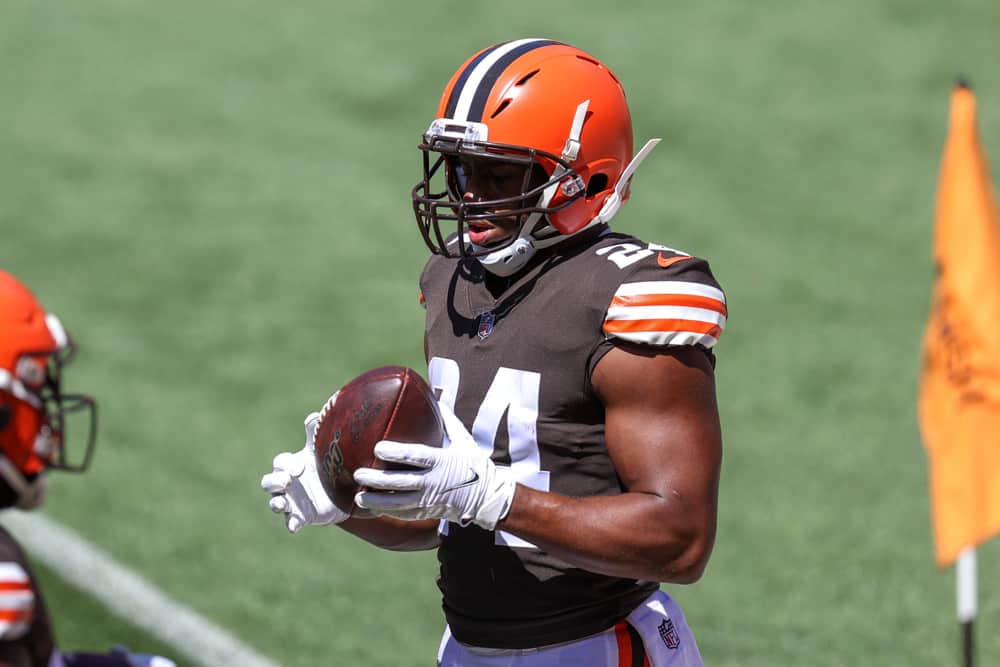 Cleveland Browns RB Nick Chubb has been activated from injured reserve.
He practiced this week for the first time in over a month.
Browns' fans are eager to see Chubb back on the field running all over their opponents as he did in the first 4 weeks of the season.
Chubb sprained his knee in the Week 4 game against Dallas.
However, Coach Kevin Stefanski has not committed 100% to Chubb's availability for the Week 10 game versus the Texans at FirstEnergy Stadium on Sunday.
When asked about Chubb's status on Thursday morning, Stefanski said:
"We'll see.  We'll get to Friday and make a determination if he's ready to go."
He added that Chubb has been practicing with a brace.
"And if he is ready to go it's up to his comfort level and the doctor and trainer's comfort level with the brace."
At Thursday's practice, Chubb was not wearing a brace.
#Browns RB Nick Chubb practiced without a knee brace today. pic.twitter.com/319QKj1t8i

— MoreForYouCleveland (@MoreForYou_CLE) November 12, 2020
Nick Chubb
Chubb is eager to return to action.
When asked to describe his time off, he said:
"I've been bored sitting here these last five weeks. It feels great to be back out there with the team. I'm happy and grateful I'm not having a season-ending injury. It just feels great to run and hang out with the boys again."
The Browns Without Chubb
Cleveland's running game has suffered immensely in Chubb's absence.
Kareem Hunt played through a groin injury but did not match Chubb's early-season success.
The Browns should get back Nick Chubb in Week 10 (missed last 4 games w/ knee injury)

Without Chubb, the Browns have…
– averaged 109 fewer rush YPG (204.5 rush YPG w/ Chubb, 95.5 rush YPG without)
– averaged 10.5 fewer PPG
– scored ZERO rush TD (8 rush TD in Wks 1-4 w/ Chubb)

— NFL Research (@NFLResearch) November 12, 2020
The Wyatt Teller Factor
Part of the recent issues with the running game may also be attributed to G Wyatt Teller's injury.
Teller injured his calf in Week 5 against the Colts and has not been back in action either.
Just how much of an impact does Wyatt Teller make?

The Browns rushed for 8 TDS with him.

Zero without him. pic.twitter.com/NaLSRrU3Zw

— Nick Karns (@karnsies817) November 12, 2020
When asked about his return, Teller said:
"It feels good. It has been a process the past four weeks. I wanted to make it back, but I do not want the same injury to be nagging all year. You definitely want to take advantage of the bye week, take advantage of the couple weeks that I had off and come back with a vengeance to get this game back on track."
Chubb And Teller
While Chubb potentially playing Sunday is big don't sleep on potentially getting back the number one run blocking guard in the NFL back. Wyatt Teller is a huge boost also. #Browns

— Josh Brown (@WeirdJBronavich) November 12, 2020
The best scenario is if both Nick Chubb and Wyatt Teller are game ready against the Texans.
Bonus: Austin Hooper
Week 6 is the last time TE Austin Hooper has been on the field for game day.
He had an emergency appendectomy on October 23 and has been recuperating.
Hooper has also practiced this week.
Friday Will Tell The Tale.
As Coach Stefanski said, Friday is the day when Chubb, Teller, and Hooper's gameday statuses will be known for sure.
If Baker Mayfield gets all three of these pivotal offensive players back, perhaps the offense will begin rolling as it did in Weeks 2 through 4.
Mayfield Is Active Too.
For his part, Mayfield should be ready despite spending the first part of the week on the Reserve/COVID-19 List after being exposed to a Browns staff member who tested positive for COVID-19.
He returned to practice on Wednesday.
Getting players healthy for the second half of the season is vital for the Browns' efforts to make a playoff run.