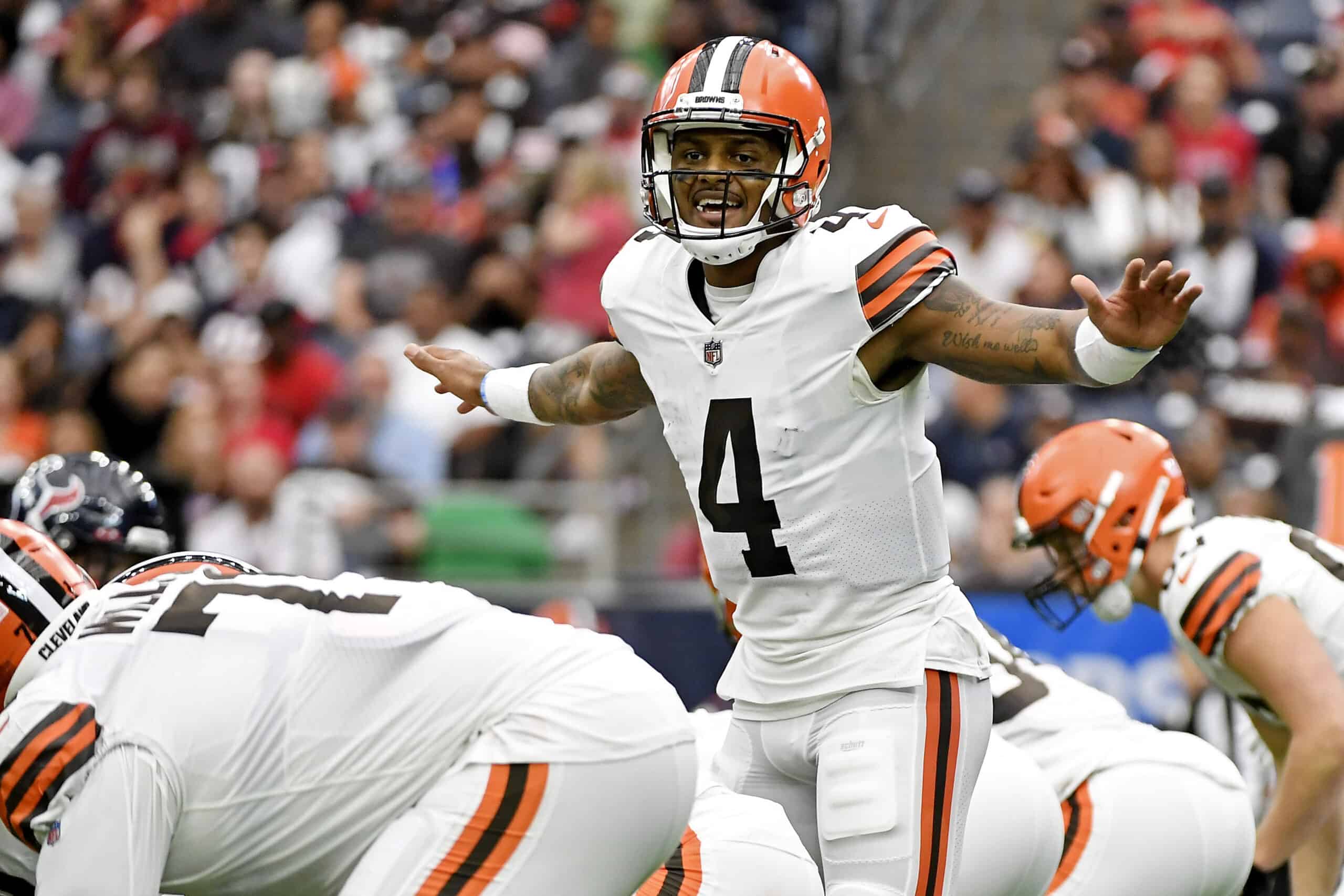 Count Cleveland.com's Mary Kay Cabot among those who believe Deshaun Watson will bounce back to form.
It might not be a surprise to see a Cleveland Browns pundit proclaim belief in their franchise player.
But Cabot is as close to the inner workings as a non-employee can be, with access to comments others don't get.
And her prediction of a huge year for Watson is not totally based on what she sees and hears.
There is history behind her opinion.
How will Deshaun Watson respond to the national snub? 23 #Browns questions for '23 https://t.co/wIwhNvHvLo

— Mary Kay Cabot (@MaryKayCabot) July 14, 2023
Cabot recalls Watson's response to the perceived slight of teams who passed on Watson in the 2017 NFL draft.
That includes the Browns, who he beat 33-17 that season with 3 touchdown passes.
But he also ran up his stats against the rest of the NFL and became a top-ranked, elite NFL quarterback.
Watson is acutely aware of how some of football's most critical voices have written him off for 2023.
Cabot believes that NFL.com's 28th ranking and PFN's 26th will spark another MVP season out of Cleveland's QB.
Not Everybody Is Down On Watson
Watson is among those who realize his 2022 stint did not pass muster.
And while rust affords him some leeway in the early games, it doesn't explain why he didn't improve more by week 18.
PFF's Sam Monson said Watson is the most difficult player to assess, adding:
"Watson has one of the widest ranges of outcomes in the NFL. I have no earthly idea how good Watson will be in 2023, and neither does anybody else."
NFL.com's Marc Kessler left little doubt in his expectations:
"There's little to suggest Watson truly fits Kevin Stefanski's offense," he said. "Next season offers no mulligans and zero excuses for this coach or his quarterback."
But Watson doesn't have to fit Stefanski's defense as much as it is on the coach to play to his passer's strengths.
The #Browns HC Kevin Stefanski is "fully revamping" the Cleveland offense tailored towards Deshaun Watson's skillset. #DawgPound #NFL pic.twitter.com/O4kTft11Pv

— NFL Rumors (@nflrums) July 8, 2023
And to that end, both coach and quarterback sound excited about the new Browns attack for 2023.
Cabot noted in her article that Cleveland added 4 pass catchers to the Browns' arsenal.
And in a sign that Stefanski's attitude is changing, the coach claims he is open to his quarterback's suggestions.
With both of their futures riding on the results, it is good if the coach and quarterback are on the same page.
Time will tell if Deshaun Watson is still a franchise player or just the latest in Cleveland's disastrous quarterback history.