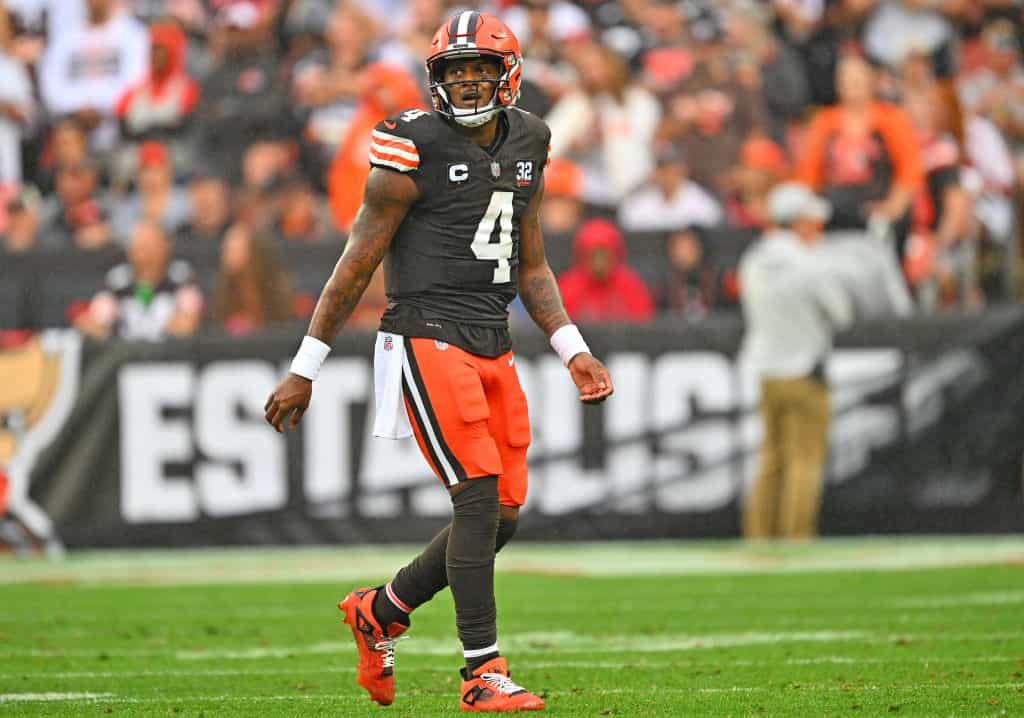 All eyes remain on Cleveland Browns quarterback Deshaun Watson.
Watson returned to practice yesterday, albeit on a limited basis, but Browns head coach Kevin Stefanski offered no insight as to how that affected his plans for Sunday.
And as ESPN's Jake Trotter found out, the quarterback is just as protective of that information.
Deshaun Watson says he's "not sure" if he'll be able to play Sunday vs. Arizona #Browns

— Jake Trotter (@Jake_Trotter) November 2, 2023
When asked if he would play in Sunday's tilt against the Arizona Cardinals, Watson said he is "not sure."
Adding to the uncertainty of Watson's status are mixed reviews of his practice session.
Several reporters said the quarterback showed some "zip" and looked much better, while others told their readers that Watson is still limited in his motion and pushing the ball, and videos shared on social media back both views.
Depending on the angle and edit, Watson looks both smooth and tentative.
For the most part, his wind-up appears short, as if he can't draw his arm all the way back, but there are witnesses who insist he is making the throws he needs to make.
Stefanski already named P.J. Walker the starter if Watson can't go Sunday, and hopefully, he is giving his QB2 some of the first-team snaps and prep work.
Both the coach and rookie quarterback Dorian Thompson-Robinson claimed surprise when the rookie started in Week 4, so the team wants to prevent that from happening again.
And even against the 1-7 Cardinals, Cleveland has to have their starter ready for game action.